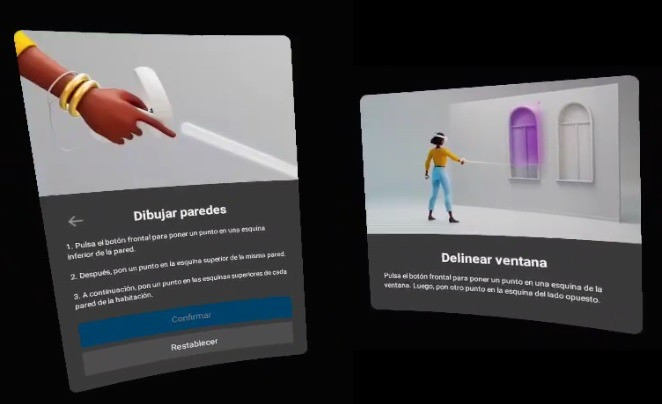 Room setup: experimental utility in the v40 for mixed reality
Now that the v40 update has started arriving on Quest viewers, you can check that, in addition to the new official features, this software version includes an experimental utility within the Guardian settings, Room configuration, which allows to draw in mixed reality the walls, windows, furniture or other objects.
Until now we could introduce through the Passthrough our desk and a sofa (v26). With the v40 we are given the possibility of placing walls, windows, shelves or any other furniture or object that is in the space in which we are going to play or use the viewer.
This feature can be useful for developers of mixed reality applications, and precisely one of them, Guy Godin (creator of Virtual Desktop), wondered on Twitter why the user had to be the one who has to define those elements by hand, if it would not be possible for the viewer itself to use outdoor cameras and AI to recognize walls or furniture. The answer has been given by Meta's CTO, Andrew Bosworth:
Segmentation is getting better all the time, but it still has bugs. The risk of getting it wrong is a concern, as it relates to the way people can safely walk through a physical space," explains Andrew Bosworth

The explanation is that, due to the limited quality of Quest's cameras, the system may not recognize or correctly define the elements or obstacles within the Guardian's security area. Having to define these objects manually is therefore due to security reasons.
Virtual Reality App Development Company | Unity Development Services