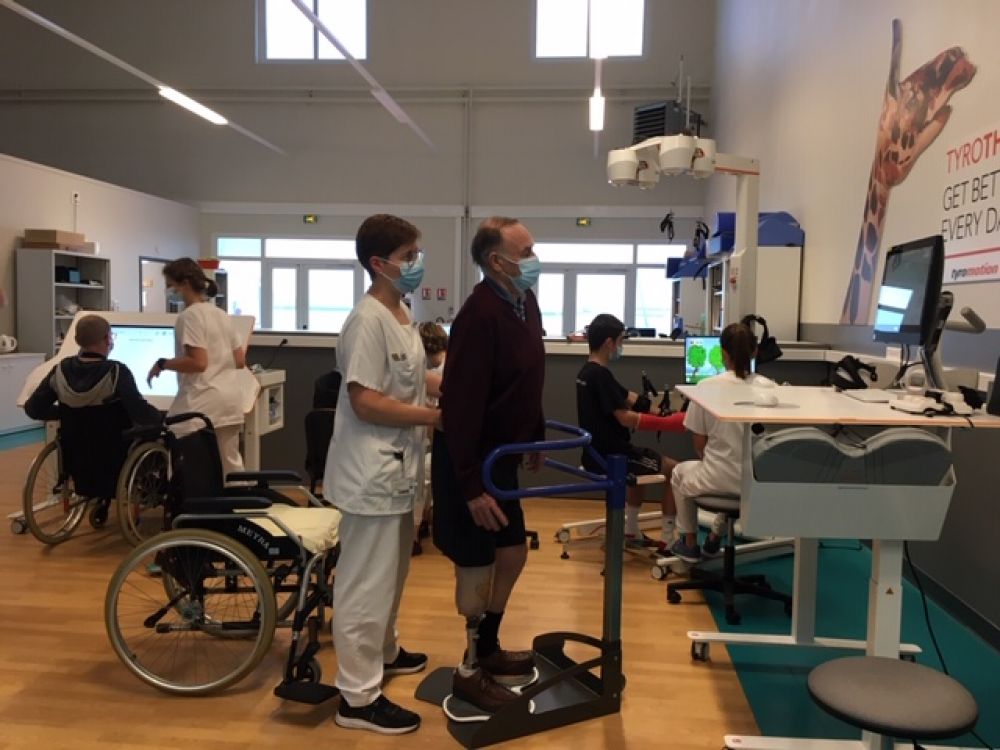 REPORTAGE. An upper limb rehabilitation tool combining robotics and virtual reality
Myro, Amadeo, Diego, Pablo and Tymo (see box below). Five names that correspond not to those of physiotherapists or rehabilitators but to five modules of an innovative device called Tyrosolution, entirely dedicated to the rehabilitation of the upper limb. We are at the Jacques-Calvé center at the Hopale Foundation (Berck), the first center in France to be equipped with these five modules all based on robotics and non-immersive virtual reality with which patients can train. Here, thanks to a very wide range of exercises, conducted for about three weeks, damaged shoulders, arms, wrists and hands, all weakened following an accident, surgery or neurological damage, are managed and re-educated. Objective: the return to better autonomy.
A playful side that avoids weariness
For the session of the day, in the large bright occupational therapy room facing the sea, several patients are at work, alone or guided by their usual occupational therapists, all having been specifically trained in the use and setting of this new equipment. In front of a huge tilting touchscreen tablet, more than a meter long, Philippe, victim a few months ago of a serious motorcycle accident, works, in a sitting position, the lateral movements of his arm by wiping the many (virtual) drops of water falling on the (real) tablet. But Philippe could also have worked other muscles, those involved in the realization of finer movements. He would then draw lines grouping different color points, collect plums (virtual) and store them in his basket (also virtual). In short, here we work but at the same time we play, this is the "plus" of this assisted and connected physiotherapy.
Tyrosolution for upper limb
Developed by an Austrian company, Tyromotion, the Tyrosolution tool consists of five modules that all work in a network.

– MYRO: this giant touch screen allows motor rehabilitation with realization of grasping movements and cognitive stimulation.

– AMADEO: a robotic solution for active or assisted rehabilitation of the hand.

– DIEGO: a robotic solution for active or assisted rehabilitation, bilateral or unilateral upper limbs.

– PABLO: this active and strength rehabilitation using wireless sensors allows to combine the movements of the upper, lower and trunk limbs.

– TYMO: proprioceptive rehabilitation by biofeedback (visual feedback on the screen) of the correct movement to accomplish.
" Of course, as in a classic physiotherapy session, fatigue can occur, but there is never weariness, " says Emmanuel Knapen, rehabilitation manager at the Jacques-Calvé Center. As a result, the sessions take place more optimally, the patients work more intensively than in traditional physiotherapy, the motivation being always at the rendezvous.
"Here, everything is set according to the therapeutic objective," says Anne Bar, one of the occupational therapists responsible for the service. Everyone works according to his needs and his handicap amplitude, strength, precision."And the specialist continues:" All pathologies affecting the upper limb can benefit, whether orthopedic, traumatic or neurological as after a stroke or in rehabilitation of multiple sclerosis, Parkinson's."
Universes adapt according to the level of cognition of patients
A little further on, another patient, supported by wires hooked by means of strips and scratches around her forearms tries to resist the forces exerted by the robot on her arms, while feeding her avatar, a hen, to recover the maximum amount of earthworms appearing on the screen. Another situation : a man amputated at the knee works his balance on a platform in connection with a screen via integrated motion sensors. At the moment, he must move his trunk and shoulders to the right and then to the left, according to the corridors he takes on the screen, while avoiding various obstacles whose speed of movement, number, etc.can be adjusted. Another patient is focused on his task at the moment : interrupt the flight of colored hot air balloons to catch as many as possible. " All universes adapt according to the patient's cognition levels, one can complicate or simplify, increasing or reducing the information of the environments, " explains Anne Bar.
Credits: Sylvie Riou-Milliot / Sciences et Avenir
The five modules, which work in a network, offer a wide range of exercises and adapt to the functional objectives of each patient. Obviously, at each session, all data is recorded to allow follow-up and thus evaluate the patient's progress over time.
The Jacques-Calvé Institute was the first center in France to acquire these five interconnected modules for a cost of 220,000 euros, of which 150,000 come from the Regional Health Agency.