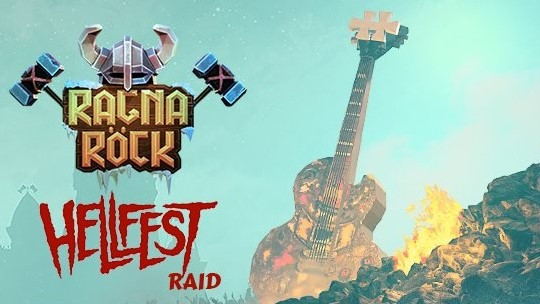 Ragnarock Vikings row to Hellfest extreme music festival
The legendary music festival Hellfest, which has been held in the French city of Clisson since 2006, and the vikings of the rhythm game Ragnaröck have gathered in an already available DLC that includes 11 tracks from some of the bands playing in the 2022 edition: The Offsprin, Blind Guardian, Nightwish, Helloween, DragonForce, etc.
Songs from the Hellfest Raid DLC:
● The Offspring – "You're Gonna Go Far, Kid"
● Nightwish – "Tribal"
● DragonForce – "Heart Demolition"
● Gojira – "Born For One Thing"
● Helloween – "Skyfall"
● Blind Guardian – "Battlefield"
● Avatar – "Going Hunting"
● The Rumjacks – "One For The Road"
● Therion – "Great Marquis of Hell"
● Disconnected – "Life will always find its way"
● Fejd – "Härjaren"
In addition to those new 11 themes, this DLC brings more news. Now we can access a new room, the locker room, where we can choose our ship and hammer from among those that we have unlocked. Two Hellfest-themed hammers and a specially designed ship inspired by this rock festival have been added.
Hellfest RAID brings, as it could not be otherwise, a new map that includes all the mythical places of Hellfest, but transferred to the universe and the aesthetics of Ragnaröck. The game and this expansion is available for PC viewers on Steam and Viveport, and for Meta Quest viewers on their store.