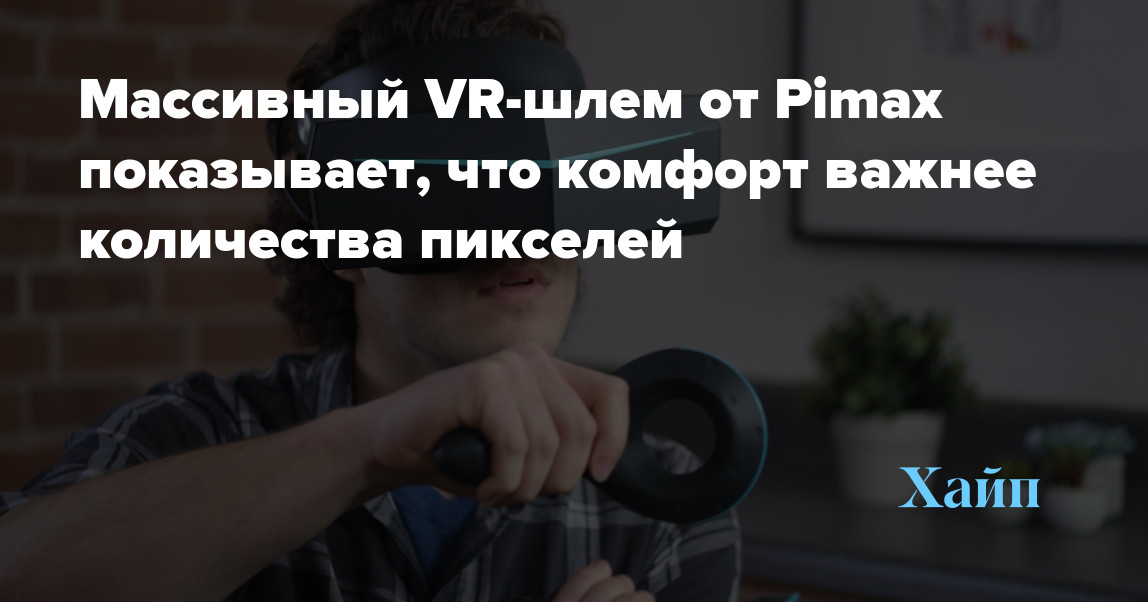 Pimax's massive VR headset shows comfort is more important than pixels
The latest version of the Pimax VR headset, shown at CES 2018, is stunning from a technical point of view, but too large and even unwieldy to win the hearts of mainstream consumers.
Photo: Kickstarter
Chinese startup Pimax, which has developed an 8K virtual reality headset, showed its latest version at CES this year, five years after the first prototype appeared. After a successful Kickstarter campaign last year, in which Pimax raised over $ 4.2 million, ahead of even the first Oculus VR headgear fundraiser, it is slated to begin mass production of the consumer version. The start of production is scheduled for the end of this year.
According to Nick Statt of The Verge, even after a short test of the device, it is clear that the picture quality is simply amazing – its resolution is 3840 x 2160 pixels on each of the two displays, and the angle of view is 200 °. Nick also says that the headset from Pimax is undoubtedly a breakthrough in the field of VR, but it has not been without drawbacks that will act as an obstacle for mainstream consumers.
As impressive as the Pimax headset is technically, it will not amaze the imagination with its design. The device turned out to be large, bulky, it weighs much more than a standard VR headset, for example, the Oculus Rift. Moreover, in terms of weight, Pimax is even ahead of the "leading" in this standings Vive from HTC. For VR enthusiasts who don't care about comfort, this won't be a big deal, but most consumers will probably want a sleeker device than the Pimax.
Another disadvantage is that this headset is able to show all its advantages only on a small number of the most modern and, accordingly, expensive desktop video cards for PCs.
Company founder Robin Weng says that most users using Pimax with an NVIDIA GTX 1070 or 1080 card can get 4K quality, which can be upgraded to 8K.
So, alas, the market for VR glasses and helmets is still very narrow and caters mainly to fans of niche games.
Pimax refers to the fact that the headset is not positioned as a breakthrough device in the technological field. This trend is followed by many of the gadgets introduced this year at CES. The demo stands are full of prototypes and prototypes that are meant to showcase some technological advancement and often ignore issues such as aesthetics and overall user comfort. And Pimax's incredibly successful Kickstarter campaign also suggests that at least 6,000 people are willing to shell out about $ 500 to get such a device.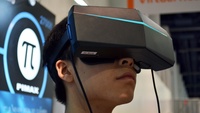 Photo: Road to VR
At the same time, the device from Pimax demonstrates how difficult it is for companies like Oculus, HTC and Sony to make their devices powerful, functional and at the same time comfortable, aesthetically pleasing. It is not easy to design a device in which users will not look ridiculous and will comfortably wear it for several hours. It took Oculus years to perfect the design of the consumer version of the Rift, which is one of the most comfortable headsets on the market today. But at CES, the trade-offs that VR device manufacturers have to make in their attempts to push technical boundaries and get a product in demand are also becoming visible.