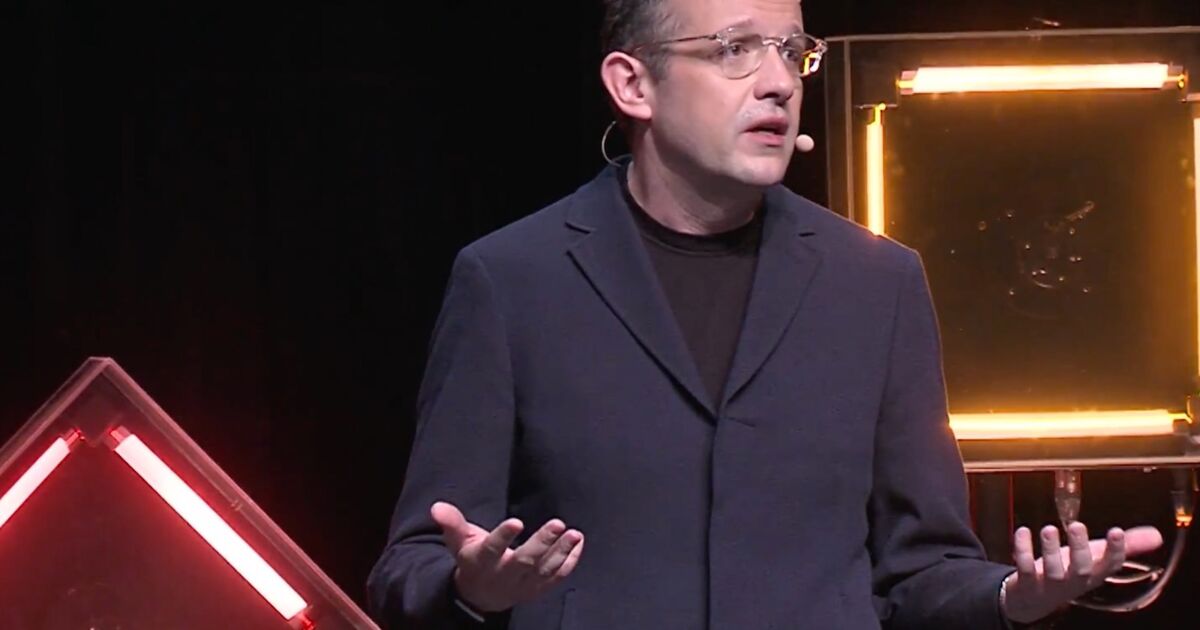 Phil Libin explained to us why the Silicon Valley system is 'stupid' and how design will save us from the dangers of AI
Silicon Valley is always the dream of entrepreneurs from all over the world.
To have a brilliant idea in the dorm room of his university, to partner with an awesome co-founder, to go to San Francisco and raise a few million from a Sand Hill Road fund, to launch a startup that will be put on the stock market or will be expensive to sell to a tech giant…
This dream, and this system, are "stupid," according to Phil Libin.
The American entrepreneur knows him well for having lived it as a co-founder of Evernote and then an investor in the General Catalyst fund. His new company, All Turtles, aims to annihilate this dream.
"As an investor, I have analyzed the numbers: if you are a man, white or Asian, aged between 21 and 27, with a degree in computer science from Stanford University, and you still live within 80 km of Stanford, you have a fair chance of succeeding," Phil Libin tells Business Insider France. For every criterion you don't meet, your chances go down.
However, "true brilliance is very rare but it is distributed fairly". To the four corners of the planet, therefore.
That's why Phil Libin is launching All Turtles, a startup that wants to play the role of a film studio for technological innovation, and is setting it up directly internationally with a branch in Paris, which will open in January at Station F, one in Tokyo, in addition to its base in San Francisco.
While in Paris to finalize his installation in the giant campus of Xavier Niel, Phil Libin explained to Business Insider France how his recipe can work and why it is a response to the dangers of artificial intelligence on which Elon Musk continues to alert.
Business Insider France: Why launch a startup that wants to apply the process of developing a product to projects in artificial intelligence?
Phil Libin: We want to create products that are convenient for the user and that become smarter over time, with creators who do not need to become HRDs or accountants for that matter. A director doesn't go to HBO to learn how to make a movie. However, this has been the Silicon Valley method for 20 years and it is a stupid process, which prepares you for crushing failures. It's not worth starting with starting a business, paying yourself to learn things that other people already know. Our model takes away all the magic of Silicon Valley and allows it to be deployed anywhere.
How do you finance this?
We have raised more than $20 million from several investors including General Catalyst, Xavier Niel, Salesforce and Marc Benioff. Then we will generate income from the products that we have developed and that we will distribute live, through the shares that we will keep in the products that will become independent startups or that will be acquired.
We could be profitable in the first year if we wanted to. All Turtles will indeed also develop one to two projects a year for large companies, with whom we will pre-negotiate the release conditions at the end of the three to six months that we will have spent working on the product at All Turtles. It will always be cheaper for them than buying a startup.
What do you say to an entrepreneur to convince him to join All Turtles?
You have to think of All Turtles as a co-founder. What does a co-founder bring me? Well, that's what the studio will bring him. There are two types of ecosystems today: an ecosystem that puts the company first, then an ecosystem that puts technology first – before looking for what problem it needs to solve. We want to create an ecosystem that puts the product first.
Is this the problem of artificial intelligence today: to put technology at the center without worrying about the applications it will have?
There are still few people who focus on the design dimension of AI. We want to do things this year that were impossible three years ago — like when Evernote was launched in 2007. AI is in 2017 at the same stage of maturity as mobile was in 2007. There is a challenge in terms of design, not engineering. In three years, AI will be the fabric that encompasses every aspect of everyday life. We refute the idea that the projects are amoral. Technology may be amoral but a product has to move the world forward.
How do you fit into the debate between Elon Musk and Mark Zuckerberg about the dangers of artificial intelligence?
For any technological breakthrough, there were, when it was beginning to become popular, people who warned about its dangers. That was probably the case when we discovered fire and writing. The critics of technologies have always been right, but also because it is more difficult to see the positive aspects because it requires more imagination. The problems of artificial intelligence are very real, they will cause more inequalities and the benefits are more difficult to imagine. But they will be more important than its dangers. The best way to approach a risk is to run directly to it. Elon Musk takes the risk seriously and that's what he's doing, he's working on it. I'm a big fan.
Why did you choose Paris and Tokyo to settle first?
The Parisian ecosystem is great. The reason is: there are brilliant engineers but also a design-oriented mindset and a sense of detail. Design is as important as engineering. There is a similar dynamic in Tokyo. Maybe next year we'll open in Mexico City.
What goal do you want to achieve with All Turtles?
Five years from now, I want All Turtles to be the default dream for talent making products, the way Netflix is today for directors.
Receive our latest news
Every day, the main Business Insider news