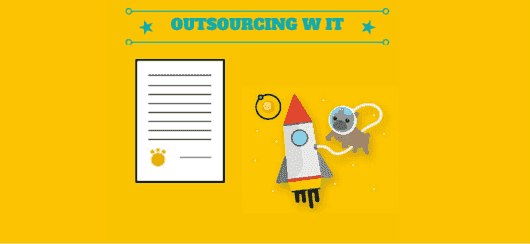 Outsourcing in IT
An increasingly popular form of employment, hiring an employee, is a solution used by employers who have trouble finding IT professionals. The market of IT companies is becoming more and more expensive every year. The reason for this is the increased demand for qualified programmers by both large, medium and small enterprises. Hence the idea of body leasing was born.
What is body leasing?
This is a form of outsourcing of employees of a particular company, which transfers them, "lends" to perform some project in another enterprise. In this way, the work force of the team is strengthened by additional people.. The borrower pays for this service to the developer's native company, saving time on the search and recruitment process. In many situations these few days (sometimes weeks) can save the project.
What is team leasing?
As in the case of body leasing, the company hires a team of professionals for the task. Thanks to this solution, you can quickly proceed to the execution of the order. In this employment model, it is usually possible to avoid the risks associated with organizing work and adapting to the group by programmers – we already hire a well-coordinated team.
Different forms of cooperation
Depending on the type of Project, individual employees or entire teams of specialists are hired. Their work is accounted for in two ways:
Time& material
Fixed price
The first of these is to account for the hours worked. Developers evaluate project tasks and their services are evaluated on the basis of this evaluation. As is well known, it happens (and even very often:)) that the project takes a little longer than the client / developer assumed, which in the case of time & amp; material is very important.  This solution is usually used for projects that do not yet have timetables and a defined scope of activities. This system is most often used for long-term orders, application development and maintenance of software systems.
The second-fixed price, consists in calculating the value of a given project performed by a team of programmers even before its implementation, that is, in addition to time estimation, you also need to accurately outline the whole concept, functionality, etc. After these assumptions are realized and the project is delivered, the client pays for the finished product. The advantage of this model (from the point of view of the customer) is that he does not have to account for overtime. However, please note that in the case of a fixed price, the client cannot interfere with the established model of the project (he cannot propose new changes, etc.).). Therefore, before undertaking this kind of cooperation, it is worthwhile to determine what exactly we expect from the product.
What specialists do you employ?
Currently, the market is growing in demand for programmers dealing with such languages as.: Ruby on rails, .NET, Java, Python; with the development of mobile applications, there are very specialists in programming for: iOS (Swift and formerly Objective C) and Android (for example, Java or Kotlin).
Advantages Of Body Leasing
This solution benefits not only the employer, but also the leased specialist. We can distinguish such advantages as:
Reducing the cost of living of the employee (leave and sick leave, training, etc.);
Saving time of the employer (he does not have to waste days (sometimes weeks or months) to search for a programmer, recruitment, selection)
Adapting team members and their skills to a specific project;
Make sure that you hire a specialist (assuming that we or someone else has already verified his skills)
Responsiveness – when you need a worker right away;
Little formality – just a contract with the company and an invoice;
Payment for a finished and qualitatively good product;
The possibility of additional earnings (if your employee does not have any tasks for a given period of time, you can hire him to another company – this way everyone benefits from this, because you earn, another company has an additional person who can save the project, and the programmer has the opportunity to participate in an interesting project (at least sometimes :));
Another advantage for a leased employee is the opportunity to see how you work in another company, learn its know-how and learn new methods of work. In addition, such a programmer can meet new people, exchange experiences with them and learn something new
Disadvantages Of Body Leasing
Of course, there are no perfect solutions. It is worth mentioning the negative aspects of this model of work.
Lack of "their" programmers-the company hires employees only for the duration of the project, after which it usually can not (usually it is included in the contract) to take them over and offer better working conditions. In addition, they are implemented in the operation of the entire business of the entrepreneur, learn know-how etc. and after some you will have to again look for new people … permanently (unless the company plans to base its activities on body leasing).

No identification of the employee with the company to which it is rented. Often, leased developers are aware that they will only work for a predetermined period of time in a given company and may feel a lack of motivation or attachment to the employer.
What you need to know before signing a contract about Body leasing
Necessarily need to do a background check of the company, which offers such a form of employment. Check her references and what projects the offered developers worked on. This is a very important stage, because you care about time, and not about learning a hired consultant. When negotiating a contract, you also need to keep your head on your neck-sometimes the price of a hired employee exceeds the cost of hiring a new one. In addition, it is worthwhile to specify the key terms of the contract such as: the schedule of assignments, NDA and stipulate that a competing company can not "pick up" your specialist after the end of the contract period.
Remote work and body leasing
It would seem that this is an impossible form of cooperation. The employee should be present at the project, have contact with the project manager and other developers, attend project meetings, etc. Nothing more wrong, outsourcing is very often performed precisely on the principles of home office. Of course, such programmers need to participate in team meetings and strategy development, but this can be done using, for example, Skype.in addition, it is common practice to set deadlines that must be met – according to the contract. Delegating remote work is also in the hands of the employer-client, since he does not have to save space in the office for another employee, bear the costs associated with maintaining, for example, a computer, a desk, a chair, a cafeteria package, etc.
Another advantage of this form of employment is the possibility of hiring a consultant by smaller companies located in smaller towns. However, it is important to be aware of both data protection issues and the timing of the next solutions / parts of the task.
What does IT outsourcing look like in Poland?
According to the KMPG report, clients most often choose outsourcing services in India (the cost is ridiculously low there, as is the quality), followed by Poland, although countries such as Belarus and Ukraine are beginning to play an increasing role. The market for such IT services is growing, as evidenced by the number of companies that specialize only in this.
Here are some of them:
The range of services of such companies usually includes: software development, testing, development of business solutions in IT, IT infrastructure ( including monitoring, virtualization, databases), industrial engineering.
Both body leasing and team leasing are very profitable forms of employment. We especially recommend them to those companies that are growing rapidly and have an excess of orders. It is then worth thinking about leasing employees.