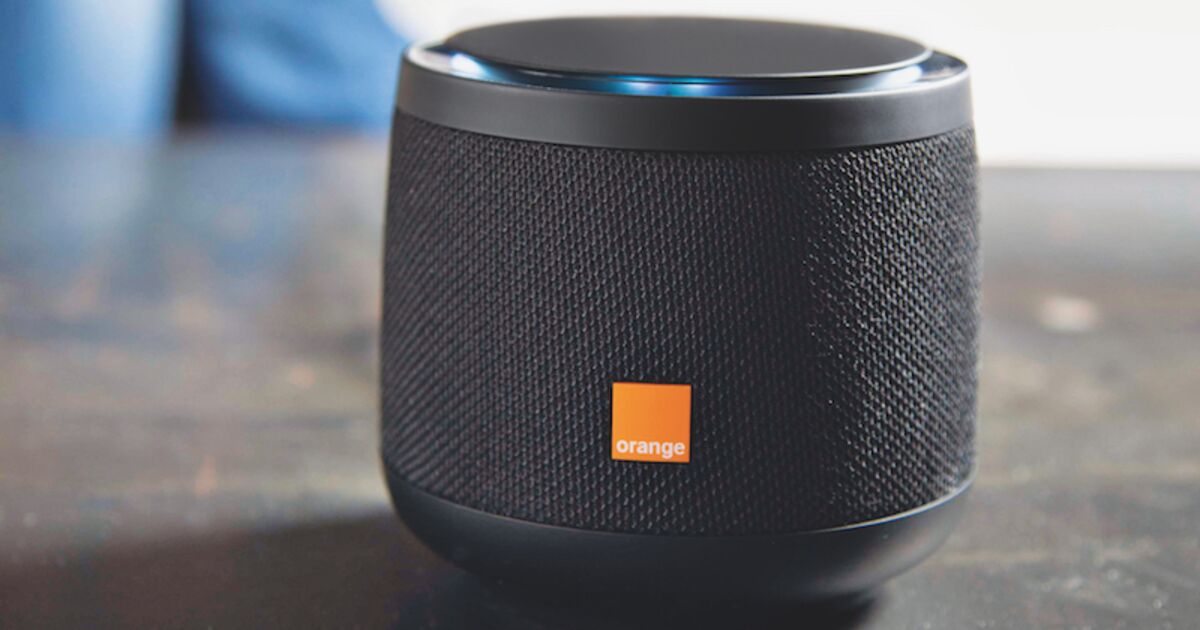 Orange announces the release of its Djingo connected speaker with a European AI that will not sell your personal data - but will also embed Amazon Alexa
Orange has just announced the marketing of its connected speaker in spring 2019, at a price of 49 euros for Orange customers.
It will carry the intelligent assistant developed by the operator, called Djingo, in collaboration with the German Deutsche Telekom.
But Djingo will also integrate Alexa, Amazon's smart assistant.
One week after Free, it's Orange's turn to present its new products.
At its annual Hello Show this Wednesday, December 12, the incumbent operator announces that its connected speaker Djingo will be marketed in spring 2019 from 49 euros for Orange customers.
The operator does not specify whether it will be available to non-subscribers, and at what price.
First announced in April 2017 and then presented for testing at the Mobile World Congress in April 2018, this speaker is to compete with Amazon Echo and Google Home products.
The announced price is also 10 euros lower than that of the Echo Dot and the Home Mini — both sold for 59 euros, excluding promotion.
The Djingo voice assistant will also be accessible from other media, such as a smartphone, the remote control of the TV set-top box of the Livebox, or directly on a web browser.
A European smart assistant
Stéphane Richard (left) and Timotheus Höttges (right) during the Hello Show on December 12, 2018 at La Défense. YouTube screenshot
Djingo is the result of a 50/50 partnership between Orange and the German operator Deutsche Telekom. In Germany, the assistant is called Magenta and it is sold for 149 euros to the general public. For Timotheus Höttges, CEO of Deutsche Telekom, this partnership in AI is the "first step towards a concrete digital Europe".
Stéphane Richard claims that "the data processed by Djingo and Magenta will be saved on European soil", and indicates that only 4% of the world's personal data is stored in Europe.
The opportunity for the CEO of Orange to remind that the operator does not market the personal data of its users, because its business model is that of subscription. It is also a way for the leader to present Orange as an alternative to giants like Google and Amazon.
An Alexa integration
But, more surprisingly, Orange announces a partnership with Amazon. Djingo will integrate the services of Alexa, the voice assistant of the American giant. To do an internet search or shopping, users will be able to use Alexa.
A deal that may seem surprising, while Amazon uses the personal data of its users to do advertising targeting.
"We are working with Amazon to integrate our AI, Djingo and Alexa, into our respective equipment," adds Stéphane Richard, without specifying what form the partnership will take on the Amazon side.
We have contacted Amazon and Orange for further clarification, and will update this article if we get a response.
'Chosen' partners
In terms of features on Djingo, the company announces an "ecosystem of Orange services and selected partners", to be ordered with the voice.
Here are which ones:
communication services (hands-free phone calls)
entertainment with Deezer, Orange Radio, Orange TV.
the news and the weather with Radio France, Les Echos and Météo France.
partnerships with Yes.SNCF in transport and with large distribution.
Orange promises the gradual arrival of other features such as voice identification to offer personalized services to each member of the same household, the management of connected objects, or services designed for drivers – to read messages or provide routes.
The operator also highlights the features that Djingo offers for professionals: taking notes, sending emails, forwarding calls, organizing conference calls, making appointments…
Find all the announcements made by Orange by clicking here (PDF document).
You can watch Stéphane Richard's presentation below (from 34 minutes):