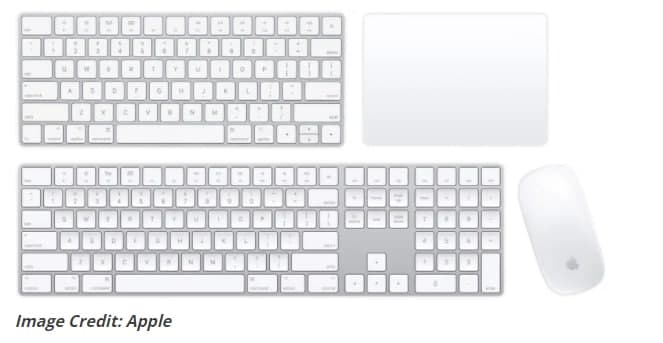 New Quest update adds support for Apple Magic Keyboard and more
This week, Meta announced the release of the v37 update for the Meta Quest and Meta Quest 2 headsets. Like previous updates, the v37 introduces many improvements for standalone VR headsets, including support for additional keyboards, as well as new sharing capabilities.
Here's what will appear in Quest headsets this month:
Apple Magic Keyboard Support
The v37 update offers Mac users the opportunity to expand their web browsing and VR experience thanks to Apple's Magic Keyboard support. Once paired, Quest overlays a digital version of Apple's Magic Keyboard onto its real-world counterpart, allowing users to efficiently type in VR using hand-tracking technology.
The company is also releasing an SDK for the tracked keyboard as part of the Presence Platform so that developers can implement wireless keyboard support in their games and applications. Apple Magic Keyboard support can be enabled in the "Experimental Features" section of the headset settings.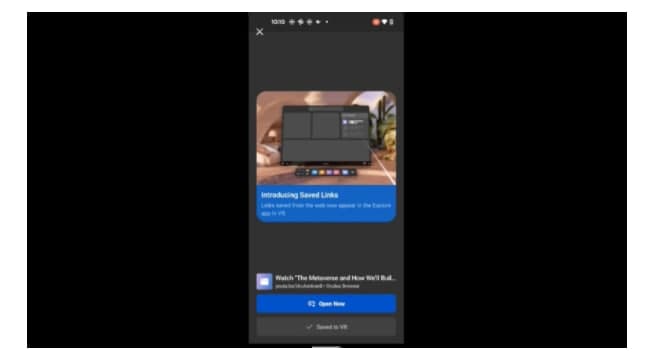 Link Exchange for Android
Meta simplifies the exchange of content between a smartphone and a headset with the help of new link exchange capabilities. The process is painfully simple. Just select the content, click the share button on your device and select the Oculus mobile app. The shared content will automatically appear in the headset via the Browser app.
You can also save the content for later viewing using the "Save to VR" option. At the moment, Quest link exchange is only available on Android devices, although Meta promises that iOS support will appear in the near future.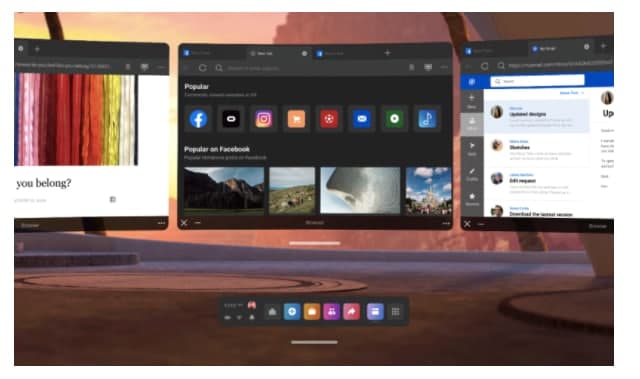 Panel Setup
Update v37 introduces two new modes – "Tablet" and "Desktop". Tablet mode allows you to view a single 2D panel up close. Desktop mode, on the other hand, functions similarly to the existing (soon to be previous) layout, allowing you to interact with several windows located further in your field of view. The multitasking feature can be enabled in the "Experimental Features" section in the Quest 2 settings.
According to Meta, tablet mode is ideal for those who need to focus on a single task, while desktop mode is designed primarily for multitasking. Both of these modes can be applied to every 2D Quest panel, including the store, library, and browser.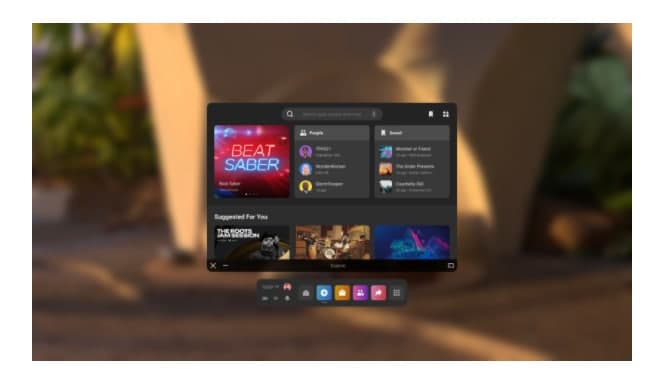 Improved hand tracking and guide tape
Meta aims to improve Quest's hand tracking technology with a new hand gesture that makes it easier for you to access key features and settings. If you raise your palms up and squeeze your index and thumb, you will get access to a new quick access menu. Here you can take screenshots, record videos, activate voice commands and perform many other important actions.
There is also a new and improved Explore Feed. Here, users can check recommendations for additional games and apps, chat with their friends, and access external links sent via an Android device. The company is also introducing new sections "Fitness" and "Productivity", continuing to support the growing VR fitness industry.
Like previous updates, the aforementioned features will start rolling out on headsets within a month, so don't worry if you don't see them available yet. For more information about all of today's announcements, check out the official blog update.