Nanosatellites: The Democratization of Space
A paradigm shift has quietly taken place in the satellite business: Instead of huge and billion-dollar orbiters, thousands of nanosatellites, hardly the size of a shoe box, are now doing the job. They are flexible and, above all, affordable for less well-heeled companies and countries.
Anyone who has thought of satellite technology so far thought of years of planning phases, of white masked people, of clean rooms, shiny gold foils and huge boxes the size of a van. Rocket Science, as the Americans call it. But now it's time to rethink. Because the complex and expensive news satellites have gone out of fashion. So-called nanosatellites are increasingly taking over their tasks.
Table of contents of the article
1

Nanosatellite from the garage

2

Losses are expected

3

Mini-satellites bring Earth observation for all

4

Flying cubes from the construction kit

5

ESA provides expertise

6

Nanosatellites: Hope for developing countries

7

High-flying plans for IoT
Nanosatellite from the garage
One of the pioneers in this field is Planet Labs. The US company, founded in 2010 by three former NASA engineers Robbie Shingler, Will Marshall and Chris Boshuizen, showed a radically new approach to previous space companies. They took advantage of the progress in microelectronics and shrunk the orbiters to shoe box format. And these were not screwed together in a clean room, but in the proverbial garage. The parts used for their nanosatellites, affectionately called "Dove" (dove), were and are mostly standard products from industry. This makes them extremely cheap. One copy currently costs no more than a few thousand dollars.
Savings are also made during transport into space. The Americans are not the main customer for the launches, they only book leftover payload for larger rocket launches. This is not only very cheap, but also allows more frequent launches and thus a faster replacement of the technology.
Chris Boshuizen, Will Marshall and Robbie Shingler, the reasons of Planet Labs in 2010 Image: Planet Labs
Losses are expected
And this changes quickly, every few months there is a new generation of Sat. So more garbage in space? Probably not, because Planet Lab promises to clean up behind itself:" We want to make sure… that every non-functioning satellite leaves orbit within 25 years of its decommissioning, " announces Mike Safyan, vice president of Launch at Planet, in an interview of the Internet portal ingenieur.de on.
Meanwhile, Planet Labs has launched nearly 400 nanosatellites, around 180 of which are still active. 34, however, have not even reached their orbit. Spectacular was the loss of equal to 26 of the mini-satellites, when in October 2014 an Antares rocket exploded during launch. Lapidary comment back then from Marshall: "Space travel is just tricky". Planet Labs counteracts this risk with overproduction. At each launch, the Americans shoot more of the cheap orbiters into space than would be necessary.  This is to ensure that the data flow from space does not break off.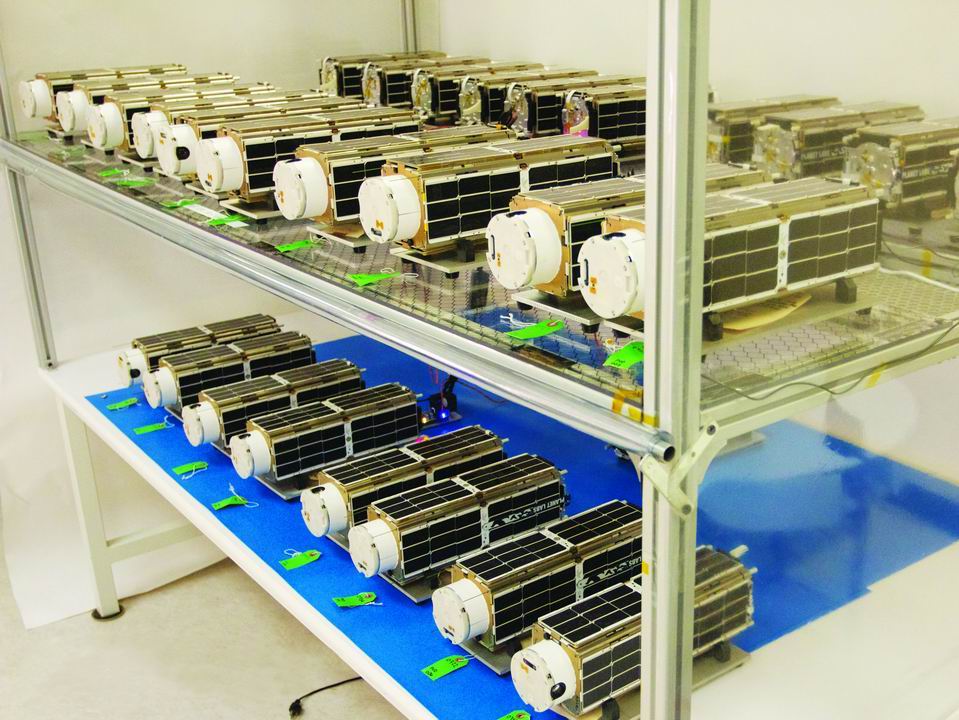 The Dove-type nanosatellites were literally built in the garage. Picture: Planet Labs
Mini satellites bring Earth Observation for all
The task of the nanosatellite fleet, which is called "Flock" at Planet Labs, is Earth observation. The low-flying orbiters can provide images of specific areas every two hours. Areas of application abound. For example, forest fires can be monitored or the effects of earthquakes can be estimated. The satellites can also see where virgin forest is illegally cleared or how the grain develops in the fields.
The cameras of the Dove orbiters deliver images with a resolution of 3 to 5 meters per pixel. This is not necessarily much, but it is enough for most applications. However, since Google acquired Terra Bella satellite company in 2017, Planet Labs also operates 21 SkySats microsatellites that reach a resolution of about 0.5 meters per pixel. Thus, high-resolution images are also possible.
A picture of a Dove satellite from the west coast of New Caledonia. It is part of the Allen Coral Atlas reef observation project. Picture: Planet Labs
With the acquisition of Terra Bella, Planet Labs has also become the purveyor of the Google Earth navigation tool. The company provides the satellite images for this purpose.
Otherwise, however, the Americans take a more democratic approach to monetizing their services: the company sells its data – but, as it repeatedly emphasizes, on terms adapted to the buyer: "If you are a farmer in Mozambique and you want to have the data of one hectare of land, then please, just take it," says Robbie Shingler to the online service of Forbes magazine. "But if you are a commodity trader who wants to know what the Kenyan grain harvest is like, then we have different prices."This approach aims to ensure that not only a small elite of financially strong interested parties can access the satellite data, but all those for whom it is useful.
Flying cubes from the construction kit
Another building block for the democratization of space are the so-called CubeSats. CubeSats are a kind of industry standard for nanosatellites. It was developed some 20 years ago by Standford University and California Polytechnic State University. The name is derived from the roughly cube-shaped basic shape of the Earth's satellites.
CubeSats are truly nanosatellites: the dimensions of the smallest variant, called 1U, are 11.35 x 10 x 10 cm, the mass must not exceed 1.33 kg. A special launch device ensures that these miniature satellites reach their orbit in space. As with Planet Labs, the orbiters are launched as a secondary payload. Meanwhile, minisatellites are also available in other formats, which have up to 16 times the volume of the base unit (16U).
Over the years, a whole industry has formed around the CubeSats.  The Cubesatshop, for example, offers standardized technical components, from housings and antennas to sensors and control elements.  This is cheap and also allows start-ups, students or research institutions to build their own satellites and put them into orbit.
ESA provides expertise
Support for CubeSats also comes from ESA (European Space Agency), which provides expertise and also its control center in Darmstadt. The specially equipped SMILE laboratory offers a flexible control room, a range of small antennas and the expertise and know-how of ESA.
ESA is making SMILE Resources available to Cube-Sat developers. Image: ESA
With OPS-Sat, ESA has had a CubeSat in orbit, developed in Graz, since 2019, with which developers can carry out a low-risk in-orbit test for new software. These programs range from new technologies for satellite control to intelligent software for spacecraft. For example, automatic image recognition or artificial intelligence can be tested in space.
CubeSats are only limited to near-earth use. For example, NASA has placed two 6U satellites in orbit around Mars as part of the InSight mission. They served as radio relays to the lander of the same name.
Nanosatellites: Hope for developing countries
The nano-satellites are also seen as an opportunity for developing countries. Globally, an estimated 1.5 billion people lack access to telephone and text messaging services.  3.9 Billion – or 53 percent of the world's population-do not have access to 3G Internet connections. The reason: Many countries cannot afford the infrastructure for information and communication technology.
This also applies in particular to care in rural areas. Specifically for these regions, the EU funded the project Pearls Constellation: originally 200 nanosatellites were to be put into low orbit and connected to each other by radio. This should create a network in which each of the mini-satellites simultaneously performs the function of a base station and a router. The system, developed by Sky and Space Global UK, is supported by its own ground infrastructure and software. However, the project is currently in financial difficulties. In a first step, the" pearl necklace " should therefore consist of only eight nanosatellites.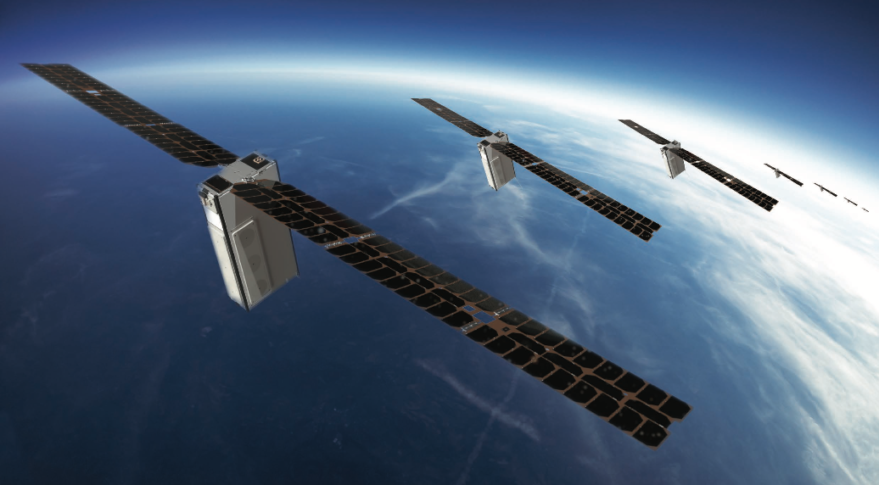 The EU project Pearls Constellation aims to bring telecommunications services to remote areas of developing countries. Picture: Sky and Space Global
High-flying plans for IoT
Nanosatellites are also intended to make the Internet of Things (IoT) denser. For example, the Spanish company Sateliot wants to send around a hundred mini-satellites into space to integrate IoT devices even in impassable areas – i.e. where there is no infrastructure.  Potential customers include fish farms, the oil and gas industry and the agricultural industry. A first satellite to test the technology has been in space since March 2021, the commercial launch of the system is planned for 2022.
Production of the OQ-Tiger satellite .Picture: OQ Technology
Competition gets Sateliot from OQ Technology. The company, which is based in Luxembourg and Dubai, among others, has the same clientele in its sights: With its "Tiger-2" project, it is also focusing on IoT and 5G. The company has chosen NanoAvionics from Vilnius as a partner. NanoAvionics already has a whole range of different nano-satellite platforms on offer, which the Balts call "bus". The size ranges from" 1U " to microsatellites with up to 115 kg. For Tiger-2, NanoAvionics wants to use its 6U platform M6P. She is already prepared for the task and has also installed an engine for path correction.