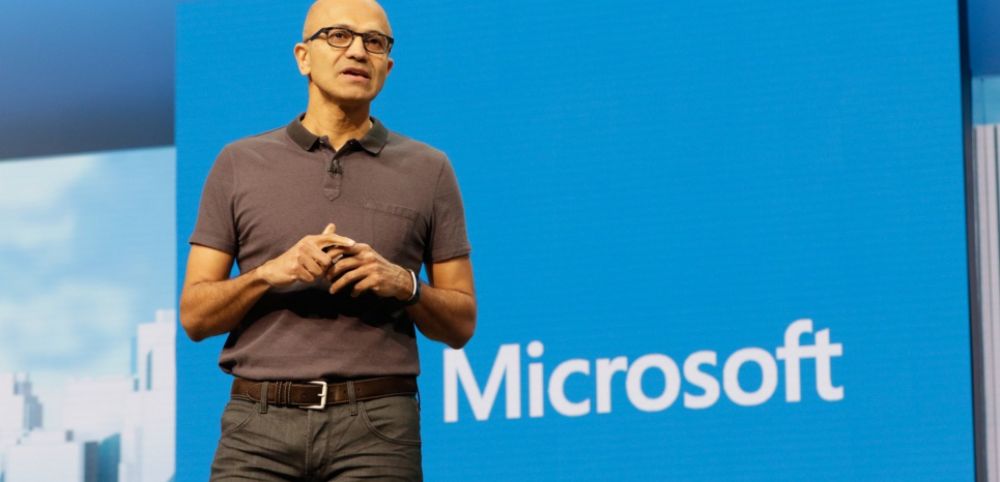 Microsoft wants to make Windows 10 a universal platform
SHOW. Sneakers on her feet, a nice, relaxed look, Satya Nadella walks the huge stage of the Moscone Center, the conference center located in the heart of San Francisco in the United States. It was on this same stage that Steve Jobs ' legendary "keynotes" were held a few years ago. Here that the co-founder of Apple, who died in 2011, had notably presented the first iPhone in 2007. And it is now here that Satya Nadella, Microsoft boss, presents – with a little something of Steve Jobs-his own annual keynote of Build 2016. An event reserved for developers that announces the main trends and strategy of the firm of Redmond (State of Washington). In 2015, the Build was marked by the presentation of the Hololens, a mixed reality headset that allows to interact with holograms. This year will not be that of such a spectacular new product, but that of the reconquest of Windows. Indeed, Microsoft has recently marketed Windows 10, the new operating system (OS) that has the heavy task of making forget Windows 8, the "tile" version ! A successful launch since in just eight months, more than 270 million users have adopted it.
https://www.youtube.com/watch?v=SKpKlh1-en0
In this Hololens app developed with Case Western Reserve University, holograms are used to explore the anatomy of the human body.
New ways to interact with the machine
But the real success is probably coming. At least this is what Microsoft hopes that has designed its new OS as a universal base, which can animate a PC, a tablet, a smartphone or any connected object. Above all, it serves as an environment for the development of a multitude of ways to interact with the machine. Microsoft's ambition is for the user to act with Windows 10 as he would with the world around him. And it is on this point that the first keynote of the Build 2016 focused. "The mouse and touch screens have frozen the evolution of interfaces. We are now trying to use more and more natural modes of interaction, " says Nicolas Gaume, director of developer, publisher and start-up relations at Microsoft France. The stylus thus makes a strong return. Never really abandoned by Microsoft, it will now be widely featured on Windows 10. For a simple reason:" There is no better way to write than with a pen", says Terry Myerson, vice president of Microsoft. Thus, it is enough to write a paragraph on Word so that it disappears or to write down a memo directly on the screen so that the machine recognizes the text and even understands the meaning. Thus, "Call mom tomorrow" will automatically trigger the recording of an alert on the calendar for the next day.
Speech recognition is also at the center of these human-machine interactions. The idea here again is to make exchanges fluid and natural. "Tell me a joke" and the machine comes up with a good story. "Send Fred the presentation I worked on last night" and the Power Point of the day before is immediately transferred by email.
Cortana, a "smart agent"
Nothing would be possible without artificial intelligence (AI) that operates from the "cloud", these remote servers. At Microsoft, the task falls to Cortana, an" intelligent agent " present on Windows 10, a kind of robot (bot) that strives to understand the wishes of the user. This is how Cortana is responsible for" understanding " the memo written by the user and creating an alert on the calendar by recognizing the word "tomorrow". It is also this bot that makes the reconciliation between "the last presentation" and the last Power Point file that has been saved. Cortana is therefore one of the stars of the keynote because Microsoft wants to push developers to use it in all kinds of applications. The Redmond firm wants above all to create a kind of" bot company " able to interact naturally with humans, but also between them ! An initiative that recalls – among other things – the approach of IBM with its Watson computer and its company of "cogs". Thus, ordering pizza via the web will soon result from a smooth conversation between a human and one of these bots :
– Can you deliver a pizza to my door ?
– The same as usual ?
– No, I want to change !
The bot must thus understand that "piaule" means home and that the user has habits that he wants to change punctually to offer him other choices. Same approach between Cortana and its user if it is, for example, to book a plane ticket. The bot can even go further by offering to contact other bots to book a hotel room for example.
To facilitate the creation of these new bots, Microsoft makes available to developers a multitude of small programs – kinds of "bits of code" – to allow them to imagine and design all kinds of bots for the web, mobiles, PCs, etc… Whether they are intended for e-commerce, manufacturers or the general public.  Programs called APIs to do speech, facial, image, text, emotion, voice recognition etc…
Finally, all this creativity can still apply to holograms since it is this March 30 that the deliveries of the Hololens began, reserved for the moment for developers so that they can create future applications for the headset. We will have to wait a few more months, or even a few years, to finally be able to play with holograms in his living room.