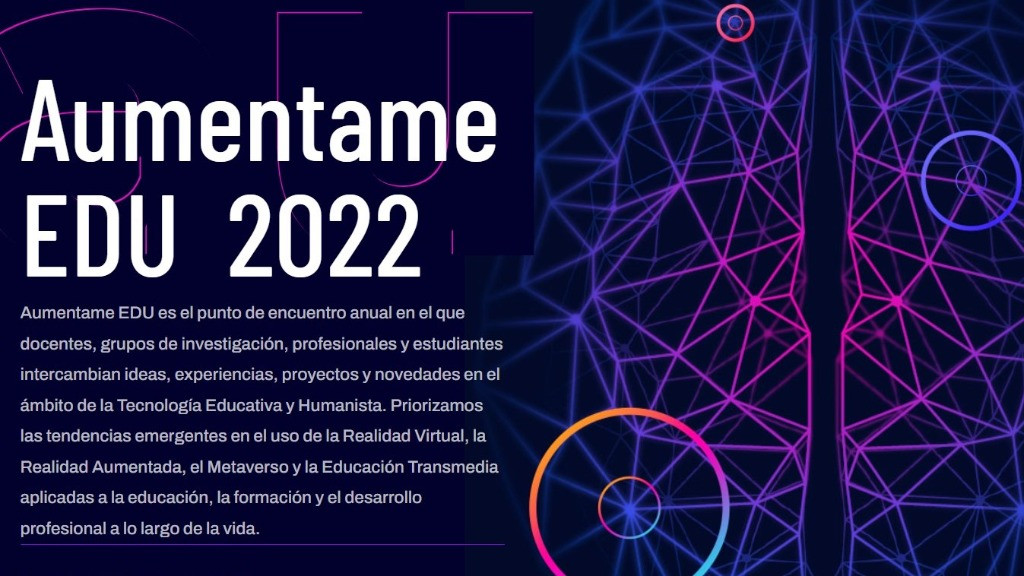 Metaverse, XR and education at the Augmentame EDU 2022 conference
On Saturday, November 19th, the Increase ME EDU 2022, a meeting between teachers, research groups, professionals and students with the aim of publicizing and sharing experiences in the use of XR, metaverse or transmedia education technologies in the field of training and professional development. Registration costs 20 € and is open until this Thursday the 18th.
Augment Me EDU 2022 will take place from 8.30 to 18.30 and in its program we find lectures, communications, presentations on educational experiences, workshops and a demonstration on the use of Horizon Worlds as an example of learning in collaborative virtual environments.
Communicate:
GET WITH SUSTAINABLE DEVELOPMENT: Virtual Reality as a tool for the design of video games and animations, an immersive experience in primary education.
CINEMATOGRAPHIC MERGE CUBE EXHIBITION: Virtual and augmented reality in the High School English classroom. A project in which the autonomy of students is promoted, as well as peer-to-peer learning.
APPLICATION OF IMMERSIVE TECHNOLOGIES IN INDUSTRIAL VET: in vocational training, VR and AR experiences are not only conceived as a methodological improvement, but as a productive tool.
HISTORICAL MEMORY WITH CO-SPACES: a Project to remember the historical memory of the largest textile factory in Spain: Industrial Spain.
ANIMAL MAGIC TRIVIA!: project consisting of the creation of a game in augmented reality by the third grade students of the Sant Jordi School, in l'Ametlla de Mar.
DIGITAL TWIN BOXES: immersive competency training scenarios in industrial maintenance processes and operations
DETERMINATION OF VOLUMES OF 3D SOLIDS IN VR: didactic proposal of application of 3D creation in VR using Edu CoSpaces to the determination of volumes of solids by multiple integrals
VIRTUAL REALITY IN PENITENTIARY CENTERS: presentation of the experience and the work done in the Virtual Reality training workshops in penitentiary centers Quatre Camins i Lle
AR EVOLUTION: Augmented Reality and its evolution in the future Metaverse: What role will Diminished Reality have?.
PC VIRTUAL LAB: educational VR game for learning computer components created at the University of Burgos.
MOTIV-ARCHE: co-creation of content and use of AR to motivate young people for cultural and natural heritage
NEW ASSISTIVE TECHNOLOGIES: presentation of XR experiences in healthcare spaces.
Workshop
Design of experiences in augmented and virtual reality with CoSpaces
Giravolt 3D: San Clemente de Taüll in Virtual Reality
We learn with AR and VR in Childhood and Primary
From 3D to Augmented Reality
Around the world in 80 minutes with Aumentame and CoSpaces_EDU
The workshops take place simultaneously, at the same time, so the participants will have to choose which of them they want to attend.
Increase ME EDU 2022 takes place this year at the Institut Escola del Treball de Barcelona and it is organized this year by ODITE (Observatory of Technological and Educational Innovation) and the Espiral Education and Technology association. Previous editions have been held in other cities such as Zaragoza, Valencia, Granada, Salamanca, Toledo, Tarragona or Girona.