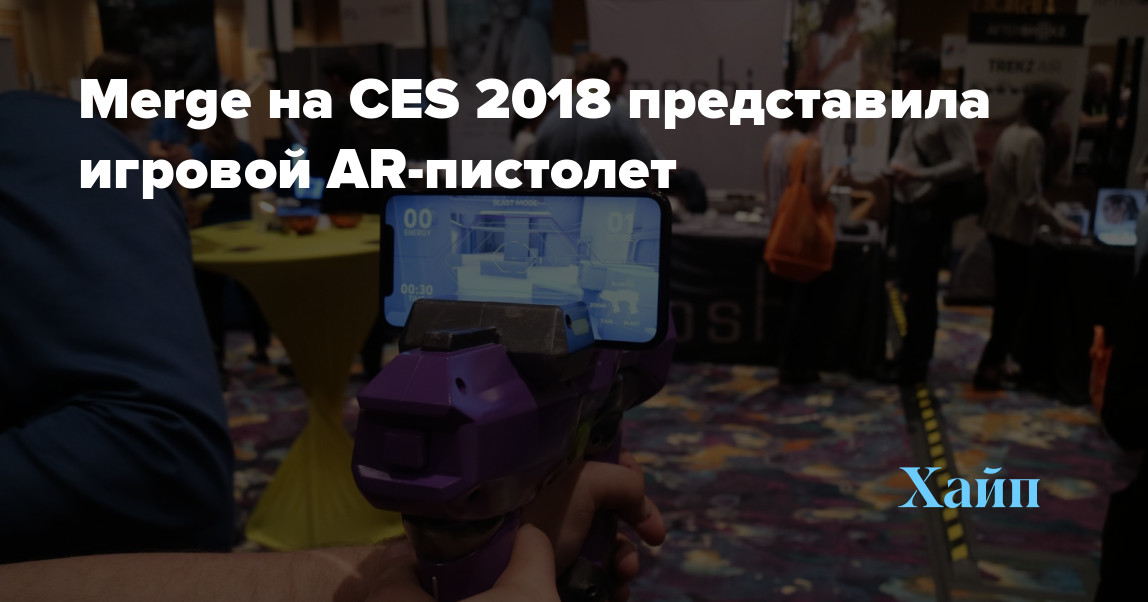 Merge at CES 2018 introduced a gaming AR-gun
Photo: here and further Engadget.com
At the Consumer Electronics Show in Las Vegas, Merge presented its new development-the 6DoF Blaster (a light plastic machine gun equipped with 4 buttons (controllers), as well as a smartphone mount). Controllers can be used by game manufacturers to create products specifically for this gadget.
There are two ways to use the gun: the smartphone camera tracks the real world and puts a picture on top of it. The second option is to use virtual reality. Here you will need headphones to fully immerse yourself in the game.
6DoF Blaster is very similar to Superhot (it gives the player the opportunity to get out of the line of fire in time or change their actions depending on the situation). Additional buttons allow you to speed up or slow down time in an instant.
The launch of the 6DoF Blaster is planned for the summer of 2018 at a price of $30 in several colors. The company wants to further develop its ecosystem in order to enable third-party developers to participate in the creation of games for their devices. The iPhone version of the demo game is built on the ARKit platform, and it is also available for Android.
What we have created is an intuitive, accessible product and a virtual reality platform for the mass market. We can provide a high-quality, positionally tracked VR experience and deliver it in a form factor that is easy to use, " said Merge founder Franklin Lyons in a press release. – Merge 6DoF Blaster is a breakthrough product that will make virtual reality more practical and allow developers to create a lot of new games.
Recall that last year, Merge announced a device called Cube worth $15. It uses a smartphone to create holographic effects with augmented reality. Merge Cube is a cube with a graphic code that is embedded in each side of it. With the help of a special application and a headset, the smartphone understands which side the cube is turned and how far it is from the user. Using three-dimensional scanning, a three-dimensional model of the cube is created. The result is a hologram that you can hold in your hands.
Photo: TELUS.com
Having created the 6DoF Blaster, Merge does not stop on its way, the company plans to develop an AR platform for a variety of purposes, including education.
Source: engadget.com