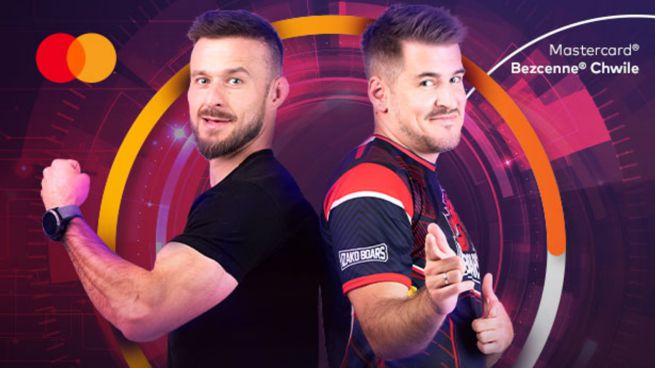 Mastercard joins the game-gaming in Precious Moments
Priceless moments Mastercard is a program where registered users automatically receive points for each card payment with any seller or service provider in Poland, which can be exchanged for prizes supporting the realization of their passions and interests. The traditional factual catalogue is replaced by the individual objectives pursued by the programme participants. These objectives have so far been divided into 8 categories: film, music, sport, entertainment, travel, culinary, shopping and helping. Now joins them the ninth category-gaming.
The campaign slogan accompanying the launch of the new category is: Mastercard joins the game. In the communication activities of the campaign are involved gaming ambassadors, bringing together numerous and committed communities – Piotr 'Izak' skowyrski and Jarosław 'pashaBiceps' Jarząbkowski. Within the gaming category, New min products will appear in the priceless moments award catalogue. from Logitech G, Microsoft and SteelSeries. The catalogue will also be supplemented with the latest premiere equipment of partners and products with autographs of ambassadors – Izako Boars t-shirts with the signature of Piotr skowyrski and equipment from SteelSeries with the signature of Jarosław Jarząbkowski.
"Gaming has recently been developing at a very dynamic pace, including in Poland. As studies show, as many as 16.5 million Poles declare that they play a game at least once a week. Moreover, computer games are the second most popular way to spend your free time, especially during the difficult time of the pandemic. They are available to everyone, in their comfort of home, whenever they feel like it and time at Mastercard we see these trends and follow them in order to best adapt our precious moments to the passions and interests of consumers " – says Marcin Klimkowicz, director of loyalty and CRM solutions at Mastercard Europe, Poland.
How does Mastercard precious moments work?
After registering a payment card in the priceless moments program, the user selects a goal from the category to which he wants to strive. To its implementation approximate it non-cash payments, including those made online. Most points are gained during transactions with the program's trading partners, among which there are already more than 80 retail brands from 19 different shopping categories, including such popular ones as Carrefour, Circle K, Decathlon, RTV euro AGD or Empik. The priceless moments program is also distinguished by personalized offers tailored to the purchasing habits of a particular consumer.
For more information, see www.bezcennechwile.pl
Fantasyexpo is responsible for the creative concept, selection of influencers and communication of the gaming program within the priceless moments of Mastercard.