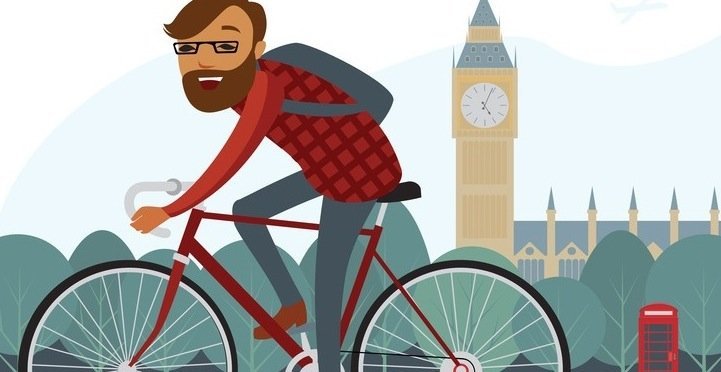 Let's ride the bike to work!
Bicycles are an effective way to reduce traffic jams in cities. In many European countries, workers are rewarded for coming to work on two wheels, receiving as much as 25 euro cents per kilometre. What does it look like in Poland?
We checked the data of the research company Deloitte and it turns out that because of traffic jams, residents of the seven largest cities in Poland, commuting by car, lose a total of 13.7 million PLN per day, or more than 3.6 billion PLN per year. Over the past 3 years, the cost of traffic jams for drivers trying to get to work by their own car has increased by 4.4% and amounts to an average of PLN 3,034 per year. The biggest costs are borne by people driving around Warsaw, Wroclaw and Krakow. By the way, let us add that the Polish capital belongs to one of the most congested cities in the world.
It is known that some people drive for health reasons or they cannot afford a car, but there are also people like me, for whom cycling is a lifestyle and nothing to do with traffic jams, the distance from home to work, etc. I ride a bike, and nothing's gonna change that. My two wheels are great equipment that I care about and it's part of my image.
Karol, programmer ASP.NET MV
How do they get to work in Europe?
The west of Europe has long been behind the rise of the automotive industry. Now we are seeing more and more ecological trends there, which, by the way, solve the problems with traffic jams. It turns out that more than 4.5% of French people commute to work by bicycle, and in the Benelux countries it is up to 30% of adult citizens. Such a means of transport is strongly promoted and at the same time promoted in Europe.
My friend, who lives in the countryside near Berlin and works in the German capital, already 10 years ago, mentioned that her boss arranged for company bicycles, which, like verturilo in Warsaw, can be left in different places. They were only available to employees. My friend used to cycle to the station, then take the train to the office and back home again by bike. All together took about 45 minutes. Of course, in Germany, the law and the state favor bicycles.
Monika, HR Manager
In many countries, employees can count on additional gratuities for coming to work on bicycles. This is the case, among others, in the Netherlands, Denmark and Germany. In Belgium, for example, every kilometre travelled to or from work on two wheels earns 20 euro cents for a cyclist. The French get even more by bicycle, because 25 euro cents for every kilometer, and this amount is tax-free, while the British can count on 20 pence for every mile traveled (1.6 km). Moreover, in countries such as the Netherlands and the United Kingdom, employees do not even have to own their own bicycles, because they have at their disposal business bicycles. What does it look like in Poland? We decided to investigate this issue.
Polish worker on a bicycle
In the CBOs report we read that 70% of poles ride bicycles, including 22% regularly, and 35% from time to time. We also found data from TNS Poland, which shows that 6% of our compatriots get to work on two wheels. These figures show that we have nothing to be ashamed of in Europe, and we just need to develop the right habits among our compatriots. We have been observing a positive cycling trend for several years now. For example, between 2010 and 2015, the number of cyclists in Warsaw tripled, while now bicycle traffic accounts for almost 3% of all trips around the capital.
However, this is not all, because more and more Polish employers are encouraging their employees to come to work on bicycles. It turns out that Polish companies are following in the footsteps of companies operating in the west of Europe. An example is the Krakow-based game developer, Ganymede, which, as part of the "three for two wheels" campaign, pays 3 PLN per day to employees for coming to work by bicycle (they can earn up to 700 PLN per year). Another example is the sopoca company also from the IT industry – Blue media, which gives employees 1 PLN for every kilometer traveled. Against this background, Allegro stands out, which in its Poznan headquarters has prepared a number of facilities for people coming to work by bicycle, for example, worlds, under which you can park 100 cars, and the doors to them are closed with electronic cards, changing rooms for cyclists with showers.
I recently went out with a friend after work, and he came by bike. He said that he gained weight after the winter and decided to switch to cycling. I also have a friend for whom cycling is a passion, he has professional equipment and from early spring to late autumn he goes almost every day to work by bike. He arrives, takes a shower, puts on a fresh T-shirt, and is ready for the task.
Krzysztof, Senior Oracle / ETL Developer
We have given only a few examples, but even these already show that employers are becoming more aware of the benefits of cycling. First of all, employees are in better shape, they are healthier, and this means that they get sick less often. Traveling on two wheels also means less traffic and less waste of time, cleaner air, as well as saving money, not to mention the fact that sometimes you can earn by riding a bicycle to work. In this situation, it is difficult to talk only about the momentary fashion for two wheels. More and more often their choice is, simply, a reasonable decision. Well, we're switching to bikes!