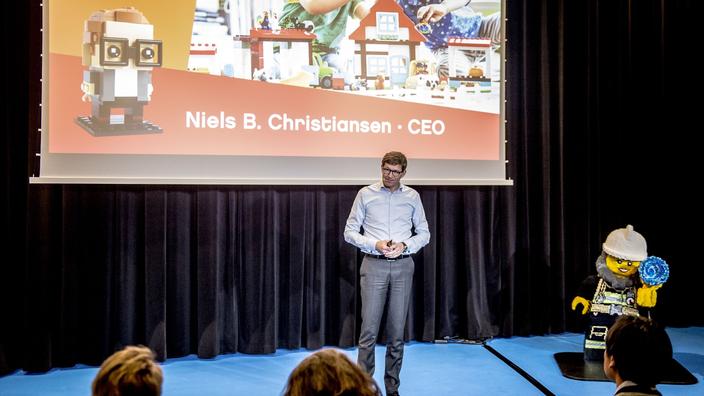 "Lego has taken the digital turn"
EXCLUSIVE INTERVIEW – In an interview at Figaro, the CEO of the Danish toymaker delivers his strategy for the future. The famous plastic brick is celebrating its sixtieth anniversary this year.
From our special envoy in Billund (Denmark)
Niels Christiansen, 51, took over as Lego CEO on October 1 last year amid turmoil. The group, which had become the world's most profitable toymaker, suffered a historic fall in results last year. Last September, it had to part with 8% of its workforce. In an exclusive interview with Le Figaro, Niels Christiansen, whose group published its annual financial statements on Tuesday, discusses the transformation underway within the group and its digital projects.
THE FIGARO – What changes have you implemented at Lego since your arrival?
Niels CHRISTIANSEN.- We have simplified the way we work. Starting by removing hierarchical strata. The five zone bosses (USA, China, Europe…) now report directly to me. This gives us greater proximity to our markets, both to consumers and to our distributor customers. Country managers are also more autonomous, which allows them to be more responsive, especially during the crucial holiday season. Our designers are also encouraged to express their creativity more freely. Finally, we need to move faster in the design of our products to be able to keep up with the rapid evolution of children's desires. This is what happened during the launch this winter of our virtual reality application. Our team did it in just six months. But this transformation of the company takes time. We have to drive these changes without forgetting our DNA and without giving up on quality.
Why was this transformation necessary?
We have had for more than ten years a "supernatural" growth. We knew it wouldn't last. But Lego has grown a lot. Today it is necessary to adapt its organization to the size of the enterprise.
Is digital a threat to Lego?
On the contrary, this is an opportunity for us. It's a way to add a dimension to the gaming experience. The heart of our business remains the brick; this is what makes the children vibrate. But this does not prevent us from combining physical constructions with the digital universe. With our values and the breadth of our ranges, we are in a unique position to do so. The child can have an experience with the Lego brand via the family ipad or smartphone. It is possible to animate a blue dragon of Ninjago thanks to our applications. Or to program a robot, with our Lego Boost game kit, which was a great success last Christmas.
Should we see 2017 as an accident in the history of the company?
We are not satisfied with our results but our level of profitability and cash flow remains good. Our sales decreased by 7% because we cleaned up inventory at home and at our distributors after being too optimistic in our sales forecasts in 2016. And not because fewer people bought Lego!
Will 2018 mark Lego's return to growth?
This is a period of consolidation. Today we are laying the foundations for a future return to growth. We prefer not to set a deadline. Our goal is to convince more and more children around the world to play with our bricks. Our shareholder, the Kristiansen family, has made it our mission to continue to ensure the success of the brand over the next fifty years!