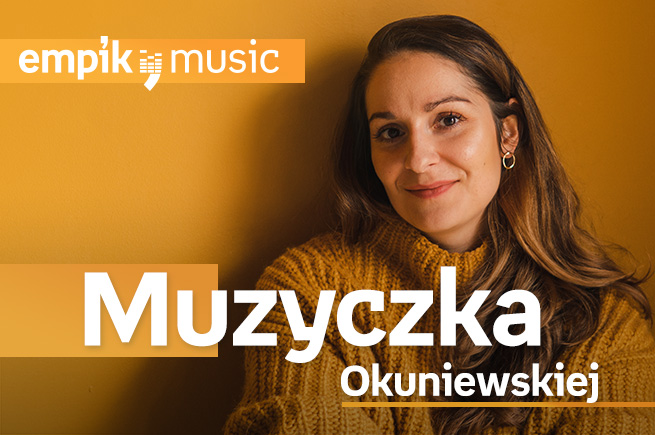 Joanna Okuniewska's new podcast at Empik Music
Joanna okuniewska is a well – known figure to all fans of podcasts-a format that has made its way into the media mainstream over the past two years. Her series" Tu okuniewska "and" me and my idiot friends " are among the most popular titles in this segment of audio production. In her podcasts, the author describes in a light, comedic way the vicissitudes of her life and the growing community of listeners and listeners. He will also not shy away from numerous references to his favorite music-each "idiotic" episode is illustrated by a song chosen by okuniewska.
– Joanna okuniewska is well known as one of the funniest and most engaging podcast authors in Poland. Musical themes are an integral part of the stories she tells, so the idea to develop them as a separate project was quite natural-says Kuba Ambrożewski, brand manager of Empik music.
In "muzyczka" okuniewska talks about her musical inspirations, interweaving selected songs with colorful stories from her life. To date, Empik music released two episodes of the podcast:" songs that warm the heart with ice "and" classics from youth", and on November 23 will be released the third:"music in the inheritance of ex and other people".
– I always missed in podcasts the opportunity to express certain memories through music. Therefore, I reacted with great enthusiasm to Empik music's proposal and started recording. It's a whole new challenge and a whole new dimension of creation. I can't wait to see more episodes – especially since Empik music gives me absolutely free rein and creative freedom and they like my every bold idea-says Joanna okuniewska.
"Muzyczka okuniewskiej" is not the first project of Empik music, expanding the musical offer with original podcasts. In the spring, the app released a podcast created jointly with SBM label, the most popular hip-hop publisher in Poland. Since October, the offer has also included the series" Conversations Metz", authored by one of the most respected Polish music journalists, Piotr Metz. His guests so far have been m.in. Jan Borisevich, Hania Rani, Fisz or… Elton John. In addition, the application appeared nearly 30 thousand podcasts. Among them are the productions of such well-known authors as Marcin myśka (criminatorium) and Justyna Mazur (five: don't kill).
– Audio content is today one of the fastest growing segments in the online world. However, not only the time spent on the "consumption" of these content is growing, but also the needs of the listener. This is not only unlimited access to old and new music, but also podcasts-inspiring conversations, in-depth guides from various fields of knowledge, exciting crime and comedy series. Thanks to the synergy of Empik's digital services, Empik Music users now have access to a huge database of podcasts, including audio content created by the most popular Polish artists – comments Kuba ambrożewski.
Empik music plans to develop this strategy next year as well.
– We will focus on building a wide range of original podcasts not only about music, but also entertainment. We see that this direction is well received by our users. Joanna okuniewska's podcast from the site has become one of the most popular items in the entire app, along with the most listened to music albums in our service. We see that it also gives us a great potential for the acquisition of new users, their number is growing month to month by about 75% – concludes Kuba ambrożewski.