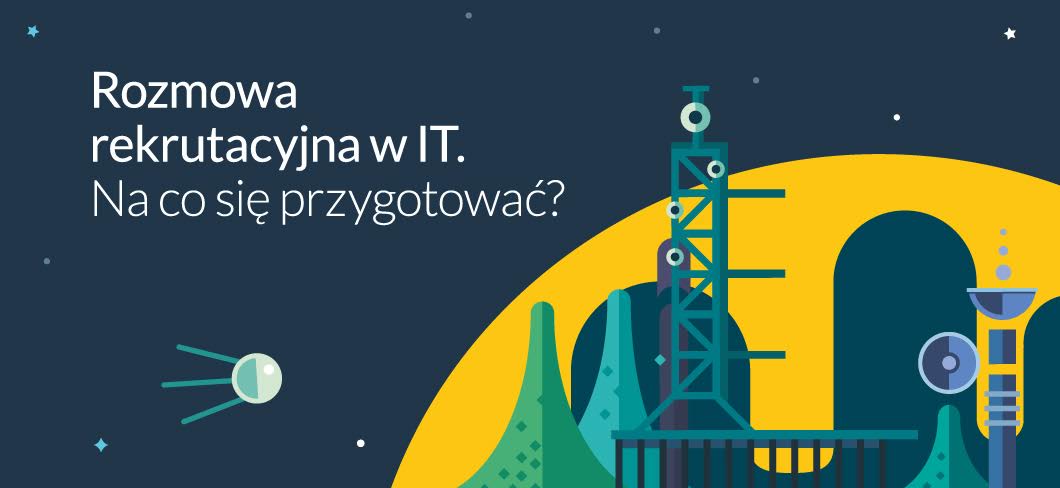 It recruitment interview. Prepare for what?
Although the Polish market lacks programmers, this does not mean that everyone will be hired without any verification. Most often it is necessary to hold a recruitment interview. Good preparation of the candidate for such an appointment will avoid many surprises and can increase the chances of employment.
The IT industry is undoubtedly an employee market. According to calculations by Sedlak & amp; Sedlak, the shortage of computer scientists, especially programmers, is up to 50 thousand. persons. It is not better in the whole European Union. The European Commission predicts that by 2020 in the countries of the community may lack up to 825 thousand. IT specialists. In this situation, finding a job by a programmer does not seem to be a big problem. What, however, when it comes to employment in a dream company? Showing yourself on the right side during a recruitment interview can greatly facilitate the realization of your dream of working with your chosen employer. However, before the meeting at all, the candidate should perform a thorough research about the company in which he would like to be employed, learn about its achievements, plans and other useful information. It's a starting point. How else to prepare for recruitment? We're checking.
Prepare for questions
The fact that you will need to answer questions during a recruitment interview is obvious to any programmer. What can appear on the recruitment?
Questions do not always relate to technical issues or programming language. Recruiters are also interested in such issues as working in a group, performing duties under time pressure or other competencies.
It will be necessary to tell how new experiences are gained and knowledge is expanded. It is worth not only to follow the technical innovations, but also to mention learning new languages, solving programming tasks, creating your own projects, etc.
You may also have questions about hobbies and leisure activities.
Sometimes the recruiter asks to explain the operation of a particular application so that even a layman can understand it.
You may encounter tasks that seem almost impossible to perform. In this case, however, the point is not to actually come to the right solution (if there is one), but not to give up, just to try to solve the problem. The recruiter wants to see if the candidate will take the challenge, or will make hypotheses.
Of course, there will also be questions about technical issues or those that border on them, for example, what the candidate will do when he realizes that there is an error in the code (there may also be a bug repair task in a specific part of the code). Often, the programmer must also describe how he plans the various stages of work when he receives a new project to implement.
Face technical verification
The candidate must be prepared to test technical knowledge not only in the form of questions. In addition to the interview testing knowledge and skills, you need to prepare for the implementation of practical programming tasks. This should not cause much trouble, but you need to be aware that such a stage may appear in the recruitment process. It is worth recalling the most important issues that relate to a particular programming language. Sometimes it is necessary to perform more complex tasks. It is worthwhile to make a habit of explaining and commenting on your actions during programming. You can also signal what else is worth implementing in the future in the code that the candidate improves.
You should be aware that even what the candidate does not already know can be his advantage if he convinces the recruiter that he can quickly replenish his knowledge. It is worthwhile to show that even if you do not know something, you have the ability to quickly get to the information that allows you to solve a task or a technical problem. The IT industry is characterized by constant change and development. That is why good IT companies are looking for employees who can also learn new things quickly and are hungry for new knowledge.
Before the recruitment meeting, you should train to solve various programming tasks. This will refresh the news, and, by the way, check the actual skills of the candidate. You can use different platforms for this, for example, our new tool-RealSkill. We encourage you to test it for free. Just select a language or technology, then-test, which refers to us, and we send feedback to your email address. The user receives an expanded report (including style and metric checks). In addition, the result is also visible to the person inviting the test, which makes RealSkill can also be used by recruiters. These tools allow you to download a repository with tests, and then implement or improve the implementation, while reflecting a specific work environment. This can be helpful not only for candidates preparing for a recruitment meeting, but also for all programmers.
What questions to ask?
Keep in mind that a recruitment meeting is not only a time when the recruiter asks questions, but also an opportunity for the candidate to get additional information about the company and the people working in it. This also creates a positive impression and shows the real interest of the candidate in the position for which he applies. You should prepare a set of relevant questions in advance and think about what information you want to get. Questions can relate to the scope of duties, career path in a particular company, you can ask about training, about the methodology of managing a team of developers, about working hours, about bonuses, etc. Sometimes it is also worth surprising the recruiter and asking him, for example, why he would choose to work for a particular company. However, do not overdo it and ask about the details of a particular project, which are usually secret.
Finally, it is worth a few words to devote to such an issue as dress code. Unlike other industries, in it most often no one is surprised by the lack of a suit or white shirt at a recruitment meeting. Not only that, some IT recruiters even claim that a programmer in a suit is at least a suspicious case. The candidate should dress comfortably and neatly, avoiding extremes. He does not need to immediately put on a suit and tie, but he should also avoid such creations as short shorts and flip-flops on his legs.
Probably, each programmer has his own ways of preparing for the recruitment meeting, but it is worth paying attention to the issue that we have indicated above. If the candidate really carefully prepares for the meeting with the recruiter and is aware of this, he will not only perform better at the recruitment interview, but it will be easier for him to control the stress. If you would like to learn more about recruitment, but from the point of view of the employer, we encourage you to read our article " How to effectively conduct recruitment in it?".