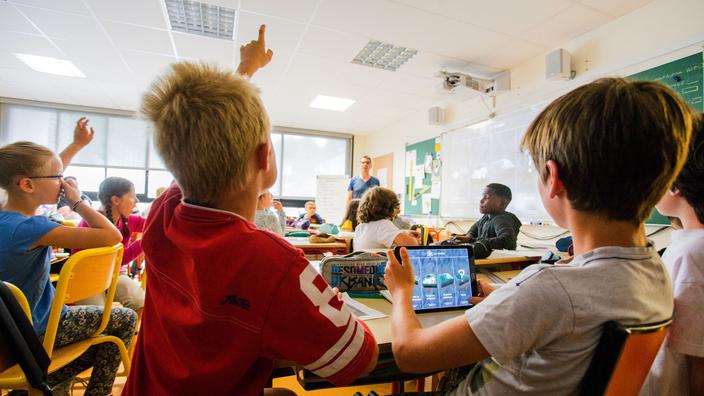 In Laval, virtual reality pushes the door to schools
REPORT-In the academy of Nantes, the company Eon Reality has launched an experiment with 360 students.
In Laval, the capital of virtual reality, the international exhibition Laval Virtual has been held every year since 1999. This morning, at Eugène Hairy school, 27 CM1-CM2 students are entitled to a session on volcanoes, integrating augmented and virtual reality. On the program: diagrams, maps, but also volcanic eruptions and formation of cones live. Better than a classic course? A no-brainer for schoolchildren. "We go faster and it's more fun!", launches Charles-Élie, a keen look behind his glasses, who quickly completes the introductory quiz. "It's revolutionary. We don't write," says Jawad seriously. "And above all, we can talk…", adds Ana-Livia, a big smile on her lips, before grabbing her girlfriend Adele by the neck.
"Digital is an additional tool. It must motivate students and improve their learning abilities "

Denis The Great, Professor
Their teacher, Denis Le Grand, concocted a questionnaire that called for written answers and reproductions of diagrams. Because, for this teacher of about forty years, the use of the tablet must "systematically be accompanied by a handwritten trace".