IDC: "By 2022, sales of VR and AR devices will reach 68.9 million units"

photo: GRcade
According to IDC Projects, the popularity of devices with support for virtual and augmented reality is growing every year. It is expected that in 2018, sales of VR and AR headsets will grow to 12.4 million copies (from 8 million in 2017) with an annual increase of an average of 52.5%, which will bring the company's sales to 68.9 million copies by 2022. IDC justifies such optimistic forecasts with general improvements in mixed reality technology, hardware, software and pricing.
IDC considers the expected transition of viewers from " screen devices "(owners of traditional devices)to be the key to the implementation of ambitious plans to a virtual headset that will turn smartphones into autonomous worlds. However, IDC also noted that consumers do not show much interest in buying additional accessories, so manufacturing companies have stopped tying an augmented reality headset to specific smartphones.
According to general estimates, the screenless AR headset with 41.6% of the total AR/VR market volume, ranks second in the augmented reality space in 2018. So, Lenovo Jedi Challenges is one of the examples of a commercially successful combination of software with a screenless AR headset. And, as expected, by 2022, this type of device will cover just under 10% of the total AR/VR market.
Thanks to Facebook and Oculus Go, Lenovo's Mirage Solo and similar standalone headsets that include all the hardware (screen, processor, GPU, battery to power VR and AR), the share of independent headsets in the market will only grow: from 14.1% in 2018 to almost 50% in 2022. At the same time, the share of autonomous AR headsets will be 19.1%, compared to 29.8% for VR headsets.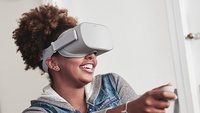 Oculus Go (photo: TheVerge)
It is expected that with the use of new devices like HTC's Vive Pro, the share of tethered (dependent) headsets in the AR/VR market will gradually decrease from 44.3% in 2018 to 41.2% in 2022. At the same time, the number of connected VR devices will decrease from 43.3% to 23.3%, and dependent AR devices, on the contrary, will increase from 1% to 18% of the total volume of units sold.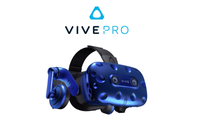 photo: GRcade
IDC does not name specific AR devices that will lead to changes in the market, but for sure the Microsoft Windows Mixed Reality device (with the innovative HoloLens program for viewing augmented reality in standard applications or games), as well as Magic Leap (which recently introduced a pair of Magic Leap One augmented reality glasses) will play an important role in the alignment of AR/VR forces in the near future.

Microsoft Hololens in action (photo: Microsoft)