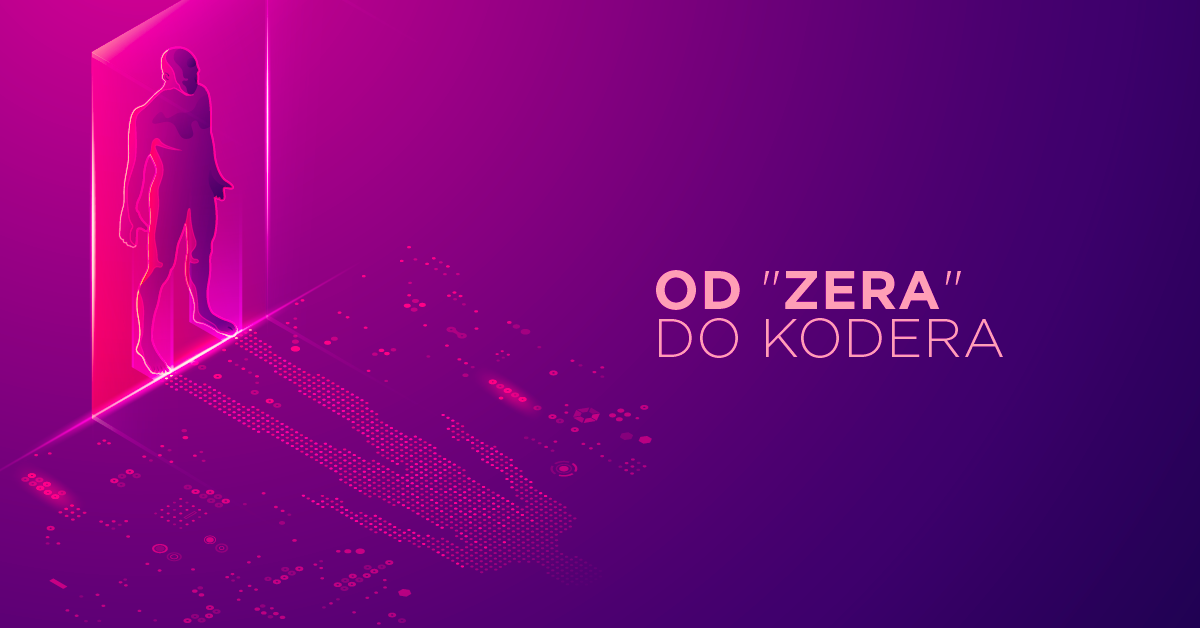 I became a programmer. Do I regret it now?
I'm a programmer and I love my job. Until a few years ago, however, I was dealing with completely different things. One day I decided it was time to change my life. This is how I retrained as a programmer. Here's my short story.
When I think about my career today, I come to the conclusion that I was not only lucky enough to find the right people at the right time, but above all I've found the courage to make tough decisions.which, in fact, turned my life upside down. Maybe I could have handled a lot of things better, but I don't regret anything. Today I am a programmer whose work is very satisfying. I am a good example of the fact that anyone can become a developer, if only he has a passion and a little self-denial. But let's start at the beginning.

Student years
It's 2006. I am just starting my management studies at the University of Warsaw. Like most of my colleagues, I see the future in my own business or in corporations. I'll probably work in the financial or insurance industry, because that's where the most money seems to be.
After 3 years I get a summer internship at bgz bank. My task is to prepare a database of branches of all banks in Poland. The boss shows me how to navigate through the pages of banks and automate work with simple macros in Firefox, and how to save pages and perform data extraction using macros in Visual Basic. I immediately see the potential of such solutions-I do not have to do many operations myself, because the computer works for me. How can this be used?
Together with a fellow programmer, we are starting a completely hobbyist project of a robot playing on the stock market. It is true that this venture will not bring us a penny and will not break the stock exchange, but he'll teach you a little bit of algorithmic thinking, and he'll learn to code.. The project is implemented in Python. After it is finished, I can write simple scripts searching the network. After this experience, I do not touch programming for 2 years and do things completely unrelated to coding.

Early career
After graduating without defending my master's thesis, in 2012 I started my first job in a wholesale store, in the finance department. My responsibility is limited to creating daily, weekly and monthly reports. Extremely reproducible work, it consists mainly of manual data transfer between tables, but still interesting, besides it pays well for entry level-4 200 zł gross. I just keep wondering why they do all the operations manually. I know you can automate this with macros and Visual Basic. Unfortunately, no one in my department can do this, so I look for knowledge on the internet.
Soon I will automate my work and start learning SQL. I also quickly get in touch with people from it and get from them substantive support and appropriate access. I'm starting to overhaul the archaic reporting system.which the finance department has worked on so far. For the first time, a plan for the transition to it appears in my head: catching tasks that will give me the skills to work as a business analyst (at that time it seemed to me the most interesting occupation in it).
For about 6-9 months, 70% of my professional activity is programming a very primitive SQL. At the end of the first year of work in a wholesale store, I start looking for a job as a system analyst. Soon after, I move to a large corporation that creates custom software.

I get into the IT industry
In 2013 I started working in a new company as a D / s reports analyst for a salary of PLN 5,500 gross per month. My responsibilities include database analysis and design, technical work (SQL, VBA) on reporting and data migration. Besides, there is a lot of meetings with the customer and responsibility for the appearance and functionality of the system. I keep in touch with developers, I do a lot of technical tasks, and I can count on the support of other analysts in more difficult technical tasks. At the same time after work I learn Python and Ruby on Rails.
At the end of the project, about a year after employment, I have my first conversation about a raise. The project was very successful, and my role in it was big, so I also expect a lot-3 000 PLN gross more. Unfortunately, I get half of this with a comment: "You don't make as much as you'd like as an analyst, that's what we pay programmers.". Oh, analysts make a lot less, at least here.
I'm thinking about looking for a job as a Junior developer in Python or Ruby on rails (I estimate that it requires several months of learning at home). Unfortunately, the problem is that I'm right after the RAISE, I earn 7 000 PLN gross and I'm afraid that working as a Junior will mean a drop in earnings it's OK. 4 500 PLN gross (I estimated then that I would get so much, having a solid foundation).

Java programming
In 2014 I get the opportunity to work on a new project as a junior Java developer. Although I do not know the technology, but the proposal seems very attractive. I start working as a programmer right away and without lowering my earnings, and in addition from the very beginning I have the support of specialists I already know. I don't think the expectations are very high for me. Management knows perfectly well that I don't know Java at all, and yet they want me to learn it.. Thus, I continue my professional career as a Junior Java developer.
After more than a year of study, I already know that programming fascinates me and I want to do it professionally. However, I have concerns about whether I will be good at it, because the beginnings are not easy. The amount of knowledge I have to absorb is overwhelming., as well as the fact that again I start from scratch-I am the weakest person in the team, because my colleagues are after several years of good studies, they all have a little or even much more experience than me.
To keep up, I have to catch up and read Java books after hours. Fortunately, at work, no one expects me to be perfect. I also study a lot during my working hours. Most of my colleagues are willing and patient to explain to me various issues that I do not understand.

I, the programmer-a new stage of life
After more than a year of working as a junior, I'm starting to look for a new occupation. The project I've been working on is coming to an end. After a few conversations I find a job for 10 000 PLN gross per month. My programming experience is 1 year and 3 months. Unfortunately, I'm not happy. The new project turns out to be a nightmare (old technology, big mess in the code). After 2 months, I'm depressed and I tell my boss that I want to leave, I doubt my abilities and I suspect that I sold too expensive.
The boss suggests moving to another project, which turns out to be a shot in the arm-an interesting venture, interesting technologies and a great, small team. I work there for a year until the group layoffs. After this period, I feel like a fully independent programmer. On LinkedIn, I get several job offers every day, so I'm happy to accept the severance and say goodbye to my current boss. After a short vacation, I immediately find a great job in a small company.
Now I can say about myself: programmer. My work is passionate and not tiring. It fulfills me intellectually. The skills I acquire are universal-I can work anywhere in the world, even remotely. Unemployment in this profession practically does not exist. Cons? Work requires constant learningtherefore, if this is not done effectively and regularly, you risk stagnating or falling out of the market.
I can now confidently state that retraining was one of the hardest but best decisions of my life. I am very happy with the course of my career so far and with a tear in my eye I remember a time when work was monotonous and unpleasant. It's hard for me to imagine what it's like not to love what's being done for 40 hours a week. What helped me? Definitely conscious career guidance, self-study at home, which I could translate into realized tasks at work. Circumstances were also favorable for me (especially in the case of my first job as a programmer-I expected that I would find it even a year later than it happened).
The IT market, where there is a lot of space not only for programmers, is developing at a rapid pace. The demand for apps is bigger than ever and growing very fast. Technological progress is amazing, from year to year significantly increasing the efficiency of developers and reducing the cost of maintaining systems. There are new and exciting competitions in new technologies-Big Data, VR modeling, social media and dozens of others.
It is worth checking whether there is something for you in this dynamically developing market. Are you ready for a change?