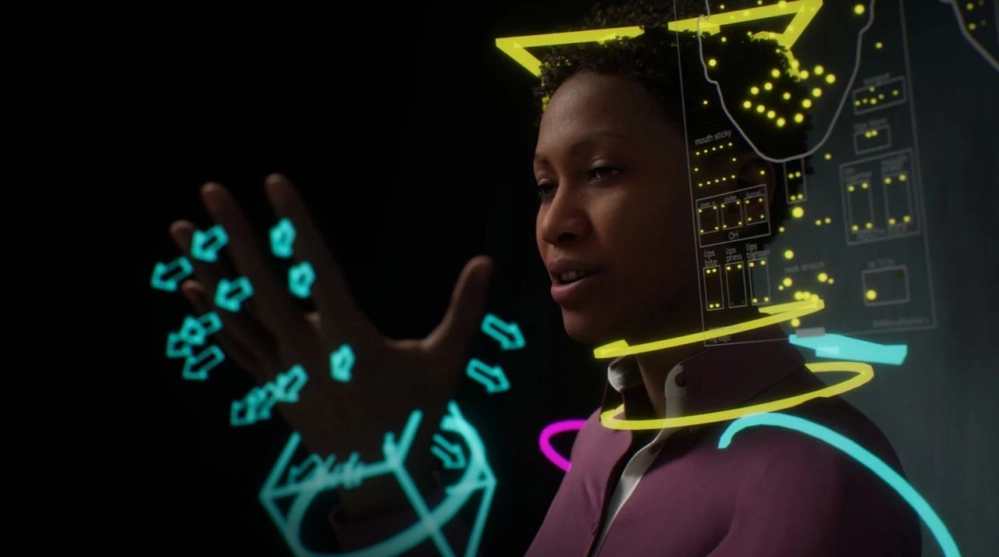 Hyperrealistic Avatars with MetaHuman Creator / Habr
Hello everyone The Black VR team is increasingly studying the issue of creating a metaverse, and we consider it important to share with you information about digital avatars: for what purposes they are used, and how a virtual person is created. In addition, we will definitely touch on the topic of augmented reality, since digital people can exist in it.
Today we will touch in more detail on the programs for creating digital avatars and analyze the program MetaHuman Creator.
gcup.ru
MetaHuman Creator from Epic Games
To be wrong is so human, to be honest, but the developers of Epic Games decided to say goodbye to this stereotype by developing a unique program MetaHuman Creator on the Unreal engine. The application has collected a wide range of tools for high-quality, and, most importantly, fast creation of realistic avatars.
Creating attractive digital people in real time is an incredibly complex process that requires a huge number of working hours. All this requires months of research, the latest, expensive equipment, and a whole staff of highly qualified specialists.

Representatives of Epic Games
Indeed, our team, throughout the time of creating digital avatars, is faced with the fact that no matter how real virtual people turn out to be, for video games, business assistants or mascots, there is always something "wrong" in them.
As we create a realistic avatar, the project becomes more and more ambitious. The more emotions, facial expressions, and voices are added to a virtual person, the more realistic he becomes, moreover, by connecting neural networks and artificial intelligence, we get an ideal version that can live its own "digital" life. And, of course, such a resemblance to real people can be a little scary. Therefore, now, even introducing AI, avatars remain under human control.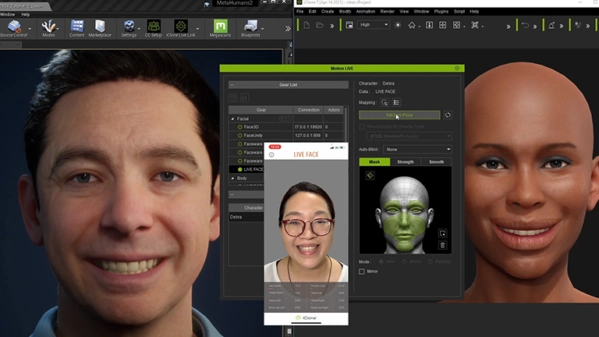 reallusion.com
We can talk about MetaHuman Creator as a breakthrough in the field of virtual people development — it is accessible and easy to use, anyone can get the opportunity to create digital people in high resolution.
The most advanced advantage of MetaHuman Creator is the unique level of graphics. Having a scalable system to create a virtual person of such high quality is really amazing. The program is also available inside the browser: just go to the same Google Chrome to start using the creator's capabilities.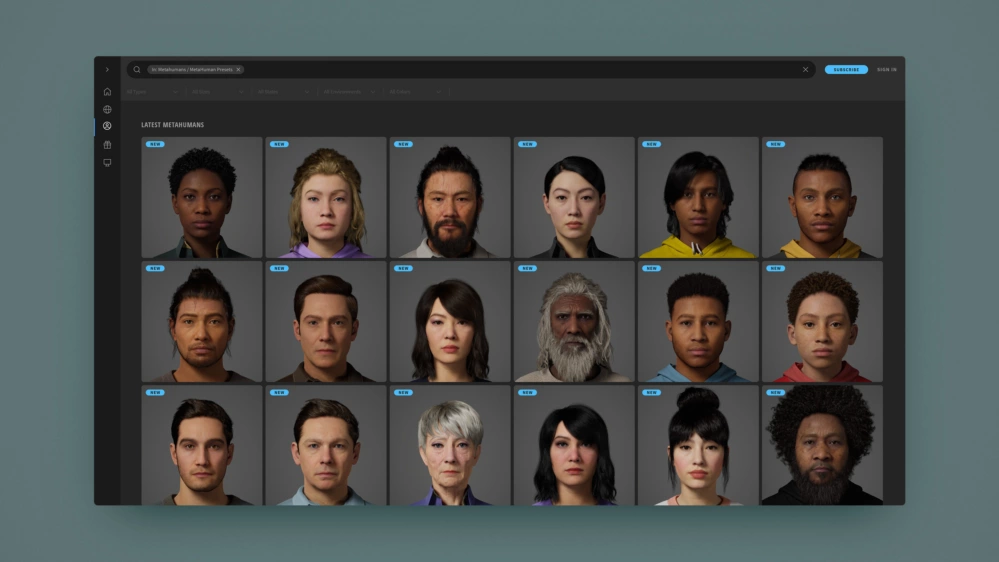 quixel.com
Unreal Engine — the engine on which the future is being created
Speaking of MetaHuman Creator, it is impossible not to mention the engine, without which it would not be possible to work in the quality in which it is offered by the developers.
Unreal Engine, on which this free application was released for creators of games and AR/VR solutions, is currently one of the most popular engines that the Epic Games team is working on. Epics are one of the pillars of the industry, especially in terms of technology.
The level of quality and quantity of useful and convenient chips that they offer to users makes them market leaders and leaves competitors far behind.
The main advantage of using UE is that it is free. There are a number of conditions and royalties, but all the tools and interface are available to the developer immediately and in full.
Unreal has everything you need for designers, artists and programmers, and the source code is publicly available — it is easily customized for the user's project, which makes the system more flexible. An open community is also an undoubted plus, and bugs found by community members are quickly fixed and added to update patches.
That is why Black VR entrusts its projects to the latest update of the engine — Unreal Engine 5, which continues to expand the boundaries of what is available to developers.
Even in early access, the UE5 offers the user a highly accurate and immersive experience with innovative features such as Nanite and Lumen.
Nanite — a special virtualized system of the geometry of micropolygons. It makes it possible to directly import source images from millions of polygons — from ZBrush sculptures to photogrammetric scans, which can be placed while maintaining the frame rate in real time without global loss of accuracy.
The function is designed in such a way that only those details that are perceived by a person are transmitted and processed, largely eliminating the restriction on the number of polygons, as well as time-consuming work, such as adding details to ordinary maps and manually adding modules, which allows you to focus on creativity.
Lumen — a completely global lighting solution that allows you to create dynamic, believable scenes in which indirect light adapts on the fly to changes in direct lighting or geometry, for example, changing the angle of the sun depending on the time of day, turning on a flashlight or other factors.
We guarantee our customers the highest level of graphics together with the advanced Unreal Engine technologies.