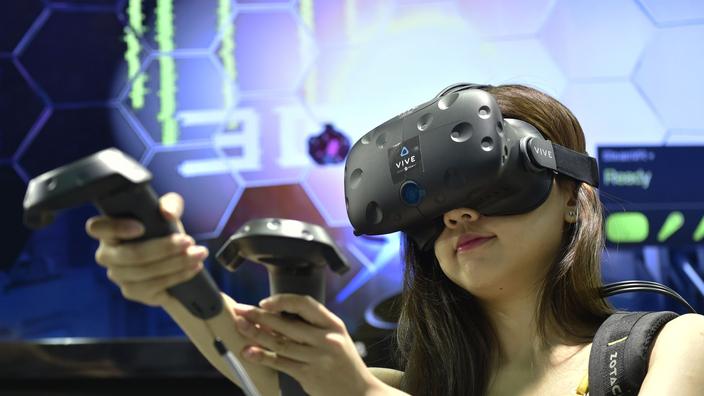 HTC may spin off its virtual reality business
Struggling Taiwanese manufacturer HTC is considering selling its sector dedicated to virtual reality. Its headset, the HTC Vive, is struggling to find its audience.
Launched just a year ago, HTC could already get rid of its HTC Vive virtual reality headset. According to Bloomberg, the Taiwanese manufacturer is in talks with Alphabet, the parent company of Google, to discuss a possible sale of its virtual reality business. These negotiations come at a time when HTC has lost 75% of its value in 5 years. The company, worried about its future, is thinking about the various strategic options capable of ensuring its survival. HTC is considering a spin-off of its business that would differentiate its smartphone business from its virtual reality business. Its HTC Vive headset could become the main product of a new separate company, which could then be sold to another company. With its Cardboard headsets and its Daydream initiative, Google appears to be an ideal candidate, interested in virtual reality but not yet having a high-end product.
A complicated market
Released in April 2016, the HTC Vive is positioned as the most high-end virtual reality headset on the market. Rival of the headset of the Facebook filliale, the Oculus Rift, the Vive has received many positive reviews. The device stands out from the competition thanks to position recognition technology: the player can move around a room at the same time as in a game. Nevertheless, a year after the release of the main virtual reality headsets, the market is struggling to find its rhythm. At issue is a cost and content issue. Not independent enough, often limited to video games and especially too expensive, virtual reality is reserved for a small audience ready to invest in a headset, and in a computer powerful enough to operate the device, enough to raise the bill very high.
Sony's PlayStation VR is the best-selling high-end headset. Kim Kyung Hoon/REUTERS
In the first quarter of 2017, HTC reportedly sold 190,900 headsets according to the IDC institute, compared to 99,300 for its competitor Oculus, and this despite a high tariff of 899 euros. By contrast, the Taiwanese is lagging behind Sony and its PlayStation VR headset, which sold 429,000 times in the same quarter. Compatible with the PS4 system and more financially accessible (between 399 and 550 euros depending on the equipment already owned by the player), the PlayStation VR is the first virtual reality headset to have exceeded one million sales last June. To increase its chances against Sony, HTC recently announced a decrease in the price of its headset by 200 euros, placing the HTC Vive at 699 euros, a price that is supposed to attract more curious people. Oculus for its part has lowered the price of its headset to 449 euros.
With their high-end headsets, manufacturers such as HTC and Oculus aimed to popularize virtual reality in many sectors, ranging from a new type of cinema to professional training, including tourism. A year after their commercial launch, it was finally Sony that saw the most right. Virtual reality headsets are intended mainly for video game enthusiasts, who are much more sensitive to this technology, and are usually already equipped with the appropriate hardware for their operation.
Of the 2.3 million virtual reality headsets sold in the first quarter of 2013, only a third of the market corresponded to high-end headsets, a segment targeted by HTC. The popularity of headsets without a screen, where you insert your smartphone, allows manufacturers like Samsung, Google, or smaller companies to largely dominate the market. The rise of virtual reality is not that of immersive experience but that of gadget headsets to enjoy smaller content. With its Cardboard made of cardboard, Google allows any smartphone to turn into a virtual reality headset for ten euros, a less immersive experience but much more accessible. However, some analysts predict a decline in sales of low-cost headphones and the beginning of the success of the premium in a few years.
2% of the smartphone
Both manufacturer and assembler, the bad pass that HTC is going through is mainly explained by its inability to impose itself on the smartphone market. A pioneer in the sector through its alliance with Microsoft in 2002 for the first Windows Mobile, and then with Google in 2008 for the first Android, HTC had become accustomed to success stories. Today, the Taiwanese's smartphones account for only 2% of the market and can no longer impose themselves against the high-end duopoly of Samsung and Apple. HTC, as an assembler, survives mainly thanks to its contracts with large companies like Google. The web giant is charging its Taiwanese partner to manufacture its Pixel smartphones and could renew its partnership in the coming weeks, when the second generation of Pixel is expected to be announced.
At the moment, HTC has reportedly not made any final decisions about its future. If separating from its virtual reality business seems to be the way forward, the company could receive help from an investor or sell itself to the highest bidder. Today, HTC is valued at $1.9 billion.