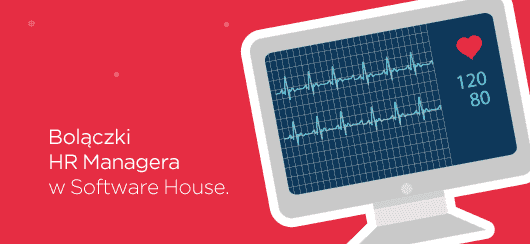 HR Manager's Bolączki at Software House
Dear reader, after reading this article, you should have an idea about the work of an HR manager in the Software house and know what the person working in this position copes with on a daily basis. Recently I came across an interesting graphic that presents a comparison of tasks for a marketing and HR specialist.in fact, it looks like this: advertising vs ad, followers vs CV. These two specialties actually require the same level of creativity. However, there is one important difference-it is easier to spend money on a product presented in advertising than to change jobs. Therefore, the actions of the recruiter begin to resemble the work of a marketer, marketer and many others in one.
Benefit policy
If I were to compare companies in terms of recruitment policy, I would first deal with benefits. This is, in fact, the topic of the river, which prevails in many articles and is a sore point for many HR-OVEC. Unfortunately, resolving this issue is not easy.
In fact, it is difficult to find a satisfactory answer to one important question:
How do you stand out?
Going to the pages with tabs "jobs", "career" or "work", we see the same icons with signatures such as medical insurance, sports card, training budget, not to mention delicious coffee.
Unfortunately, hrze, on this field you will not play much!
You'll probably think, " but my company also offers weekly massages!". However, you should be aware that unusual benefits work in two ways: first, they can attract attention (this is a good effect), and secondly, you need to reckon with the fact that, however, employees already know such tricks and will not be fooled. One thing is certain-you need to match other companies in terms of basic "extras", because these are frequent questions of candidates in interviews. Many people consider this simply a standard.
Are you the HR guy who introduced these benefits? Did you meet with the agents, analyze the offers, and finally negotiate a favorable rate? Really, nothing special. Have you thought about taking a slightly different path? Since most try to distinguish themselves with original benefits,
You could offer … no benefits. Yeah, I wasn't wrong at all. Why not treat the employee as an adult, serious person who, when he wants to practice yoga or wants to have the best quality box on a motorcycle, will buy it for himself? He just needs to be guaranteed a good salary for a good job.
Image from inside
There are several options for taking care of the employer's brand: organizing it events, writing articles and…. the team we make. The most profitable HR investment is the employees themselves. Take care of their internal motivation. If employees are satisfied, you will avoid rotation, and employees will recommend your recruitment to colleagues. So take care of them by building internal employer branding. This concept has been circulating on the internet recently, because HR is constantly evolving. What to do for the sake of developing your internal brand? What I will write is very important information, aimed primarily at business owners, heads of departments and managers, who often shift responsibility to the HR department – introduce clear rules on procedures in the company (for example, on remote work or overtime), measure employee satisfaction and ask their opinion, ensure regular feedback, inform about the mission and values of the company, and above all thank a vision every day.Just give them time.
Remember that Employer branding is not advertising a product to sell its best features. This is true about the activities that actually take place in your company. If you already commit to something, your employees will remember this and will observe your next steps or lack of them.
Recruitment process
Professional recruitment procedure-here's something that can work wonders! Remember, a badly treated candidate will pass this on to a dozen other people. Many articles have already been written on this subject, but it is still difficult for us to put it into practice, especially in the absence of a person dedicated to recruitment.
The HR pain is the lack of a quick decision to accept a given CV or reject an application. The dynamics of movements in the HR area should be instant-CV analysis, inviting to conversations, sending tasks, answering questions. Otherwise, we do not stand a chance in the currently difficult labour market, which is the IT industry. You might think you don't want to be considered a desperado. Stop it! Give up this faulty reasoning! Whether you like it or not, these are the rules in the IT industry today and you have to accept that if you want to have a bigger team.
HR budget
Poor HR budgets are the result of underestimation of this department in the company. You must know there are some serious consequences. The company does not communicate to potential candidates: "yes, we recruit!". Specialists who have a job also observe the advertising market, so you should show that you are recruiting practically at every step. The basis is to have a career bookmark along with the application form.
Why is it so difficult to invest in HR? Because the effects of actions are spread over time, it is not so that the candidates will rush to the announcement.
What does a developer who is looking for a job do?
I do not know, because this situation rarely happens 🙂
On the other hand, I know in which places such people appear, just like that, out of curiosity. Believe me, it's not like they have your" career " page in their saved bookmarks. Instead, they enter popular portals that are dedicated to it ads (e.g. Bulldogjob) or enter the password "JavaScript job Poznan" in Google. That's why your ad needs to be well-publicized and well-publicized so that they have a chance to come across the ads. Just let yourself be found!
Recruitment agency vs. internal HR
What should internal HR learn from a recruitment agency?
Multitasking HR ninja-the activities of the agency usually focus on the recruitment itself, while in the internal HR are often employed 1-2 people who deal with literally everything.
Fight for candidates-agencies literally convince them to offer, using sales techniques. Software houses, on the other hand, are afraid of becoming desperate and, as a result, are just waiting for the candidate to come forward.
HR tools-recruitment agencies have dedicated recruitment tools designed to manage the recruitment process. In internal HR, Excel tables are the pinnacle of achievement, and not always.

Recruitment targets, commissions and specific recruitment targets-this is something that motivates people in recruitment agencies, then they feel simply effective. Has anyone heard of this in internal HR?

Meetings dedicated to HR and problem analysis – This is not enough for Software house. But in the agency you will find a person who will understand your HR problem and try to solve it with you.
These are just a few points with which you can agree or challenge them. However, these areas should be of interest and a topic of conversation not only for the HR department, because it is largely thanks to him that the most dynamic organizations develop. The human factor is governed by certain laws, but it is also unpredictable, so keep your finger on the pulse!
Good luck recruiting!
Monika Otulakowska
HR generalist, business coach, recruiter.
The establishment and development of my own company and work experience allows me to draw conclusions about the work of a HR specialist in it and apply innovations. I try to combine knowledge from studies and trends hrowe. I belong to independent, creative professionals using various tools, fashion among programmers and professionals in the industry. Most of all I enjoy getting to know people, in the evenings I look at the most interesting business events in Poznań. Besides work, I do mountain biking, study python, and play music.