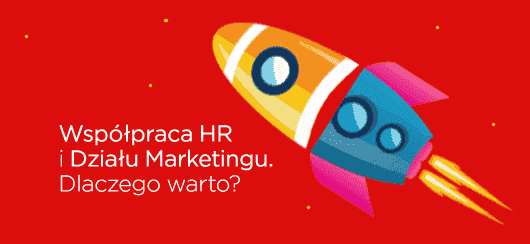 HR and marketing cooperation. Why is it worth it?
In many companies, especially large ones, different departments tend to compete with each other. It's not always good for the company. It is a truism to say that cooperation brings more benefits than competition, but it turns out that the cooperation of some departments is not perceived as something obvious at all. An example is hr and marketing department. However, such cooperation can bring many benefits and it is worth taking a closer look.
Cooperation between HR and marketing department-is it possible?
Most people, even those who are not completely interested in the issue, at least know what the HR and marketing departments were created for. If we had asked them, we would probably have heard that the first one focuses on recruiting, finding candidates and putting them to work, training or motivating them. In contrast, the marketing department, in a large simplification, is to build such an image of the brand, its products and services that the customer will want to use them.
Our hypothetical interlocutor might ask, Where is the scope for cooperation between these two departments? Some HR and marketing employees have similar doubts. If they do not answer this question, cooperation will be either impossible at all, or at least not fruitful. Therefore, HR representatives should first consider in what areas they are able to help marketing specialists, so that the whole company benefits from this, and vice versa, people employed in the marketing department should find a field of action in which they will support HR-sheep. The two departments must set common priorities and identify the factors that have so far prevented close cooperation. Defeating them is the first step to working together.
Search for areas of cooperation
In fact, not only are there many areas in which HR can and should work with the marketing department, but both departments can also support each other in such important issues as creating innovative marketing campaigns or building employer branding. However, the key to cooperation is what we have already mentioned – finding priorities. They will determine the direction of action, which in turn will be selected appropriate methods and human resources.
An example of such close cooperation can be participation in various kinds of fairs. Usually the marketing department has a huge experience in such events and can share this knowledge with HR.for the latter, the fair is also an excellent opportunity to find and recruit candidates for work in the company. On the other hand, HR often has a detailed feedback from employees regarding their job satisfaction in a particular company. Such knowledge is not only useful in internal communication, but can also be used in marketing messages. Both departments can benefit from each other's knowledge and experience. For example, when HR is going to participate in a trade show, marketing specialists can suggest who to work with in organizing the whole event.
Another area of cooperation could be social media and sharing their potential. Thanks to coordinated actions, the corporate profile can become an important place not only for publishing recruitment ads or for informing about new products and services, but above all for establishing a dialogue with both candidates and potential customers, it can become an important tool for building a brand image on many different levels. On the one hand, HR brings its understanding and openness to the needs of people and business, on the other-the marketing department helps to reach potential candidates for work through various channels, supports hr in building relationships and engagement with people already employed, etc.
These are, of course, just a few examples, but they are about showing the potential of cooperation. Both departments can work more efficiently and carry out their tasks, using a common knowledge base, they can exchange information, reports, data. Not only that, but the ideal would be mutual inspiration. Of course, all this is not easy, because often the ambition of individual departments, sometimes even some animosity between their employees, also comes into play. However, once all this is overcome, HR cooperation with the marketing department can only bring benefits.
All those interested in HR issues and not only we encourage you to read the article"HR Manager's problems in Software house".