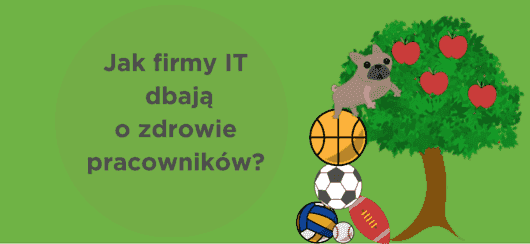 How do it companies take care of the health of their employees?
Anyone who works very long at the desk knows what it is back pain, neck and wrist, or feeling sleepy after the third or fourth cup of coffee. The stomach pain is getting worse after drinking another hectolitre of black drink. Too low a desk, uncomfortable chair, air conditioning that blows right on your head for eight hours, poor nutrition-sound familiar?
According to the Creating sustainable performance study, an employee who maintains a work-life balance is 16% more productive, 32% more engaged in work, and 46% more satisfied with their work.
In this article, we will show how employees can take care of their health and how companies encourage healthy and active lifestyles. We also encourage you to read our article on finding a balance between work and personal life.
Cycling to work
Some time ago we published a text: we commute by bicycle to work, in which we presented the advantages of choosing this mode of transport. Thanks to cycling, you get a decent dose of exercise at the start of the day. Companies such as gamedesire, Blue media and Allegro encourage this kind of physical activity, building special bike lanes or worlds and paying for the kilometers traveled to work on a bicycle. In this way, employees combine business with pleasure-they earn while practicing.
Mulisport Packages
Many companies have noticed that physical activity has a very good effect on the well-being of employees. They are more productive, engaged in their work, do not burn out so often professionally, and also use L4 less often.
Examples of companies offering Multisport (once a day you can use sports facilities in your city) are m.in. Zaven, Nokia, or 3E Software house that encourage physical activity.
I-Systems offers mulitisport plus packages for employees, allowing them unlimited access to the gym, fitness classes and swimming pool. In contrast, the Software house offers a free MultiSport plus package, it is enough that the employee expresses the desire to use it.
Fresh fruit
According to who research, a healthy diet can increase the efficiency of workers by up to 20%. This is also the premise of companies that offer fresh fruit at work. This trend is a good way of creating the image of a good employer who cares about its employees and of a green workplace that supports local farmers and fruit suppliers. Many companies m.in. Kainos or Shoper regularly organizes fruit day in their offices.
Massages
Pain in the back, wrists, neck is a professional disease of people who work at the desk. The way to these ailments is, of course, sports, but unfortunately, this is not all. Everyday, prolonged sitting at the computer makes such diseases only worsen. Therefore, some companies: IBM and SoftServe followed the example of Google and offer their employees relaxing massages.
Medical packages
Currently, medical packages are the basis of the benefits offered by the employer. Most potential employees pay attention to them when applying to a particular company. Medical care is a very important element that employers should take care of. In addition, health packages cover not only the employee, but also, very often, his family.
Organisation of sports competitions for employees
Today, employment spaces are supposed to be spaces not only for work, but also for leisure. In this way, companies build a warm image, and employees identify more with the company, integrate and are not inclined to change jobs so often. All these activities aim to create a friendly, open working environment.
Nokia has its own teams of football players and runners, which win various prizes. The company boasts of the achievements of employees, showing in the office numerous trophies. Another example is the IT company hicron. The IT specialists employed in it took part in the Play with friends regatta on puck Bay. Infakt organizes company trainings for its employees.
Instead of coffee yerba mate
Drinking three, four or even more cups of coffee is the daily routine of most office workers. Such a large amount of black drink can burden the condition of the stomach, and also destroy the teeth. Therefore, it is worth from time to time to replace coffee with yerba mate, which also has a stimulating effect, as well as many health benefits ‒ for example, the company xsolve encourages, offering next to the coffee-yerba mate.
Meals
Regular meals are a very important element in a healthy diet. Therefore, companies, so that employees can eat quietly, in a pleasant atmosphere, organize joint lunches or breakfasts. So, for example, RST Software masters prepares breakfast for its employees, and Estimote offers free sandwiches in the morning and lunch in the afternoon.
Way to sore back
Long work at the desk can bring a lot of discomfort m.in. the spine. Sore back and neck are the occupational disease of most programmers. In order for the spine not to be too loaded during work, it is worth using a few tricks: the back should be adjacent to the backrest, rest your feet on the floor (do not put your foot on the leg), when you feel pain, take a short break to stretch the bones, sometimes instead of a chair choose a fitness ball (if your company offers such a device, of course) – this way you make your muscles start to work actively.
All activities of companies that are aimed at taking care of the mental and physical health of the employee are used to make the employee more efficient at work. Work-related stress, career development, or excessive work obligations can lead to burnout. Employers who offer the benefits mentioned in this article know that well-being makes an employee work better and wants to develop.