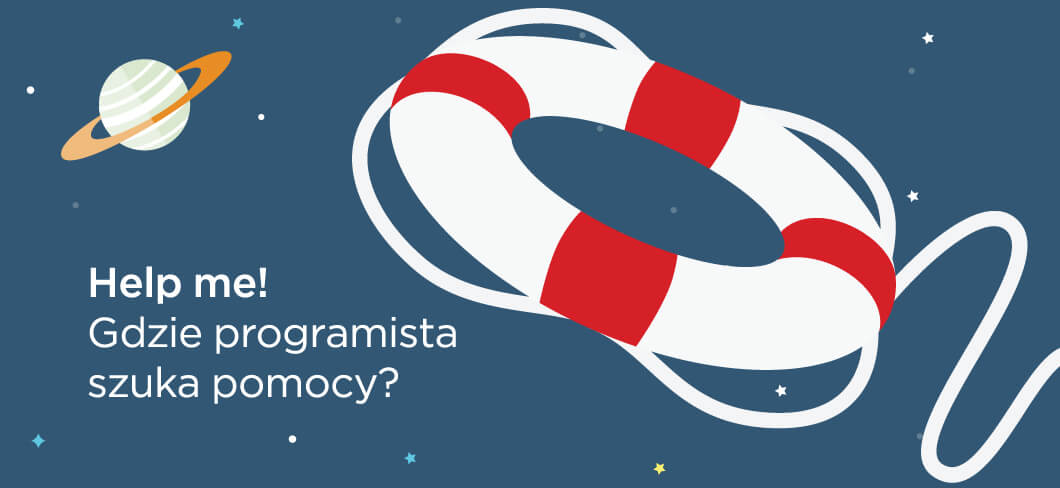 Help me! Where the programmer is looking for help.
Help! Help me! Houston, we got a problem! Probably, in the head of many programmers there was such a cry, and not only once in a lifetime. Sometimes a coder has to deal with a problem that he can't solve. Where does he look for help?
When it comes to bugs of all kinds it is natural to curse an error message to Google. This usually solves the case-probably after reviewing several results, it is known that we do not always immediately get to the right case. What if the problem is more complex?
At school, we were used to using books. However, in solving specific problems, when we would like to know the answer as soon as possible, printed aids or even in the form of an e-book do not always work. First of all, books are very quickly out of date. A better solution is to use documentation related to languages and frameworks. Here the problem may be that they are often just a list of available methods, so we must immediately have a good idea of what we want to find. Many programmers also look for information from friends or acquaintances who are also involved in coding. This is a great solution if we have an architectural problem. "Discussing" a topic with another programmer very often clears up a lot of doubts. But the most important support is the internet. We have already written about interesting blogs for developers, as well as about vlogs. These are real mines of knowledge. Today it is time to present the places on the web where programmers often look for help and answers to their questions about coding. Here are interesting portals, forums and Q&A services.
This is an absolute base for any programmer who is looking for a solution to a specific problem, but also a good place to expand your knowledge. Stack Overflow is one of the world's largest knowledge exchange portals for coders. It was launched in 2008, and now has already registered tens of millions of users from different countries. Almost every major error has already been described there and probably the result from this service will jump out to us in the first position if we type "error message", which was unexpectedly thrown by our application.
This time Polish service, bringing together not only the community of developers, but also webmasters and all people associated with the IT industry. On the forum you will find topics related to all the most popular programming languages and technologies. Interesting and dynamically developing knowledge exchange platform.
Another large Polish forum dedicated to programming. Coders of different languages will find interesting information here. There are also sections for webmasters, computer hardware and electronics, among others.
An interesting service for the developer community. Not only interesting articles on coding are waiting for users, but also a Q&A section where you can ask a question and quickly get an answer. The service also provides a discussion forum where you can also share your knowledge and your programming problems.
An interesting place on the web for developers specializing in the Ruby language and the Ruby on Rails framework. The forum is not as extensive as foreign sites of this type, but you can find here the help of friendly colleagues. In addition to the questions and Answers section, the forum will also include tips and advice, related topics (e.g. GIT), training, projects, etc.
This time a very useful place in the network for novice programmers. Here you will find a lot of information about the basics of Java, programming for Android and iOS. In addition, there are also sub-forums on languages such as C/C++, PHP, Ruby and Python.
The very broad theme of the forum makes it possible to look here not only programmers, but actually anyone who is interested in it. Programmers heaven includes resources on many different programming languages (e.g. C / C++, Java, Python, Ruby and others), game programming topics, applications, operating systems and platforms, mobile and wireless, software and web development.
Invaluable if the error was related to the opensource library shared on GitHub and we suspect that the problem lies on the part of this library. Perhaps a thorough reading of the readme will suffice. We may have to go to the issues section of the project. There is also a good chance that the result of GitHub / issues will be found in googles looking for a solution to our problem. Unfortunately, discussions about problems can often be difficult to read.
It is also worth looking at the Reddit service, where you can find a lot of useful information from various fields, including programming. Different communities focus on different issues. You can also find groups dealing with programming languages, creating games, etc. You must register to post links or ask questions.
Finally, one more Polish accent-DevStart developer forum. Of course, not as large resources as English-language sites, but here you can find help and support in solving programming problems. In addition to the programming languages section, there are also topics related to software design, web development, and education and training. You can also boast of your own designs.
Where else are you looking online for help? If you have already used the services listed by us, we are waiting for your feedback on them.