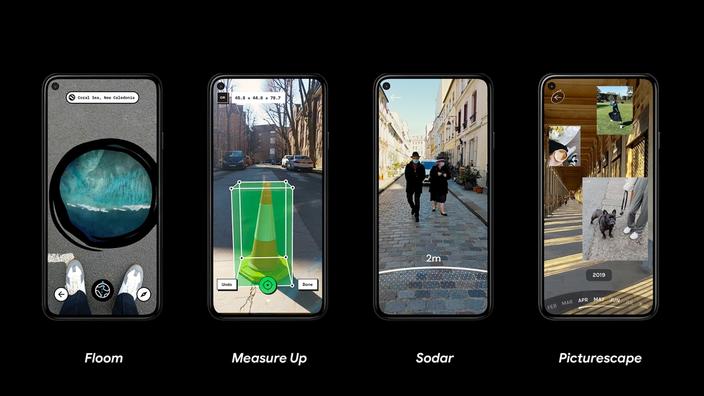 Google launches WebXR, combining virtual and augmented reality
The firm has just unveiled four tools and offers developers to supplement them with other applications.
Exploring the Earth or measuring distances using our smartphone ? This is now possible thanks to Google's new experimental application, called WebXR. It combines augmented reality (AR) and virtual reality (VR) technologies to multiply interactions with the real world. The Mountain View firm unveils four tools, some with a utilitarian aspect ," to get things done "and others offering" fun and immersive experiences, " says Google in a blog post.
Practical and fun technologies
Among the practical tools is the application "Sodar", for" Social Distancing Radar". It allows you to visualize a distance of two meters around you, which can be useful in order to respect barrier gestures. This radar uses augmented reality to analyze the space in which the person is located.
«Sodar"can be useful in queues, in order to respect the social distancing imposed by the Covid-19 pandemic. Google screenshot
Google also offers another tool that allows to measure objects around us, without ruler or meter. Titled "Measure Up", this feature determines the length, area, and volume of the element in question. Simply point the camera of his smartphone in his direction, and "Measure Up" takes care of performing the calculations.
Thanks to the calculated area, "Measure Up" manages to determine the measurements of several cartons. Google screenshot
On the playful side, the group unveiled "Flood", a unique way to explore the planet. Users have the opportunity to take a virtual tunnel through the Earth to discover what is on the other side. This is an association between WebXR and Google Earth. A fourth tool, named "Picture Scape", is not yet finalized but it will allow to walk through its Google Photos library in an immersive way, thanks to augmented reality. In order to use these services, no need for VR headset ! The WebXR platform can be accessed directly via this link in the latest version of the Google Chrome browser, on compatible Android smartphones.
A collaborative initiative
"We present some of our own projects and encourage everyone to expand the collection and push the boundaries of what is possible with WebXR," says Google. Through this initiative, the firm wants to encourage developers to offer new applications linking augmented and virtual reality. Proposals can be made via a form, available directly on the Google Experiments website. If the technology seduces the group, it will be highlighted only if it meets some criteria on being innovative, aesthetic, experimental, accessible and surprising.
Google is not alone in strengthening its research in augmented reality. Recently Facebook and Snapchat announced the production of VR glasses, in order to scan the world around us.