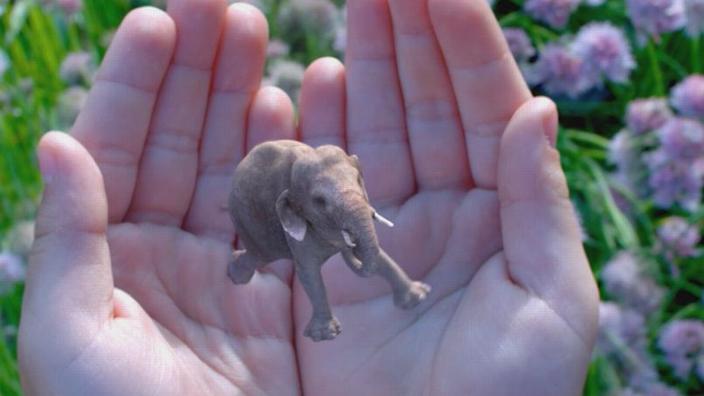 Google invests in secret virtual reality tool
VIDEO – Florida-based start-up Magic Leap has raised nearly $542 million from high-profile investors. Little is known about its technology, which promises to mix CGI and real life.
Two child's hands joined, on a grass background. They open, revealing a small elephant in CGI. The animal raises its trunk, as if to greet us, then flies away. This is the promise of Magic Leap: mixing the virtual with the real world. This start-up has just raised 542 million dollars (425 million euros), especially from Google. This is one of the biggest fundraisings of the year, comparable to that achieved by Airbnb ($450 million) but still far from Uber's record ($1.2 billion). Launched three years ago and rather discreet until then, Magic Leap is now freaking out Silicon Valley from its native Florida. Why so much fuss around this mysterious company?
* Because it keeps the mystery alive
Magic Leap has sharpened the interests of giants in different industries, from web to cinema to mobile. However, almost nothing is known about its products. For three years, she developed her technology in the greatest secrecy. "Magic Leap is an idea", can be read on its official website. "The one that men should never have to choose between technology and security, technology or privacy, real or virtual life.»
Magic Leap CEO Rony Abovitz is known for co-founding MAKO Surgical Corp, which specializes in medical robots. Invited to present Magic Leap as part of a Ted presentation, he showed another facet of his expertise: self-deprecation. It was dressed in a cosmonaut costume that he landed on stage, accompanied by two colorful monsters. Six delirious minutes after which the audience will have finally learned nothing about Magic Leap. To find out more, it will be necessary to take his pain in patience: according to Rony Abovitz, the marketing of his product is planned for "soon".
* Because it could compete with the Oculus Rift
In the face of the American press, Rony Abovitz is hardly more talkative. Interviewed by a journalist from the site TechCrunch, the entrepreneur claimed that Magic Leap intends to combine our vision and a "very light device". According to Re/Code, the technology developed by the start-up is able to follow the movement of its users' eyes, to project images. The official website of the start-up presents several photos superimposed on synthetic objects: a 3D whale that flies above a beach, or a little girl who observes a miniature woman dancing on her bed.
Only one thing is certain: Magic Leap will not look like the Oculus Rift. In March, Facebook paid $2 billion to acquire Oculus VR, the start-up that develops this virtual reality headset. Connected to a PC, the Rift immerses its users in an immersive view and gives the impression of having a cinema screen all around you. Thanks to motion sensors, the image moves at the same time as the head. Despite the striking effect, the device suffers from flaws, including an imposing size that makes its use impractical. It is on this ground that Magic Leap could have the advantage.
* Because it raised funds from reputable investors
For many Silicon Valley investors, virtual reality represents the next step in the new technology industry, after mobile. Magic Leap counts well-known names among its investors, such as the Andreesen Horowitz fund, which has already invested in Airbnb, Facebook, Pinterest or Skype. It has also raised funds from Qualcomm, which specializes in mobile technologies, and the production company Legendary Pictures. "Magic Leap takes a totally different approach," Thomas Tull, CEO of Legendary Pictures, said in an interview with Techcrunch. "I spent an afternoon using their technology, and I kept smiling.»
Magic Leap above all managed the feat of attracting Google to lead its second fundraising of $542 million. It is rare for the new technology group to invest in a company itself. It already has two entities, Google Capital and Google Ventures, responsible for investing in promising start-ups. However, it is Google that enters the capital of Magic Leap, which could augur an integration of its technology within the products of the Web giant. He will even sit on the board of Magic Leap, through Sundar Pinchai, Google's vice president in charge of Android and Chrome.