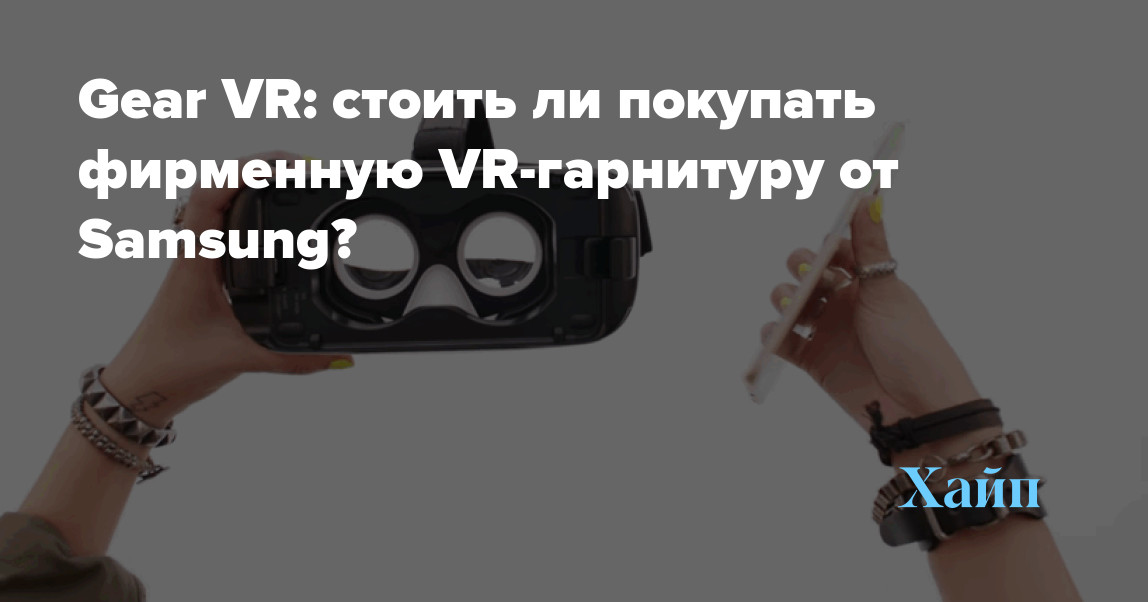 Gear VR: should you buy a Samsung branded VR headset?
One of the reasons for the low popularity of VR technologies is expensive and inconvenient equipment. In small cities, there is no way to get acquainted with high-quality VR content and understand whether it is worth spending money on buying a VR headset.
The most affordable way to immerse yourself in VR is with a regular smartphone with at least FHD resolution and cardboard-like VR glasses. I used it myself for a long time. And I wondered:
Is it worth switching to more expensive options?
HTC Vive and Oculus Rift are, of course, cool, but in conjunction with a powerful PC they will cost 100+ thousand rubles, which is simply unacceptable for most users. Paying such an amount for entertainment, which may end up on a dusty shelf in a couple of months, is not an option.
There remain mobile VR solutions that are much cheaper. In addition, they provide a higher level of immersion compared to a cardboard, which is important.
Today I will talk about whether it is worth switching to the Samsung Gear VR platform, what pitfalls await the user, and other nuances. Note that this headset is rightfully considered the best among similar competitors. Why? We read below.
Initial investment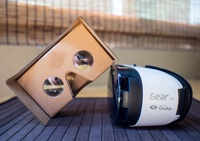 © m: blog – Mtel
So, compared to Cardboard, a VR headset from Samsung is very serious – 7,990 rubles. Moreover, a joystick is included with the latest versions of the VR headset (this is very important, I will talk about it in more detail later). But no one is forcing you to buy a new headset, a used one will cost half the price.
Gear VR works only with smartphones Galaxy S9, S9 +, Note8, S8, S8 +, A8, A8 +, S7, S7 edge, Note5 (some applications are compatible with Note 4), S6 edge +, S6, S6 edge. It is difficult to find an S6 in the official sale, a used one will cost you 15 thousand rubles.
Headset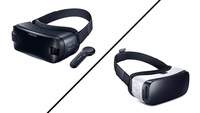 On the left is the new model, on the right is the old one. © Road to VR
Let's start directly with the VR headset. Depending on the versions, the color of the case will change, as well as slightly differ in its characteristics. Buy the latest R324, R325 – they have black cases and more "chips" on board.
Despite the fact that Samsung Gear VR, like cheap Chinese counterparts, is made of plastic, it looks pretty, even premium. No backlash, no creaks. All the necessary control buttons on the body – "home", "back", volume swing – are available here.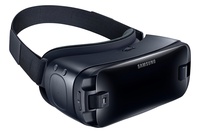 © Harvey Norman
There is a wheel for adjusting the distance between the lenses and the smartphone screen, but there is no interpupillary distance adjustment. For example, the "Chinese" BoboVR Z4 has such an option. To justify Samsung, I will say that the helmet is comfortable to use with glasses for sight. In this situation, I personally did not need to adjust the interpupillary distance.
Directly to the lenses, there are no complaints, except for the viewing angle – here it is equal to 101 degrees. Feeling that you are looking through a periscope or looking out of a hood that fits tightly to your head. Surprisingly, the BoboVR Z4 and VR BOX have a larger viewing angle – 110 degrees. And these "lost" 9 degrees are not enough at first very much.
© habr.com
I liked the way of attaching the headset to the head. The removable elastic strap consists of two parts: the main one, which is attached to the plastic side "ears", and the upper one, which, if desired, can not be used at all. The length is adjusted with Velcro. In my opinion, the simplest and most optimal solution.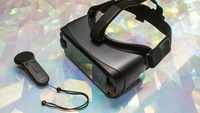 © CNet
The face material of the helmet feels like foam rubber: it can be easily removed and washed. The lining is also attached with Velcro.
The smartphone is fastened using two latches: one of them has a USB Type C connector (using the adapter included in the kit, you can change to Micro USB). The smartphone holds tightly – even if you jump and jump like a scalded one, it will not fall out. For reliability, you can insert a plastic panel on top, but then there may be problems with excessive heating of the smartphone.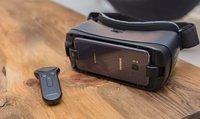 © SpotPhone
By the way, without this panel, small flashes appear at the edges of the screen. This is the only serious constructive disadvantage of this helmet that I was able to find.
And as a pleasant plus, it is worth mentioning the presence of a built-in USB Type C port, with which the smartphone can be permanently charged (additional heating is provided, but it will do for watching movies) or connect the headset to a PC.
Convenience of connection
In Cardboard and analogues, the connection is simple: we put the smartphone into the groove, slammed the latch and use it. That VR app or 360-degree video that we launched. If you need to turn on something else, we take out the smartphone and manually carry out all the necessary manipulations. And this is really hemorrhoids.
In Gear VR, the connection process is a little more complicated: the smartphone is connected to the headset using a USB-Type C or Micro USB connection. It all depends on what kind of smartphone you have. I must say right away that both types of adapters are included with the VR headset: there will be no problems in this regard.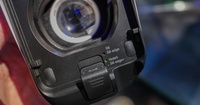 © Android Authority
These features have a rationale: Gear VR has built-in sensors – gyroscope, accelerometer and proximity sensor – which are powered by the smartphone's battery. This time. And secondly, at the moment of connection, the Oculus Home app is activated.
And now you don't need to take off your VR goggles to switch between apps – all this will happen inside. And it's damn convenient! Even because of one such "feature" you will not want to return to Cardboard.
Home screen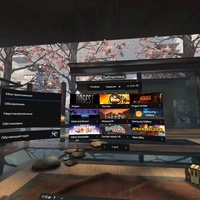 My first feeling after seeing in Oculus Home is delight! From how competently and beautifully the "virtual office" is designed, it becomes clear what the tough specialists did it.
At the bottom of the screen there is a navigation bar for switching between the functions we need. The main content is displayed right in front of your eyes, and the location of the main windows can be changed as you wish.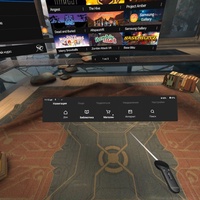 An application store, a library of installed games, information about the state of a smartphone or joystick (charge percentage, for example), a tab with notifications – in general, it will not be possible to describe everything, it is clearer in the screenshots.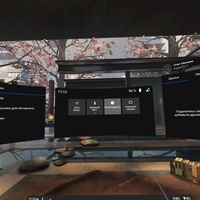 If you wish, you can even change the environment: transfer from a Japanese-style room (set by default) to the sea or another planet. All in all, incredibly cool!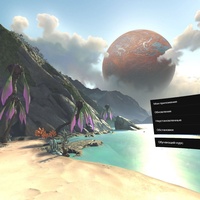 Joystick
You can also use the plug-in gamepad on Cardboard helmets. This is true. However, these controllers are not tracked in space as is the case with Gear VR. The effect of such a gamepad is amazing – plus 100% immersion in virtual reality. Do you think this is a joke? Try it yourself.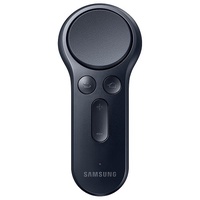 © GalaxyStore.ru
This is especially true when playing shooters: we aim, shoot and reload weapons, making various movements in the air with a Samsung branded gamepad.
I will describe the joystick itself. It runs on two AA batteries (which last for a very long time). It is very comfortable in the hand, there is even a special lace that is put on the wrist so that during an active game it does not fall out of your hand. Calibration can be done for both right-handed and left-handed users.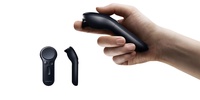 The gamepad has 5 buttons and a touchpad. In games, basically, two are involved: directly the touchpad for movement and the trigger, designed for shooting and other active actions. The rest of the Home and Back buttons, as well as the volume swing, are not actually used in games. Unless, if the gamepad calibration fails (this happens), the situation can be corrected by long pressing the "Home" button.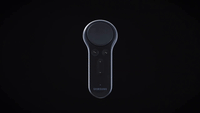 © Gfycat
In general, thanks to the joystick, the immersion effect increases many times over.
Content

Samsung's official website lists over 800 apps, games, and other entertainment. I didn't think it might be so.
However, for all the assurances, content is Gear VR's Achilles heel. Moreover, I am talking primarily about games. It is clear that 360-degree videos or panoramic photos are universal content available on any VR headset and smartphone. Here at least eat it with your ass.
But games … there are very few really useful projects. And 95% of them are paid.
And such a trick as on a regular android smartphone, when you download apk of a paid game from a pirate site, and then launch it, it will not work. Put Samsung into the headset – the system automatically turned on the home screen: here you can only use applications installed from the official store.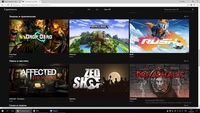 Craftsmen, of course, have learned to bypass this problem as well, but on this unrighteous path such dances with a tambourine await you that you will not want to become a shaman right away.
Interesting free games, at most 30-40 pieces, get ready to pay for the rest. For example, one of the best shooters on Gear VR called Drop Dead costs $ 9.99.
The quality of the games themselves is incomparably higher than on Cardboard. The graphics, controls, duration, immersion and overall gameplay are all much better.
pros
Nice appearance. Ergonomic VR headset with a comfortable fit and all the necessary buttons on the body.
When you remove the helmet from your head, the smartphone turns off automatically. Smart option: battery saving is evident.
Mega-cool joystick that doubles the immersion effect or more.
Nice functional "desktop" interface. It's a pleasure to use it.
The ability to use a headset with eyeglasses.
Better immersion effect than comparable products.
Minuses
Viewing angle. 101 degrees will not be enough, peripheral vision is not involved, as a result, the immersion effect is reduced.
Heating up the smartphone. It all depends on the phone model. Note 8 I think it will not get warm, but Note 5 in poorly optimized games heats up so that a sign appears with the inscription "Cool down the device" (or something like that).
Lens fogging. A very inconvenient contraption due to temperature differences. For example, when your face is hot and the helmet is "chilling" somewhere in the shade. It is solved by preheating the lenses: it is enough to breathe on them a little, wipe them, and then put on the headset.
Joystick connection problems. Here, too, everything is individual, I was "lucky" to face such a problem: the gamepad usually connects from the second or third time.
Compatible with a limited range of Samsung smartphones.
Glare at the edges of the display. If direct sunlight does not fall on the helmet, then there will be no particular problem here.
No built-in headphones.
High price.
Conclusion
To summarize: for me, switching from the Chinese BOBO VR Z4 to Samsung Gear VR was akin to switching from a domestic car to a foreign car. Gear VR is much more comfortable and pleasant to use, but, as in the case of a foreign car, it is more expensive.
If you already own the right Samsung smartphone, then buying a branded headset is just a necessary step. If not, then I recommend purchasing a VR headset + smartphone for virtual entertainment only if you are willing to pay for content.
For there is a high probability that after playing enough free games, you will abandon the headset for a long time or stop using it altogether.