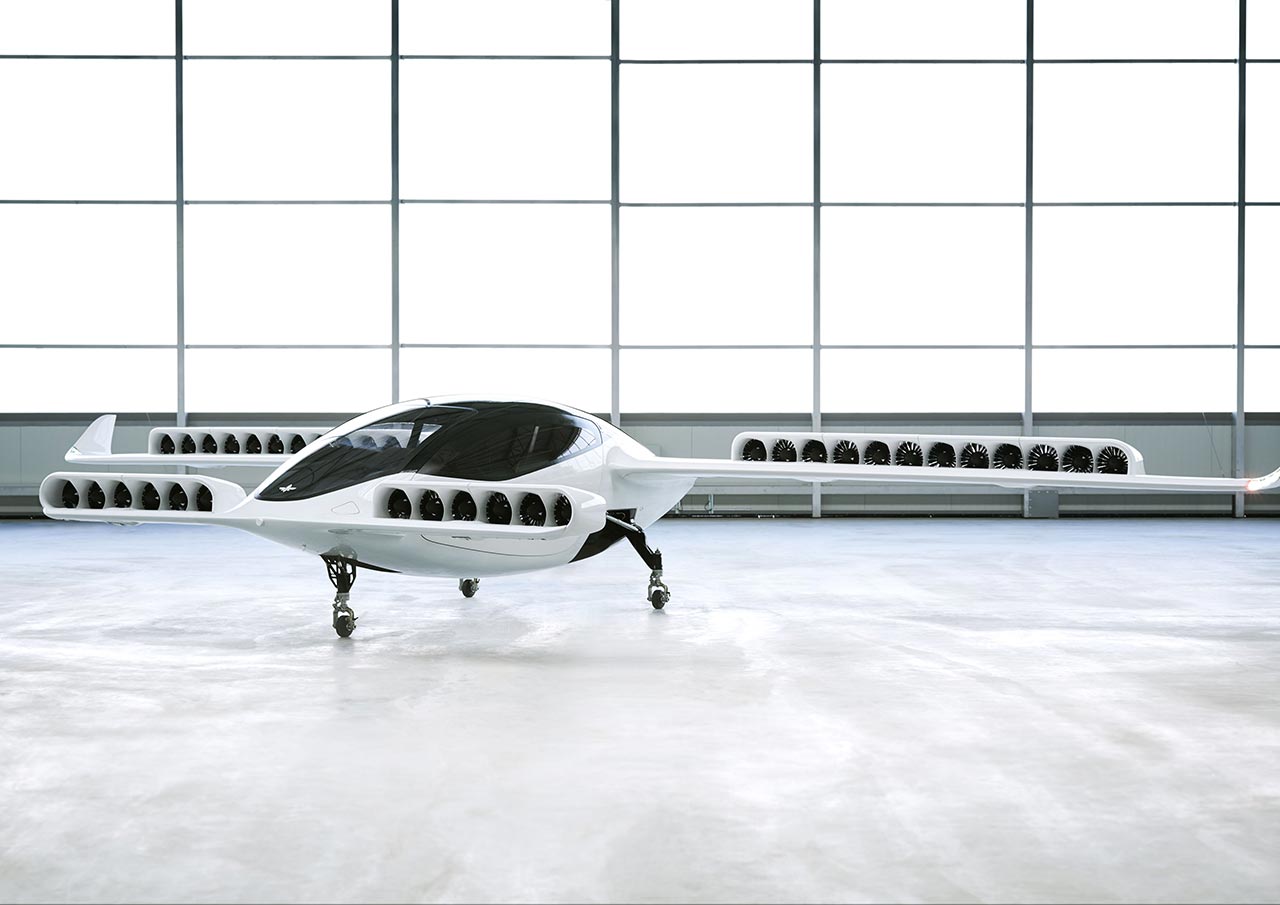 Flying taxis-utopia or soon in use?
Are air taxis pure utopia or a realistic option in future multimodal urban transport? Does your technology keep what visionaries and start-ups promise of it? What about the legal framework and the approval requirements for "Urban Air Mobility"? And how sustainable are the planned transport concepts?
In addition to the repeatedly cited milk jug, air taxis are almost as popular a buzzword when it comes to digitization. Both are based on interviews whose authors may not be entirely happy about the respective shortening of their statements: Research Minister Anja Karliczek had stated in November 2018 that 5G did not have to reach every milk jug. That she said in the same breath that a good supply of 4G would be much more important for rural areas fell under the table – even if mobile experts agree with this assessment on a broad front.
The keyword air taxis pursues Digitization Minister of State Dorothee Bär when she gave an interview in the heute-journal on the evening of her taking office in March 2018. The question she was asked also focused on rural broadband. Her answer that the topic of digitization goes beyond the pure DSL and cable connection and will eventually also include the infrastructure for air taxis met with little understanding from presenter Marietta Slomka and the audience.
But what about the Vision flying taxis? Is the idea that quadrocopters and multicopters could also play a major role in the multimodal traffic mix in the future pure utopia or a realistic outlook into the near future? Is the vision resilient that such aircraft will fly autonomously over traffic jams in maybe five to ten years and their passengers will not cost much more for a transfer than a taxi ride today?
Table of contents of the article
1

Lilium: covering 300 kilometres in one hour with 36 electric motors

2

Airbus and Boeing are also developing air taxis

3

Volocopter, Flügel Aeronautics & Co: Commuting up to 27 kilometers or travel distances up to 600 kilometers?

4

Legislation and licensing regulations as hurdles

5

Criticism of sustainability
Lilium: covering 300 kilometres in one hour with 36 electric motors
In any case, a lot of start-ups and companies are involved in this field. Only in mid-May, the German company Lilium presented a new version of the five-seat electric air taxi developed by it. The light aircraft uses 36 electric motors in its wings and should reach up to 300 km/h above ground in flight operation. The range should be up to 300 km, which could keep the aircraft in the air for up to an hour.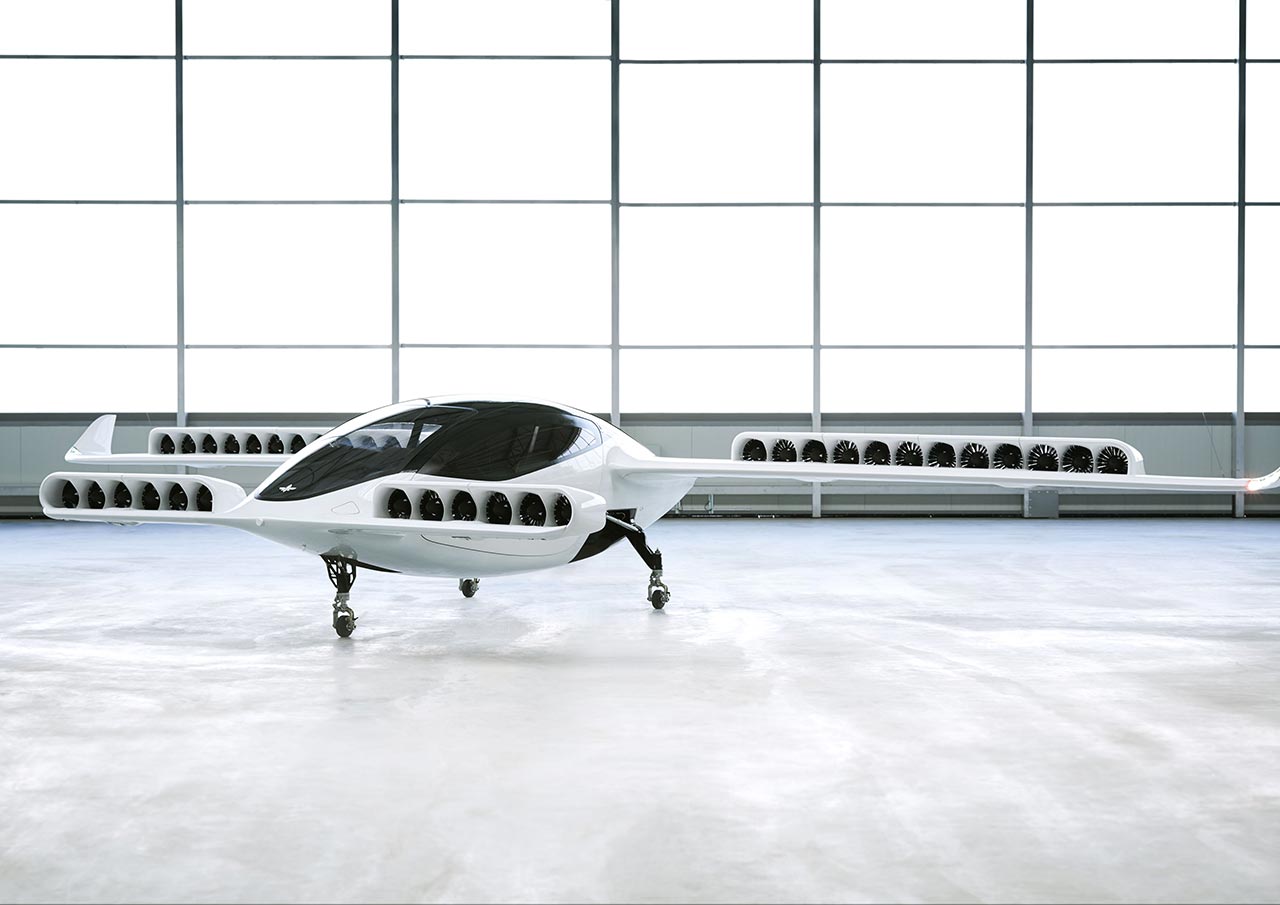 The planned air taxi "Lilium Jet" is powered by 36 electric motors. Picture: Lilium
The Lilium air taxi successfully completed its maiden flight in Oberpfaffenhofen near Munich on this day. The 1.5-ton prototype was launched vertically and floated on the spot. Forward flight and more complex flight maneuvers are next on the developers ' to-do list, according to company founder Daniel Wiegand. From 2025, the Lilium air taxis are to start commercial daily operations in the first cities-but at the beginning for safety reasons with a pilot and not autonomous.
Airbus and Boeing are also developing air taxis
Only a few weeks earlier, aircraft manufacturer Airbus had launched its four-seater electric city Airbus in Donauwörth, Bavaria. The aircraft, which is based on four rotors, is expected to reach a range of 50 km/h up to 120 km/h. The city Airbus first saw the light of day on Ingolstadt's Rathausplatz in mid-March. Airbus competitor Boeing had already completed a first test flight in Manassas in the US state of Virginia in January 2019 with its planned air taxi. This aircraft is also to be operated purely electrically and will take off, fly and land fully autonomously in the future. Boeing states its range at up to 80 km.
From Airbus ' point of view, its "City-Airbus" air taxi as part of "Urban Air Mobility" is primarily used for commuting between inner cities and airports. Picture: Airbus
Airbus, Audi and around 40 other partners are part of the EU initiative UAM (Urban Air Mobility), which is part of the cluster "Sustainable Urban Mobility" of the EU program "Smart Cities". Within the framework of the UAM initiative, broader application possibilities for air taxis are to be researched and tested in practice in the coming years. The concepts include not only the operation of taxis in the air, but also, for example, the transport of urgent goods or medicines. A concept from the think tank of Audi, Airbus and the design company Italdesign is called "Pop.up Next". Behind this is a passenger cabin, which can be coupled both to a mobile base and to a flight module.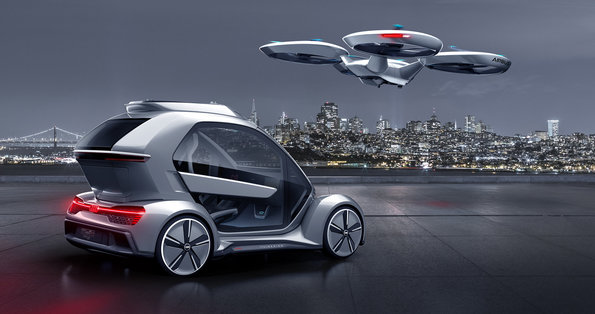 The modular concept " Pop.up Next", Airbus, Audi and other partners rely on a passenger cabin that can be mounted on a mobile base or transported by an air taxi. Picture: Audi
Volocopter, Flügel Aeronautics & Co: Commuting up to 27 kilometers or travel distances up to 600 kilometers?
The company Volocopter, based in Bruchsal, Baden-Württemberg, equips its helicopter-based aircraft with 18 electrically operated rotors. The car manufacturer Daimler is also involved in the start-up. Currently, the range of the volocopter is about 27 kilometers. The air taxi offers space for two people – at the beginning of a Pilot and a passenger, later, two passengers are to be transported autonomously. A volocopter completed its maiden flight in Dubai in autumn 2017. The aircraft will be used primarily for commuting between city centres and airports.
The volocopter of the company of the same name works on the helicopter principle. Picture: Volocopter
The Dresden-based startup Flügel Aeronautics wants to rely on hybrid technology instead of pure electric drive. Its folding wing X – 1 relies on the combination of electric and kerosene drive and should thus achieve a range of up to 600 kilometers. Thus, the X-1 would also be suitable for other flight connections, such as between major German cities.
A foldable take-off and landing unit makes the aircraft quite compact on the ground, in flight operations it should then fold out biplane wings. The Dresdeners rely on the hybrid drive not least for safety considerations – in order to be able to rely on the other in the event of a failure of one drive technology.
The X-1 folding wing of the Dresden-based start – up Flügel Aeronautics relies on hybrid drive and thus reaches particularly high ranges-up to 600 kilometers. Picture: Wing Aeronautics
Legislation and licensing regulations as hurdles
Even if the technology is already operational in prototypes of the promising aircraft, there is still a considerable hurdle ahead of you with the legislation and the necessary approval procedures. Means of transport for flight operations must be designed to be several times safer than vehicles. This also makes the approval procedures for such devices considerably more complex. Here, traditional providers such as Airbus or Boeing could have a home advantage over innovative start-ups: they know and are at least familiar with the usual licensing regulations for previous aircraft.
In addition to safety considerations and licensing regulations, the legal basis for inner-city air traffic is also missing. Market observers expect that these legal requirements will not exist before 2025. It could be faster in countries where safety traditionally has to rank behind the will to innovate – the travel agent Uber expects that flying taxis should float over Los Angeles as early as 2023.
However, industry insiders agree that air taxis are likely to experience a big boom. In its study "Urban Air Mobility", the management consultancy Horváth & Partners forecasts the first air taxi routes in cities such as London or Shanghai by 2025 at the latest. And for 2050, Horváth predicts three million air taxis worldwide with three billion flight hours per year.
Criticism of sustainability
However, critical voices are already coming forward. For example, the University of Michigan warns in a study published in the journal Nature Communications that even with pure electric drive, air taxis could hardly be more environmentally friendly than today's cars. At least on routes under 35 kilometers, they would consume more energy and thus also generate more greenhouse gases than cars with internal combustion engines. On longer distances, the energy balance would look better-but only as long as the comparison with combustion vehicles and not with electric cars is made. Only if a flight taxi carries at least four passengers at the same time, it cuts off cheaper than an electric car (in the statistical comparative calculation with 1.5 passengers).