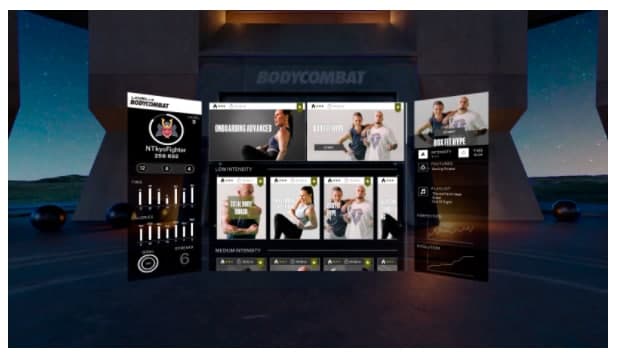 Fitness app in VR from Les Mills network
One of the most popular online fitness networks is moving to Meta Quest.
When it comes to group fitness, Les Mills is a world leader. More than 140,000 certified trainers in 21,000 clubs in 100 countries of the world conduct online classes aimed at maintaining tone and athletic performance.
Classes are available as online broadcasts via the LES MILLS+ streaming platform. Now it looks like VR can be added to this list. Last week, the company announced plans to move one of Les Mills' most popular high-energy workouts to Meta Quest.
Unlike Supernatural or BoxVR, the Les Mills experience offers unique workouts inspired by martial arts. Instead of focusing on a single martial arts style, you will learn techniques from several disciplines, such as karate, taekwondo, boxing, Muay Thai, capoeira and kung fu.
In addition to hitting, dodging and swinging your arms, you will need to crouch to avoid moving walls, throw massive punches into the sky, to smash obstacles from above. The most unique thing is knee strikes. Capturing certain targets with the help of controllers, you can inflict the most severe knee strikes, adding to the training load for the lower body.
Each session lasts 55, 45 or 30 minutes under the guidance of Les Mills certified instructors Dan Cohen and Rachel Newsham, who will guide you and keep you motivated during each workout in such cool virtual scenes as Mars, Neo City, Tundra, Rome and Japan.
The game promises killer soundtracks that will keep you in good shape and moving. The repertoire of such performers as: – Noam Dee, Fas Fash will not leave you a choice)
If you are not familiar with the owner of the network, Les Mills, then he is a four-time Olympic champion and is considered one of the greatest athletics coaches in the history of sports. He changed our understanding of the gym in many ways when in 1968, together with his wife Colleen, he opened a gym that allowed ordinary people to experience a level of fitness training that was available only to Olympic athletes at that time.
His whole approach to training was based on real science and was designed to identify the best athlete in everyone, as long as you follow the training regime. The Les Mills Bodycontact VR experience is no different. Each workout is scientifically designed to give you amazing results, and you can even track your results through the app.
Les Mills Bodycombat will be available in the Meta Quest Store on February 3 for $29.99.