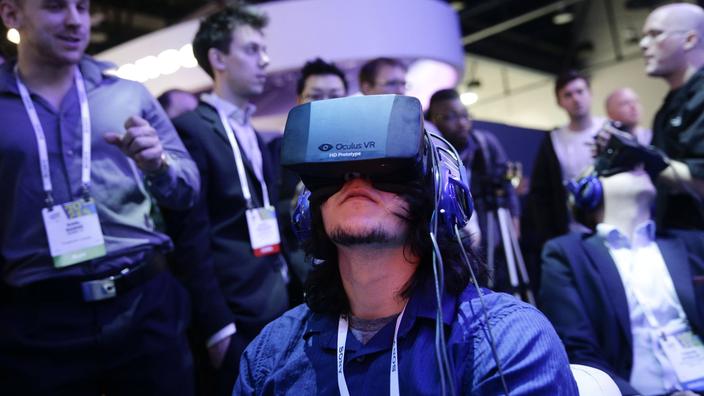 Facebook's virtual reality headset, Oculus Rift, arrives in 2016
In development for more than two years, the Oculus Rift headset will arrive in a market coveted by the big names of high-tech.
Fans of the first hour can begin to find the time long. It's been almost three years since the Oculus Rift was propelled to the forefront by raising, in less than 24 hours, $2.4 million on Kickstarter. Oculus VR has just doused the hopes of those who hoped to afford the virtual reality headset for Christmas, since the release will finally come in the first quarter of 2016.
The announcement has at least the merit of putting an end to the rumors, of which the most optimistic saw the Oculus Rift arrive in the spring of 2015 and the most pessimistic in 2017. Oculus VR managers had so far been content with estimates.
Ahead of HTC
It also means that the Oculus Rift will arrive in a market where competition is pressing. While it was a precursor in its early days, the big names in high-tech have since developed their own technologies, aware of the potential of virtual reality. The Oculus VR company itself was acquired by Facebook last year for $2 billion.
The Oculus Rift could be overtaken by HTC Vive, which should be ready for the holiday season. The Taiwanese smartphone manufacturer HTC is developing it in partnership with the publisher Valve, known for its Steam platform that dominates the market for digital sales of PC games.
Sony, another video game heavyweight, is preparing its "Project Morpheus" to immerse the players of its PlayStation 4 console in total immersion. The Japanese company is expected to release its headset after that of Facebook, during the first half of 2016.
Oculus is expected to unveil in the coming weeks all the technical details of its product as well as new video games available. The company remains silent on the selling price of the Oculus Rift. In the meantime, Oculus VR and Samsung already offer the Gear VR. This headset, on which a Galaxy Note 4 or Galaxy S6 smartphone is fixed, gives a first virtual reality experience, for 199 euros.