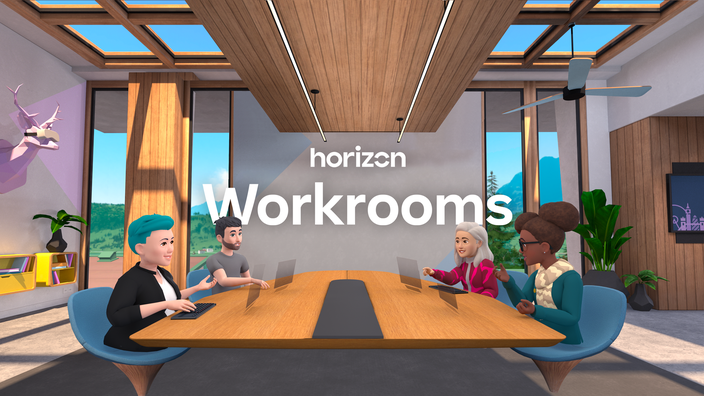 Facebook unveils virtual meeting room for telecommuters
Called Workrooms Horizon, this solution allows you to work with colleagues in the form of avatars.
With Covid-19, the expansion of telecommuting has become more democratic, in particular via Zoom, Google Meet or Microsoft Teams. In order to stand out, Facebook has just launched a new immersive tool, called Workrooms Horizon. The goal? Working with colleagues, or rather their avatars, in a virtual office. It is possible to choose his skin type, his haircut or his build, in order to create his character.
Before starting the meeting, several room configurations are possible. For close-up discussions, people meet face to face, for a presentation, they are in front of a chalkboard and for a simple conversation, an oval table allows you to see all the members around you. The audio spatiality is also set up, a way to reproduce the real environment. In other words, a user will hear the person sitting next to him better than the one at the other end of the room. Some classic tools are also present such as a video chat or a whiteboard to share presentations from your computer.
Virtual reality at the heart of meetings
Horizon Workrooms works primarily with Facebook's virtual reality headset, the Oculus Quest 2. It makes it possible to see the slightest facts and gestures of his colleagues. For example, a person may turn to another to chat with him or physically signal that he wants to speak up. Thanks to the Oculus controllers, users can also write or draw in this fictional universe. Gestures that are not necessarily possible during a video conversation via traditional applications. Facebook has also thought about those who would not have a virtual reality headset, offering Horizon Workrooms directly on computer. In total, each room can accept up to 50 participants, with a maximum of 16 in virtual reality.
According to Mark Zuckerberg, his teams are working on this project long before the pandemic arrived. In a lengthy interview with The Verge in July, the Facebook CEO says he is fascinated by the "metaverse": "See it as an embodied Internet, instead of just seeing content, you're inside."At the moment, the application is available for free in beta. Facebook should give developers access to certain Workrooms features, so that they integrate their own into the platform.