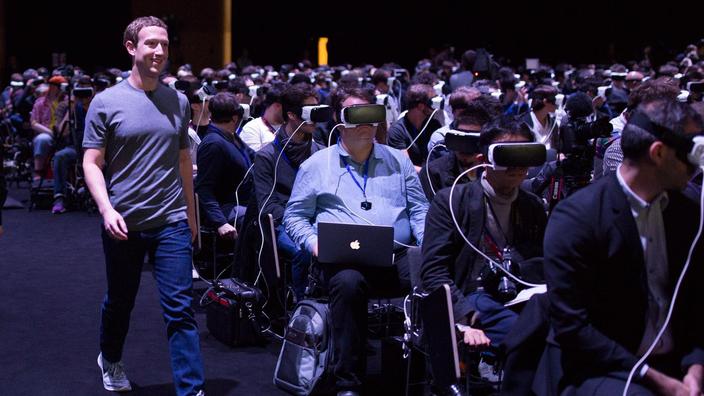 Facebook unveils its ambitions in virtual reality
The social network has announced the creation of a team of engineers dedicated to immersive content.
Perhaps Mark Zuckerberg was not hoping for this kind of advertising. On Sunday evening, the CEO of Facebook published on his personal page a photo of his intervention at the Mobile World Congress, the annual exhibition dedicated to mobile in Barcelona. We see Mark Zuckerberg, gray t-shirt and big smile, strolling in a huge conference room. No one seems to notice, and for good reason: all spectators wear virtual reality headphones. The image quickly went around the world and social networks, collecting reactions goguenard even worried. "Mark, isn't it a little strange to be the only person in the room using his eyes, in the middle of zombies immersed in the matrix?"wonders a surfer under the photo. His comment has been "liked" more than 5000 times.
"Virtual reality is the next platform on which everyone can experience and share anything they want "

Mark Zuckerberg, CEO of Facebook
Not enough to confuse Mark Zuckerberg, as unfazed as enthusiastic when it comes to talking about virtual reality. The young boss had already proved this interest by buying back in 2014 the manufacturer