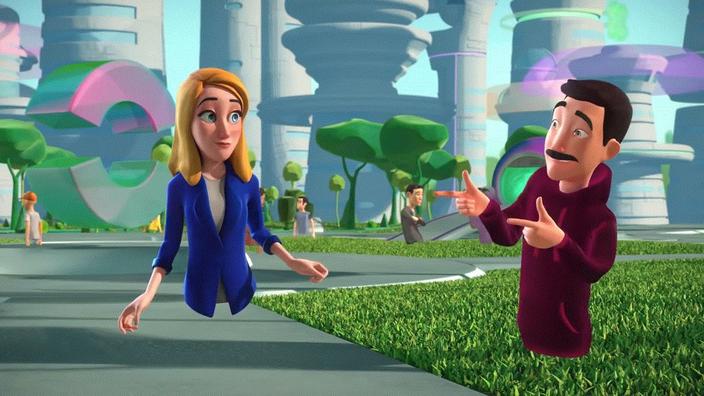 Facebook launches "Horizon", its virtual reality world
The social network wants to generalize the use of virtual reality, so far mainly intended for video game players.
Facebook announced on Wednesday the launch in 2020 of its virtual reality world. Called Facebook Horizon, it will be accessible to anyone registered on Facebook and equipped with an Oculus virtual reality headset. To enter it, the user will first need to create an avatar. He will then be able to wander through virtual and customizable environments, interact with other members, watch videos, and play games.
Facebook Horizon Facebook Horizon will replace Oculus Rooms and Facebook Spaces, the virtual reality experiences launched by Facebook in 2016 and 2017, which already made it possible to communicate with other users. However, they were confined to private environments, where Facebook Horizon will be more like a massively multiplayer game, with common areas and others whose access will be limited. Oculus Rooms and Facebook Spaces will disappear on October 25.
With this new tool, Facebook therefore wants to generalize the use of virtual reality on the social network by offering an open world where users will spend time to exchange with their knowledge and consult media. The company did not give further details regarding the presence of ads in Facebook Horizon.
Making virtual reality accessible
Facebook became interested in virtual reality as early as 2014 with the purchase of Oculus, a pioneer company in this sector, for $ 2 billion. At the time, it was developing one of the very first virtual reality headsets on the market, the Oculus Rift, aimed at video game players. Under Facebook's leadership, Oculus has grown strongly and is expected to sell more than a million virtual reality headsets by the end of the year. But the company's co-creators, who had joined Facebook at the same time as their company, left the social network one after the other following disagreements of strategic orders. For Mark Zuckerberg, CEO of Facebook, the future of virtual reality is indeed in the social. "Soon it will be the era of augmented reality and virtual reality. And what distinguishes these technologies is that they allow you to be present in a place and interact with those around you," says the executive in an interview with the Point. "When you are facing someone who has his nose on a smartphone, you do not feel his presence. With virtual and augmented reality, you can interact with your loved ones.
It will be possible to play on Facebook Horizon, but for Mark Zuckerberg, the heart of the project lies in social interactions. oculus.com
Mark Zuckerberg has the free elbows today to make his project come true and hopes that as many members of his social network as possible will be attracted to Facebook, and no longer only the most technophiles. As such, Facebook insists on the accessibility of its virtual world, which everyone will be able to build as they please thanks to intuitive creative tools.
Harassment and the dissemination of inappropriate content, which are commonplace on other virtual reality platforms, were also addressed: moderators will be present in the common areas to ensure the safety of exchanges.