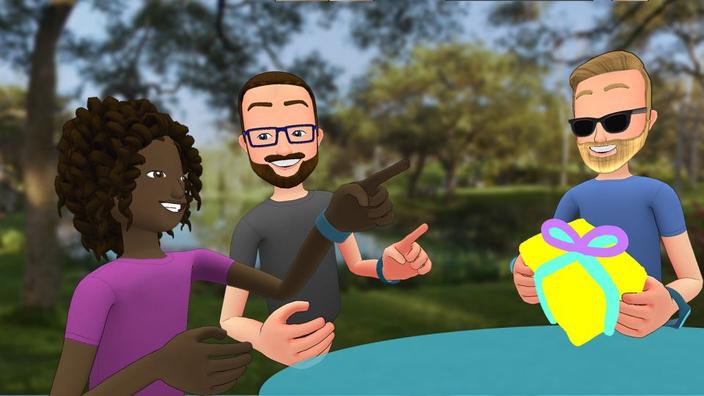 Facebook invents friendship in virtual reality
Spaces, an application launched on the occasion of the F8 conference, allows you to chat with friends, draw in a virtual space or make calls.
From San Jose
An avatar, a virtual environment and several friends to chat with. Spaces, the new Facebook app unveiled Tuesday, has something to remind of Second Life. This online game, launched in 2003, offered its users to interact virtually with other Internet users from their computer, thanks to virtual avatars. Spaces goes further. The service, launched in beta, allows Oculus Rift headset owners to communicate and interact with their Facebook friends in an immersive way.
Social virtual reality
In the virtual environment launched by Facebook, each user has his own avatar. The algorithm of the social network selects five photos considered representative, and invites the future virtual interlocutor to select the one he prefers. From the latter, the application offers an avatar, which the person represented is asked to modify. "The main thing is that this avatar appeals to the user and allows him to be instantly recognized by his friends," says Mike Booth, the project manager, during a presentation given at F8, Facebook's developer conference. It's up to him to change the shape and color of his eyes, the width of his nose or the volume of his hair to achieve this.
Once this first step has been completed, the avatar can come into contact with two or three others, in a virtual space to customize, to exchange photos, videos, make 360 ° calls but also take selfies. The app also offers creative tools, such as drawing objects before integrating them into the environment and making them evolve in space, or being able to mirror themselves in a virtual mirror.
The initiative marks a turning point in Facebook's strategy. After investing in video games and immersive videos, the social network wants to develop what it describes as "social virtual reality", which allows to be connected with friends despite wearing an immersive headset. The Spaces app is the result of nearly two years of work. "It all started with a test of Oculus Toybox in 2015," says Booth. The program then allowed to play different games against a virtual opponent. Like Toybox, Facebook Spaces works with Oculus Touch, the controllers of the virtual reality headset.
Virtual reality karaoke
To make the experience credible, Facebook looked at several key work points. "The algorithm makes sure to fix the gaze on simple targets, to give the impression of eye contact between interlocutors," explains Mike Booth. The lips of the avatar begin to move as soon as a person utters a word and allow to distinguish the people speaking. The characters were also designed to be able to express emotions, through facial expressions or gestures. According to the demonstration given by Facebook, they should be able to mimic the surprise by raising their eyebrows, rolling mechanics, shrugging their shoulders, and shaking or holding hands. Mike Booth's team anticipated any attempt at virtual aggression by integrating into its application a security bubble, intended to protect the characters by preventing any intrusion into this space.
Eventually, Facebook plans to extend this service to other virtual reality platforms, outside of Oculus. Spaces could be used to enhance the experience of distance learning or enjoy "virtual reality karaoke," according to Mike Booth. "We want to make virtual reality as accessible as smartphones.»