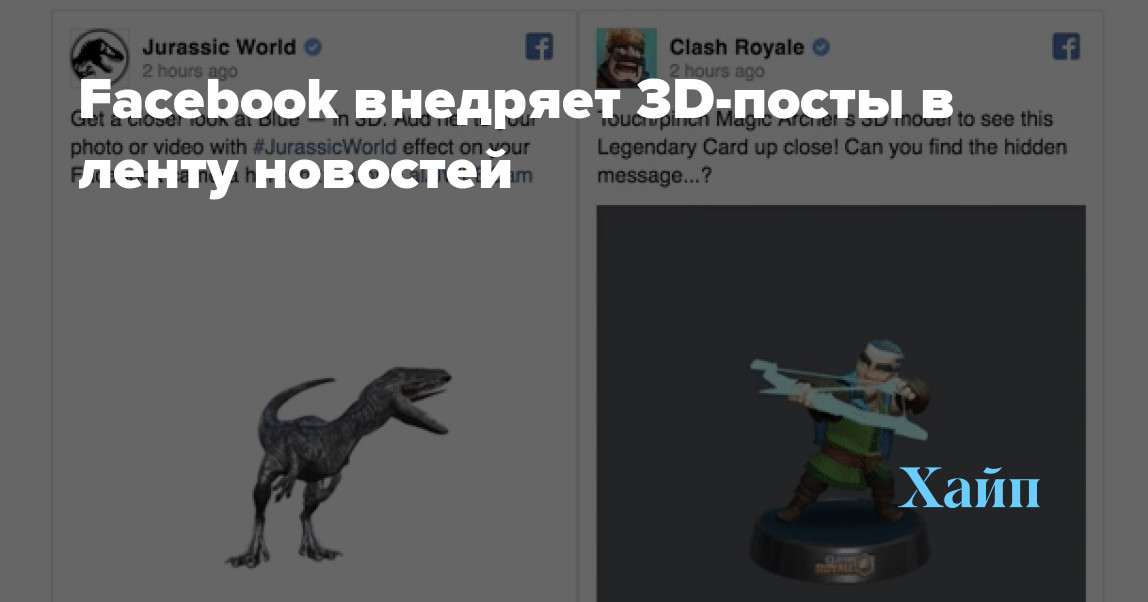 Facebook introduces 3D posts to the news feed
Would you like to create a 3D model that can be shared with friends on Facebook, placed in virtual reality, or displayed in augmented reality?
In October, Facebook developers introduced the technology of integrating 3D models into the news feed to the world. Now Facebook is announcing a new feature: users can insert glTF 2.0 files into posts, which provides realistic visualization of objects. This technology allows you to develop applications for creating 3D objects, or even 3D cameras, with which users can instantly publish the results of their 3D modeling in social networks or on websites.
For example, you can create your own chess piece in a 3D modeling application and share it with all your friends in your news feed, then transfer it directly to Facebook Spaces for playing virtual chess. Companies like LEGO and Clash of Clans are already experimenting with 3D in their messages.
We are trying to make 3D a full-fledged part of the Facebook ecosystem. Now we are planning to move all these 3D objects to augmented reality, " says Ocean Quigley, Facebook's creative director for social virtual reality. — We are trying to lay the foundations so that Facebook can go together with its users into the 3D worlds of virtual and augmented reality.
If Facebook succeeds in implementing its plans, it will give them incredible opportunities. By providing its users with unique interaction mechanisms, Facebook will leave other social networks far behind.
Marketers and advertisers will definitely appreciate the opportunity to let users try on a thing in augmented reality mode, instead of just looking at its photos. And brands such as Sony and Wayfair have already started their first steps to commerce in augmented reality, allowing you to view 3D versions of their products in the home interior before buying.
You can be sure that if Facebook provides developers with convenient tools for importing and using 3D objects, it will provide users with a unique and exciting experience, regardless of whether they will view the news feed from their phone or in any augmented reality glasses.