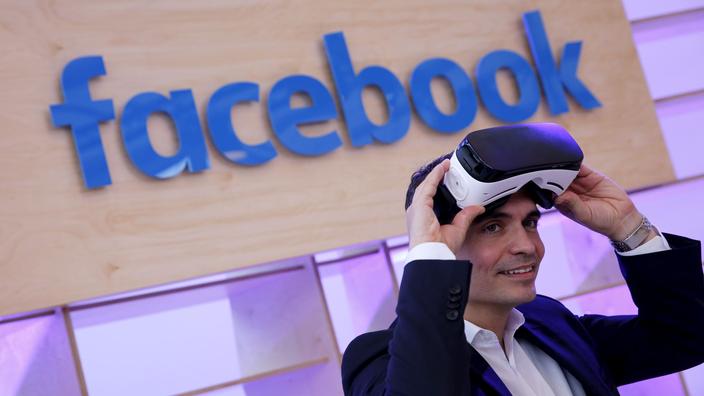 Facebook completely reorganizes its virtual and augmented reality division
Facebook has announced an internal restructuring within Oculus teams that will be divided by areas of expertise rather than products.
A little more than ten days after the surprise resignation of Oculus co-founder Brendan Iribe, Facebook is reorganizing its teams dedicated to virtual reality (which immerses an individual in an immersive 3D environment) and augmented reality (which superimpose information or virtual objects on transparent glasses). According to the specialized website TechCrunch, these teams will no longer be divided into branches dedicated to specific products (headsets for PCs or headsets for mobiles) but by areas of expertise. "These changes will have no impact on consumers and our partners in the developer community," a company spokesman said. The goal is above all for Facebook to no longer have isolated Oculus teams working on their own products in their corner. The social network wants to integrate them more into its organizational chart to have a clearer strategy on virtual reality / augmented reality technologies in the coming years. It is also in this logic that Mark Zuckerberg appointed Hugo Barra, former vice president in charge of virtual reality at Facebook to head Oculus in 2016.
This reorganization is taking place in a difficult context. Some companies like the video game studio CPP have decided to abandon all their projects in virtual reality. For their part, virtual reality headsets are still struggling to find their audience. In the second quarter of 2018, their overall sales even fell by 34% year-on-year, according to the firm IDC. They are often criticized for their various technical limitations, their high prices but also their adverse effects such as nausea or headaches. "Every time I put on the headset, it makes me sick," Oculus co-founder Brendan Iribe even said in 2013.
Already several reorganizations
In 2016, Facebook had already implemented a reorganization within Oculus by creating a special pole for virtual reality headsets intended only for PCs. Facebook's founder Palmer Luckey decided to leave Facebook a year after this reorganization, due to strategic disagreements: he did not agree with the strategy of democratization of virtual reality implemented by Facebook.
For several years, the social network has aimed to open virtual reality technology to as many people as possible by offering cheaper products. He has thus marketed the Oculus Go headset, a product sold for 199 dollars and is about to offer the Oculus Quest for 400 dollars next year. In the same strategic vein, the social network had negotiated a partnership with Samsung and its Gear VR headset from which it was possible to connect directly to its Facebook account. He had also launched an application, Spaces, which allows you to chat with friends, draw or make calls only in a virtual space. These various changes are part of a broader vision carried by Facebook CEO Mark Zuckerberg, who says he wants to eventually convert 1 billion people to virtual reality.
SERVICE: 130€ OFFERED for any BforBank bank account opening with our promo code