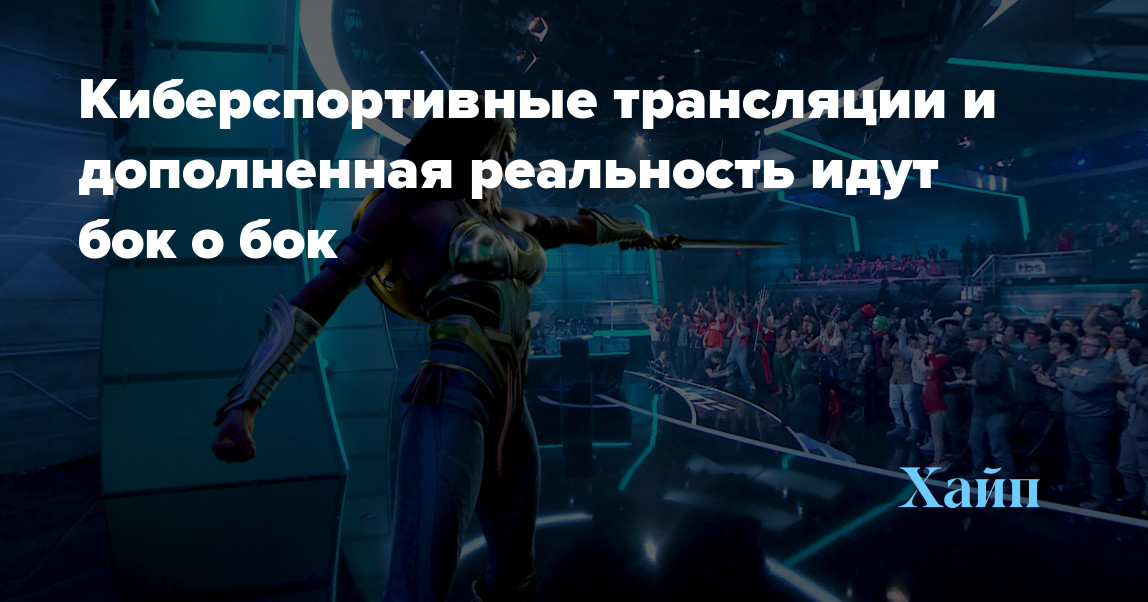 Esports broadcasts and augmented reality go side by side
Esports (esports) – this is a new sport that "infects" more and more people. Its young and active fan base already surpasses the audience of American football fans around the world. Until now, viewers have mostly made do with online broadcasts or paid dedicated TV channels. However, everything is changing, and channels such as TBS Turner have begun to cover esports events, increasing their popularity.

Photo: HUGE thinking
The main task of content producers, both on TV and on the World Wide Web, is to convey all the necessary information about esports to a real audience, encouraging them to participate in various competitions. And innovative technologies open up opportunities for creating new forms of audience coverage.
The combination of esports, virtual, augmented and mixed realities is becoming increasingly popular. According to IDC forecasts, the revenues of this niche of the entertainment industry will increase from $ 11.4 billion in 2017 to $ 215 billion in 2020.
Until now, high prices for VR headsets and hardware have prevented virtual reality from entering the mass market. On the other hand, augmented reality is available to everyone thanks to mobile devices or even a regular TV.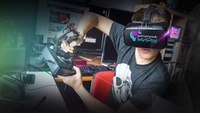 Photo: kudago.com
AR already has its own sports history
Augmented reality has been used for a long time in the coverage of sports events in order to identify the strengths/weaknesses of the technology and get feedback from viewers.
In esports, augmented reality can be used to move digital characters and objects into the real world, which leads to the creation of mixed reality. For example, The Future Group created Frontier, a virtual studio graphics platform based on the Unreal game engine from Epic Games. This new technology allows you to instantly insert AR objects into any broadcast in real time.
The TBS Turner channel has always been at the forefront in the development of coverage of esports events. In May last year, during the broadcast of ELEAGUE Street Fighter V Invitational, 3D models of the game's characters were placed live. The characters were created by Capcom, and the work on their integration into Frontier was led by the vice president of Virtual Øystein Larsen, who previously worked on The Matrix Trilogy, Catwoman and the Norwegian cult hit Trollhunter .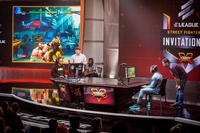 Photo: sporttechie.com
The project turned out to be so successful that for the next broadcasts of ELEAGUE's Injustice 2, NetherRealm Studios created superheroes from the DC Universe, which the audience also saw live. But this time the 3D characters were more "advanced". For example, when Superman flew into the ceiling to exit the stage, virtual debris fell to the studio floor. And everyone, the audience, including those who were in the studio, could enjoy realistic visual effects on the TV screen without having to wear additional equipment.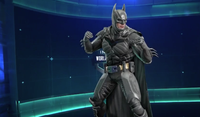 Photo: cdn4.dualshockers.com
Although it takes a long time to create graphics and animate characters, once they are ready, models can be reused without restrictions, and new effects and movements can be added very quickly. And since the technology is new, as it develops, the time for creating digital objects will only decrease.
There are other examples of the use of augmented reality in esports, such as Yu-Gi-Oh!, where characters come to life as soon as the cards hit the table or game statistics are displayed on the screen as in esports competitions. As more and more people pay attention to such entertainment, the number of investments is also growing, which leads to an increase in AR-effects provided for a particular show.
How AR can work
Characters or even entire virtual sets can be inserted into the air at the touch of a button, which opens up unlimited freedom for the industry to create. The result is visible instantly, so you can preview what it will look like during a live broadcast-just 20 years ago, this was simply impossible. And since everything happens in real time, it is quite possible to bring not only the character models beyond the computer screens, but even arrange fights between them.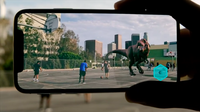 Photo: Apple
Changing and creating new forms of esports content will contribute to monetization and innovation. Brands will be able to reach the most valuable young audience for them, viewers will find new ways to interact with their favorite games and communities, and developers will create non-standard games.
This will lead to new markets and revenue for content owners. For example, why can't a game character become the "face" of an energy drink, like a real athlete? It becomes clear that the integration of branding into esports directly depends on visual effects. Getting a new exciting experience, the viewer more actively consumes branded content and increases advertising revenue.
In the interactive mixed reality show Lost In Time, created jointly by The Future Group and FremantleMedia, viewers can participate in the same competitions as the participants using their mobile devices. This approach can also be copied to the broadcast of esports competitions using the Frontier platform. Adding interactivity would allow fans, who are mostly players themselves, to take part in an ongoing tournament, for example.
The launch of the second "screen" for TV viewers will serve not only to actively attract them, but also allow you to use targeted advertising for a wide audience. For example, a millennial girl from Seoul will see one product on the screen, and a boy from Wisconsin will see another.
Esports is challenging traditional sports, which will lead to increased investment in the field of online broadcasts. This digital field opens up huge spaces for creative activity. New achievements in the field of AR, VR and MR allow us to visually improve the coverage of esports events, which was not available just a few years ago.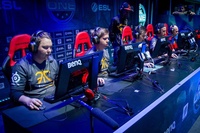 Photo: healthandsoul.ru
This contributes to the fact that the level of interaction of the viewer will surpass everything that can be seen in traditional sports. Many fans and observers of esports will not only enjoy the broadcast, but also be inspired by it.
Lauren Jones, Vice President of The Future Group in North America.
Translation venturebeat.com