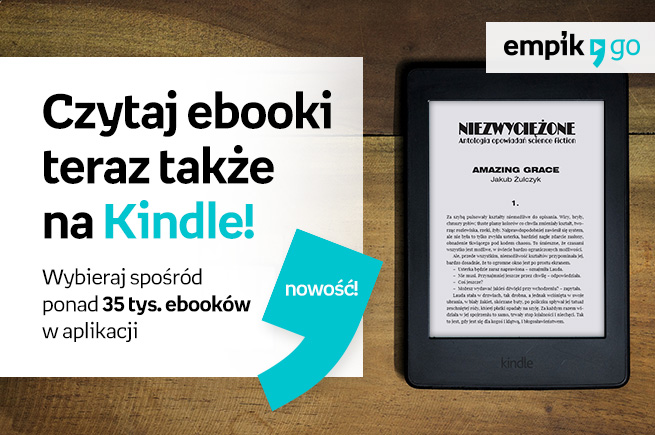 Empik Go Kindle application how to download
The best-rated app in Poland with audiobooks and ebooks has so far been available for phones, tablets and Inkbook and Pocketbook readers. From now on, its subscribers can read ebooks available in the app on Kindle readers. The beta version of the application hit the first readers at the end of October. Its version 1.0 will be released in December., which will take into account the comments made by fans of ebooks.
– Thanks to Empik go for Kindle, more people can see how convenient it is to use not only a digital book, but also a subscription model. Instant access to news, a large diverse database, a title available in just one click – we know these advantages perfectly from other portals streaming movies or games. We want to educate users that this "convenience" is also available to fans of literature. All the more so if Empik go can be used not only on phones, but also on the most popular models of readers – says Michał kiender, product manager Empik go.
The launch of the app on Kindle readers is also important information for the traditional book industry. Publishers who cooperate with Empik go will have a chance to reach another audience-heavy users of digital reading.
– We hope that Empik go for Kindle will show that the subscription model in the book industry is definitely not a niche but a mainstream one. Thanks to us, the publisher or author can reach a mass of conscious readers: those who read a lot, and also those who read in a modern way – always and everywhere – adds kiender.
Users of the application will be able to upload up to 10 titles from more than 35 thousand ebooks to their library every month. And in parallel on your smartphone or tablet-use the remaining resources: more than 35 thousand. audiobooks, headphones and podcasts.
The Empik go team led by Michał kiender (product manager) and Jacek Borzykowski (digital content technology manager) in cooperation with miquido was responsible for the development and implementation of the application.
The app is available to customers with active Empik go subscriptions, as well as Empik Premium and Empik premium free members. The service will be available as part of any subscription, including dedicated libraries.