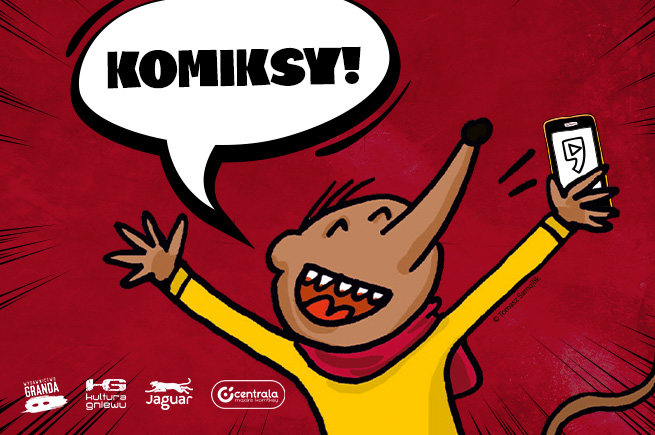 eKomiksy W Empik Go-the only offer in Poland of digital comics in subscription
Empik go is constantly expanding its offer. Thanks to the agreement of comic publishers with the distributor of digital content, users will have access to dozens of bestselling picture stories for everyone. This is just the beginning of the brand strategy, which involves expanding the range to more than 100 items by the end of 2021. Empik go involves collaboration with publishers as well as independent creators.
– We are pleased that digital editions of comics will complement Empik go. We encourage further publications and individual authors to cooperate. We provide an opportunity to reach a completely new audience who do not regularly buy paper editions of comics. Ekomiks in the Empik go subscription can be a fantastic opportunity to return to this medium, show your loved ones your favorite notebooks, and even encourage you to buy new items in paper editions-says Paweł Heba.
Empik prepared phased communication for this project. Several anger culture titles have been launched in the app. The selected catalog is the most popular comics from the offer of this publishing house. Selected Jaguar and granda titles followed. At the turn of October and November in the subscription will also appear items of the head office and news from kg.
– We started with a very strong offer, in which everyone will find something for themselves. From the cult "Swoboda estate", through the graphic novels "1984 " or" a handmaid's Tale "based on Margaret Atwood's bestseller, to a wide range of children's books – m.in. the series" snout of Destiny"," Detective Bear zbys on the trail"," the last bison", or" a fairy tale at the end of the world " – adds Heba.
Only after the first days in the top 25 most read ebooks appeared as many as 5 comics. This demonstrates the growing interest in digital content among another group of consumers. Paul Heba comments on this phenomenon.
– Digital versions of books-ebooks and audiobooks-not so long ago were a curiosity of interest to a handful of people. Today, these formats are rapidly gaining popularity and for some readers it is the only form in which they communicate with literature. We hope that the same will happen with digital versions of comics. Empik go is the only subscription application offering access to this type of content. Being an avid comic book reader myself, I am not going to give up paper editions, but I am very happy for a wide digital offer, which I will be able to use everywhere.
By the end of the year in the application Empik go will appear about 100 comics. Cooperation with the brand has so far been undertaken by: culture of anger, Jaguar publishing house, W. A. B. publishing house, Granda publishing house, Centrala and blik studio.