Drones approaching
The development of air taxis seems to be stagnating. But as a glance at Asia shows: appearances are deceptive. And even before taxi drones conquer the airspace above the mega-cities, cargo drones will solve tricky logistics problems airily-easily.
She's stalled a bit, the vision of the taxis in the third dimension. The flight taxis, which are professionally called eVTOL (Electric Vertical Take-off and Landing), triggered a real hype a few years ago, also in connection with 5G. On the occasion of her inauguration, Minister of State for Digitization Dorothee Bär brought 5G into play as a basic infrastructure for air taxis. For this, she had to endure a lot of ridicule at the time. But what she wanted to illustrate with her example is becoming increasingly clear: 5G boosts air taxis – and vice versa.
Table of contents of the article
1

The future of air taxis starts in Asia

2

10,000 Autonomous flight hours

3

Concern about noise and safety generates skepticism about air taxis

4

Fast travel with vertical take-off

5

160,000 Taxi drones by 2050?

6

The future of drones relies on AI control

7

Amazon: But rather parcel drivers instead of drones

8

Load drones for special applications only
The future of air taxis starts in Asia
Now, 5G is on the doorstep – in more and more places in the literal sense. But there are still no air taxis to be seen. For many, they are still a utopia. "But that just seems to be the case," says Andreas Perotti, chief marketing officer at the Chinese drone start-up EHang. "In China, we have long since started commercial operation with our platform 216, which is ready for series production."Around 100 of these aircraft commute autonomously on fixed lines in selected mega-cities in the Middle Kingdom.
The principle is similar to a shared taxi: passengers can search for landing points in an app and then get there. This is made possible by an exemption from the Chinese authorities. EHang relies on a so-called "Operator-based Model". Together with the local authorities, the operators define air routes and landing points. "Thanks to AI support and the use of mobile communications and navigation systems, our air taxis can already fly autonomously. You are not dependent on 5G. But 5G will make things safer and easier."
Already 10.000 Autonomous flight hours
There is a wide range of intermediate stages between truly autonomous flying and pilot control. Even the air taxis in China do not (yet) fly completely autonomously. They are monitored by observers in so-called command control centers. And they can intervene in an emergency. The system seems to be working: the EHang drones have already survived more than 10, 000 hours of flight without damage. This is also made possible by the significantly more restrictive airspace surveillance in China.
In Asia, passenger drones are already commonplace. Picture: EHang
Such a model is also envisaged for Europe. Here, the drones are intended to bridge the distances between inner cities and the periphery. But the old continent is far from ready. Here there is not even the approach of a regulation for the small vertical starters. There is still discussion about where landing points could be and what they should look like.
How such landing points can be integrated into the existing public transport system also remains to be discussed.  And above all, it is unclear how to adapt the standards that have previously been in force in aviation to the technology of taxi drones. The big question is: Does a drone and an Airbus 320 really need the same rules?
Concern about noise and safety generates skepticism about air taxis
If the population in Europe is concerned, the answer would be a resounding yes. The concern about passive safety, i.e. that a taxi drone could fall into your own front yard, is one of the most frequently mentioned reasons for refusing to use the autonomous aircraft. According to the study" The Sky is the limit", in which the Technical University of Berlin and" Wissenschaft im Dialog " were involved, just 24 percent of those surveyed for the study believe that air taxis are safe.  In addition to safety, the fear of noise pollution is a reason for rejection.
"This is certainly also due to the fact that many people have never seen such a flight taxi. Many think of it as a noisy helicopter. But the noise pollution is no greater than a truck 150 meters away. And at flight level, the air taxi is barely perceptible, " says Perotti"
Then why doesn't the industry show more presence? "We would love to. But before starting permits are issued, it is still necessary to rummage through a jumble of applications."For such demonstrations, the industry wants a special area where it can carry out test flights without great bureaucratic effort.
Magdeburg-Cochstedt is now developing a National Test Center for Unmanned Aviation Systems under the leadership of the German Aerospace Center (DLR). Image: DLR
After all, a national test center for unmanned aviation Systems is now being built at the former commercial airport Magdeburg-Cochstedt under the direction of the German Aerospace Center (DLR). From the end of 2022, the test site will be available for startups and the established aviation industry.
Otherwise, however, it means waiting, because there should be a legal framework for air taxis at the earliest 2025. Such services could then perhaps start operating by about 2030.
Fast travel with vertical take-off
However, Lilium does not want to be patient for so long. The Munich-based start – up is developing an electric vertical starter, which, however, is to be controlled by a pilot in the classic way. The aircraft is to be registered as an ordinary aircraft with "EASA certification".  Six passengers will be able to fly. For the price of an ICE ticket, the jumper should then bridge distances between 30 and 250 kilometers at up to 280 km/h. Its area of application is to be mainly where there are no high-speed connections – for example in the American Florida, where 14 communities want to build a transport network with the electric aircraft.
The aircraft is loaded at a station, as they are already used for electric trucks. Within 30 minutes, the batteries are full. The first tests are to be carried out in 2024, and the whole thing is to be commercially launched by 2025. Partners such as Nuremberg or Munich Airport will then provide so – called vertiports, which serve as take-off and landing sites. Lilium spokesman Rainer Ohler: "Such a vertiport can occur anywhere: on house roofs or in the commercial area. The investment costs for this are relatively low. They are around EUR 2 to 5 million."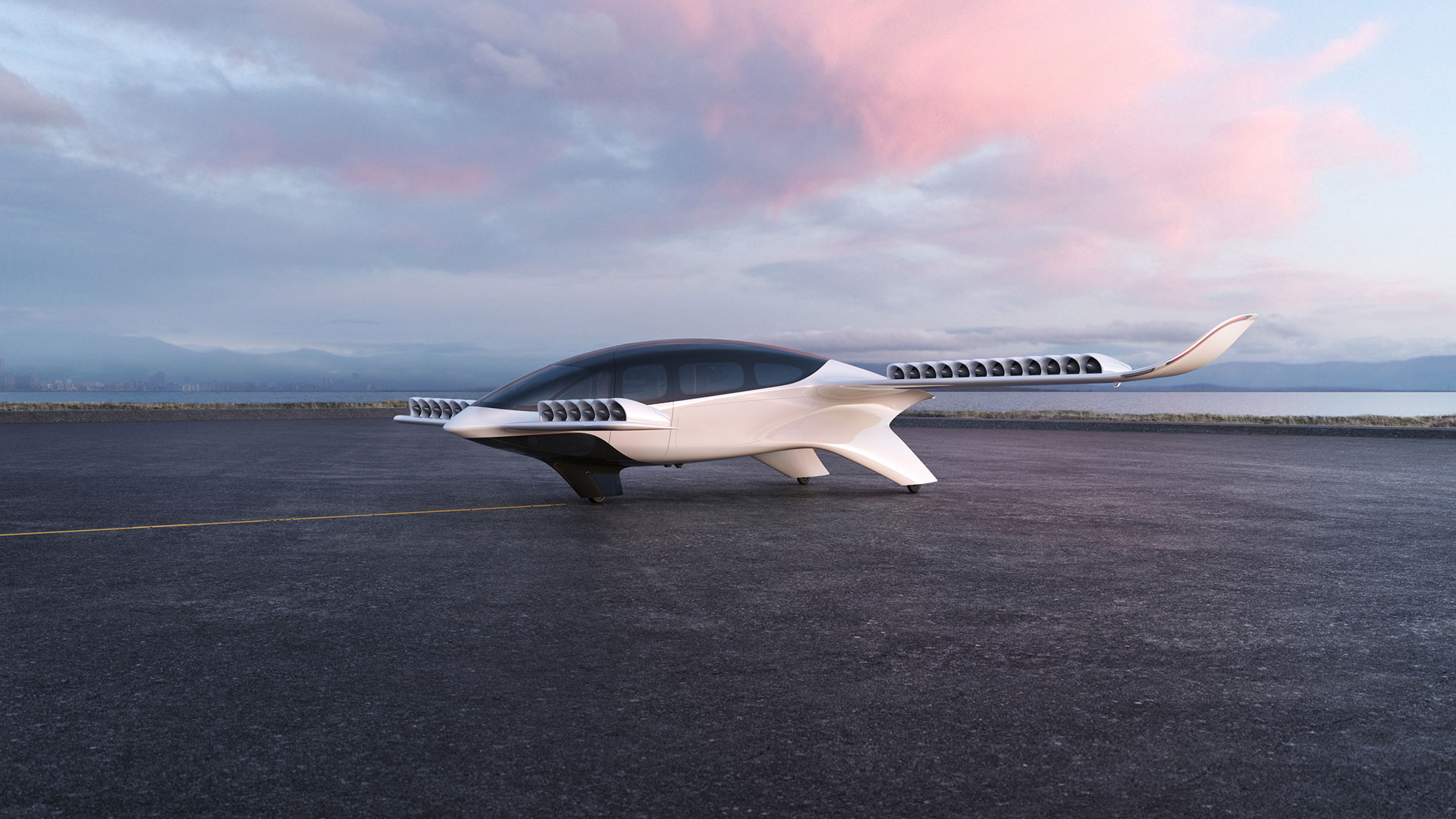 Lilium relies on vertical take-off drones with pilot. Picture: Lilium
With this business model, Lilium may be on the safer side. According to the market research institute Roland Berger, shuttle traffic to and from the airport will account for around half of all taxi drone operations. The short hop from city to city should have a share of 40 percent, and for the city taxi operation only about 10 percent should remain.
160,000 Taxi drones by 2050?
Overall, Berger estimates the market for urban Air Mobility (UAM) at a total of 90 billion US dollars by 2050. 160,000 Taxi drones will then do their job. No wonder, then, that EHang and Lilium are not the only companies working on such aircraft. According to experts, there are likely to be 200 companies worldwide.
Also the German Volocopter belongs to it. Volocopter develops taxi drones under the name Volocity and has already presented a prototype in Stuttgart in 2019, with which interested parties could also fly. The route then went from the airport to the city center and back. By the way, the presentation was a complete success. An accompanying study by the Stuttgart University of Technology documented how surprised the participants were by the quiet flight of the drones, and the impression of comfort and safety also exceeded their expectations.
Volocopter has already applied for approval for VoloCity with the American aviation authority FAA. Image: Volocopter
Volocopter has already applied for the approval of VoloCity with the American aviation authority FAA, in Europe the type certificate with EASA is in progress. The company has entered into a cooperation with ADAC and wants to establish a taxi service on fixed routes in Singapore in the coming years. The corresponding landing points have already been determined. In Europe, there will be a premiere for the 2024 Olympic Games in Paris.
The future of drones relies on AI control
However, there is broad agreement in the industry that at least the long – term goal must be autonomous control of the aircraft-human pilots or controllers monitoring remotely are simply too expensive in the long run.
The Startup Spleenlab from Saalburg-Ebersdorf (half the distance between Coburg and Zwickau), therefore, focuses on AI and Machine Learning to the control of unmanned aircraft. Twelve employees rely on findings from the development of autonomous driving, such as environment recognition or decision-making, and adapt them for use in autonomous drones.
The EU-funded research project AEROARMS (AErial RObotic system integrating multiple ARMS and advanced manipulation capabilities for inspection and maintenance) also relies on AI. In this case, the machine intelligence controls maintenance drones that can be used, for example, to monitor and repair pipelines. With their specialized robot arms, the AI-controlled drones offer impressive possibilities – for example, you can hold an object to be checked with one arm while inspecting it with another arm. In initial demounting operations, the system already uses such as wall thickness measurements on pipes and tanks.
Amazon: But rather parcel drivers instead of drones
Volocopter as well as EHang drive two-track in their developments, because passenger transport is only one part of their planned business. The other is cargo drones, which should become at least as important as a line of business. However, Perotti does not consider the much-cited Amazon delivery drones to be a business case. "We will never be able to compete against a parcel carrier."But we would like to introduce assignments in the B2B sector – especially on the so-called Middle mile. For example, EHang has entered into a partnership with DHL in China. The system 216, which has been converted into a cargo helicopter with a load capacity of 200 kg, transports parcels and letters to remote locations that are difficult to reach by land, for example because they are located on lake shores or in mountainous areas. In the Chinese city of Guangzhou, DHL Express has been using drones in regular operation between packing stations since mid-2019. Further application scenarios for the system 216 are, for example, also firefighting operations in high-rise building fires.
In Volocopter, the so-called VoloDrohnen are intended for cargo flights. They have a range of up to 65 km and can also carry up to 200 kg. A standardized fastening system makes it possible to equip the drone for many purposes, including the transport of liquids. One possible area of application for this configuration is crop protection in agriculture. For this purpose, Volocopter has already entered into a cooperation with agricultural machinery specialist John Deere.
Volocopter has entered into a cooperation with John Deere with its VoloDrohne. Picture: John Deere
Load drones for special applications only
The use of load threats will therefore be particularly worthwhile for special operations, such as eta for urgent medical transports. For example, the Charité in Berlin is testing the delivery drone "Labfly"in cooperation with the Berlin startup DiAvEn and GÖK Consulting.
The first tests were successfully completed at the end of October 2020. It is intended to be used, for example, for medical samples, drugs or vaccines. The declared goal is to start regular operations as early as 2022 – provided that Berlin policy creates the necessary aviation legal framework in good time.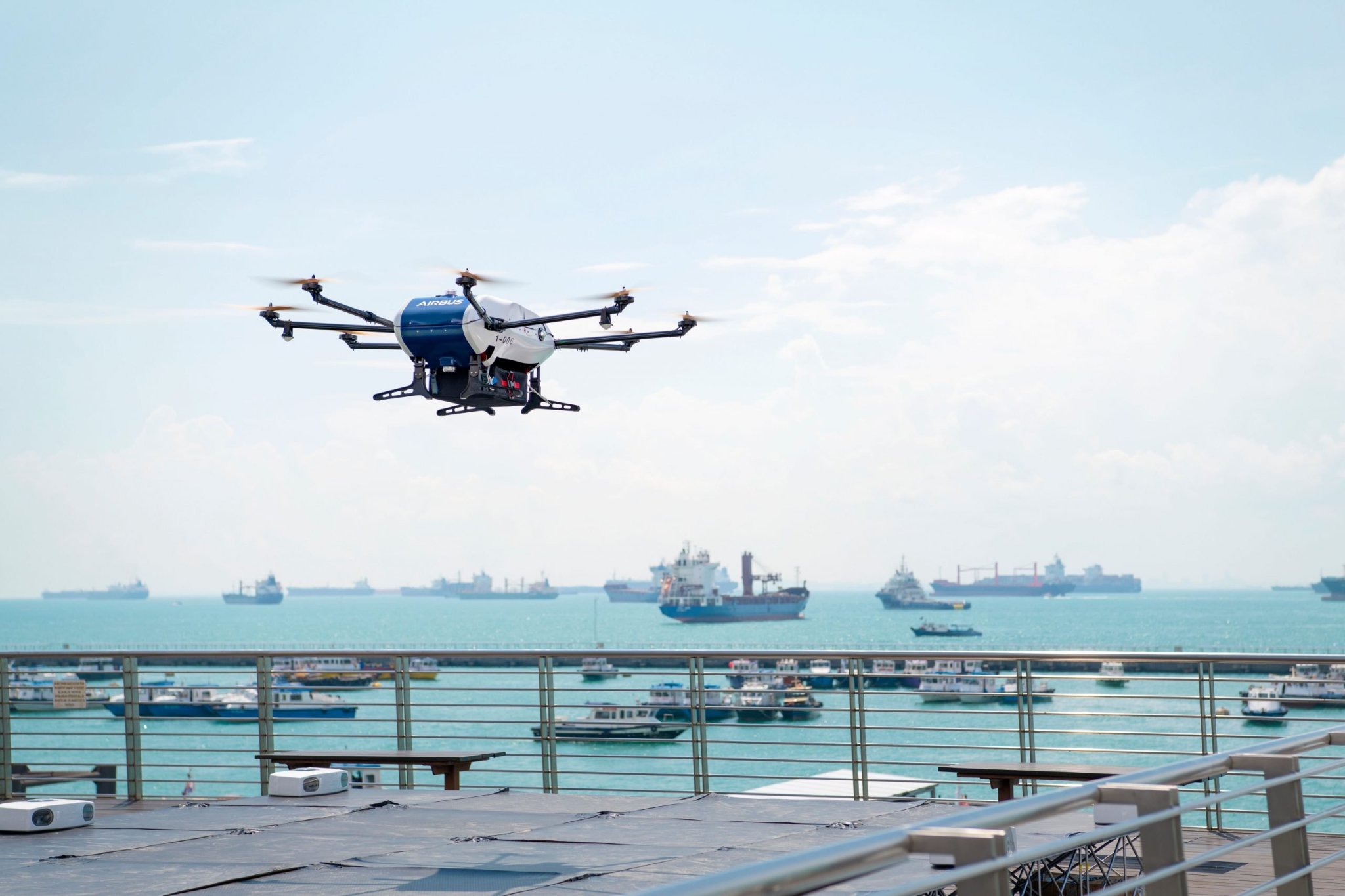 Cargo drones like here in Singapore transport urgent documents between ships and the mainland. Picture: Airbus
And in the container ports of Singapore and Rotterdam, it is being tested how drones can transport urgent documents such as freight documents or medicines between ships and the mainland ("Ship to Shore"). And here really 5G campus networks form the basis for the operation. In addition, the drones are used to obtain a quick overview, e.g. in emergencies