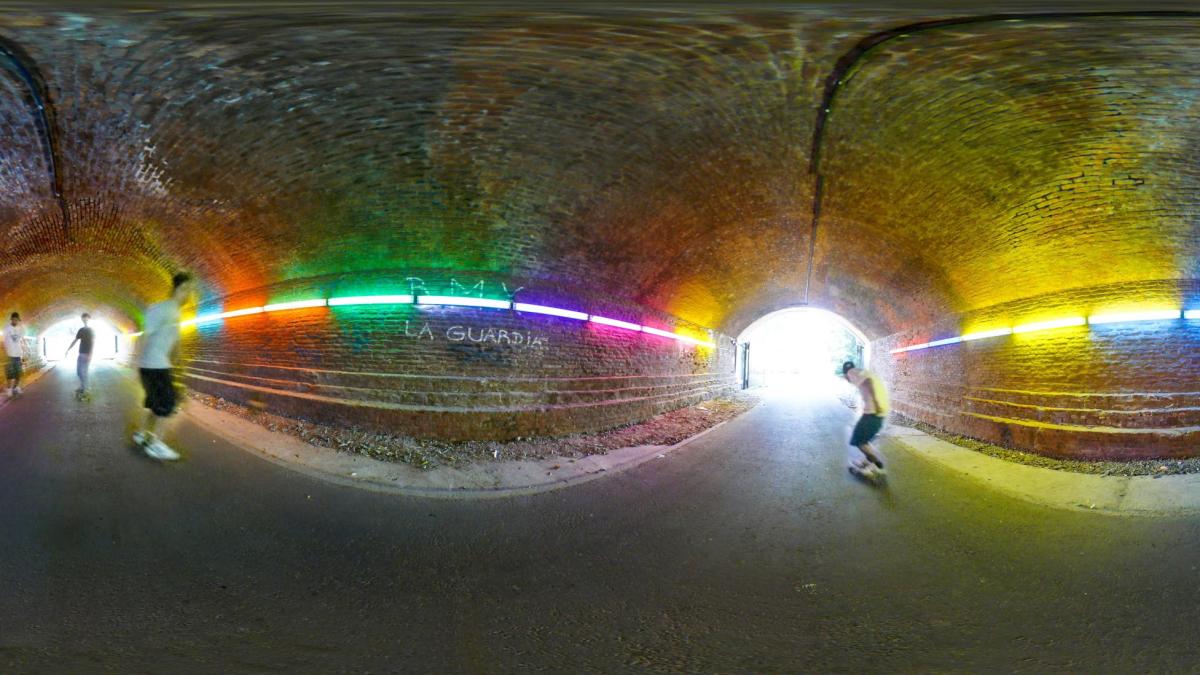 Do not be afraid, reality does not disappear!
The end of the Gutenberg age is here thanks to the Internet. His era, for almost six centuries, was marked by texts. It was written content, filled into containers that we call books, magazines and newspapers.
Today, information and entertainment are available in many other forms – as databases, apps and visualizations or automated chats, as videos, podcasts, memes, online debates, digital friendship networks and much more. True, text is not dead. But he now lives in the company of a lot of new companions.
Are we now leaving the Agfa and Kodak era behind us, thanks to three – dimensional virtual display options? Printed photography – and with it the movie screens and TV screens that followed it-was bound to two-dimensionality. Now images of such restriction are unmarried.
The term VR quickly leads astray
The term" VR", virtual reality, is currently used confusingly for all techniques that break with the flat film and photo worldview – i.e. for panoramic and all-round photography and for 360-degree videos, but also for the digital embedding of interactive additional information in such products.
For light field cameras with their ability to subsequently change the depth of field, and for virtual reality itself, the interactive three-dimensional representation of a computer-generated environment. The subsumption of all such technical possibilities under the term VR leads astray.
= & gt; Glossary: The most important terms about Virtual Reality
At the journalism school at the City University of New York, where I teach, we believe that our students should not start with VR in the true sense, but first with all-round photography and video. We make you think beyond the one–way lens object.
We want our students to wonder when it might be useful to see what is happening right and left or even behind them. What additional information, what additional benefit does such an all-round viewing angle provide?
Like any new gadget that fascinates media people, 360-degree media is instantly applied to anything and everything. But doing an interview with a 360 ° camera doesn't make much sense. When does one turn away from the interlocutor during a conversation in real life?
The same applies to the embedding of additional digital information in two-dimensional images only for the purpose of making them look like three-dimensional when printed; frankly, this is a gimmick for me.
Putting the viewer in a different perspective
The first recognizably useful application of 360-degree media is to put the viewer in a situation. Recently, all-round television cameras broadcast images from the middle of the balloon clouds that floated down on the audience and delegates at the end of the Democratic and Republican conventions at the Olympic Stadium in Rio.
That was pretty, that was a daredevil's perspective for the screen audience: And you can say you were there. But once you have experienced the fall from a cliff in such a way-don't you already know how all such jumps feel?
I often hear that VR enriches the media with empathy. One could put the viewer in the perspective of the person around whom the story revolves, and thus improve the understanding of their feeling and thinking. True, you can, no doubt.
The "Guardian" sent its readers via VR into a 1.8 x 2.7 meter small solitary confinement cell, an impressive experience. "Bild" took users to a battle in Iraq. In a virtual environment, I witnessed a hot-tempered man next to me point a gun at a woman; it was a test of nerve. I even know the empathy argument as a justification for virtual porn depictions.
Of course, producing all-round videos requires a lot of know-how and money: Several cameras sit on complicated tripods that can deform under heat and ruin the result. You need complex software alone to merge all these individual videos into one scene or to animate the action.
Are we going to VR cafes soon?
Virtual 3D reality requires completely different programming effort. And to look at such representations, users have to get involved in technology with a high potential for annoyance, namely a headset, cheap or expensive.
In it, they act like idiots while trying to avoid having to vomit because of the orientation contrast between three-dimensional visual brain stimuli and the physical state of rest of their body.
Since the devices are so expensive and sophisticated, I wonder if we will soon be going to VR cafes, just as people used to visit Internet cafes not so long ago in order to have online access at all.
= & gt;This is how sales with VR will develop.
My favorite camera can even record no all-round scenes at all, but only films with an image radius of 150 degrees. In this way, the Mevo camera simulates the use of multiple devices, as in a television studio. It is controlled on an iPhone or iPad.
You click on a face there, and the close-up starts; if you want to change the angle of view of the lens, you simply move a marker field on the screen. It is the first camera tailored to Facebook Live standards.
I use them for my own podcasts. When I showed the nondescript $ 400 device to a newspaper publisher, he stopped in his editorial office the just begun establishment of a full-blown TV studio.
= & gt; These are the best 360-degree videos of our editorial team.
"Pokémon Go" has now inspired me again for the possibilities of digital additional information. Many years ago, a Dutch company called Layar demonstrated how to feed additional information into the image section of a mobile phone camera ("This restaurant has wonderful steaks" or "George Washington once stayed there"). She was too far ahead of her time.
Now "Pokémon" shows how we can enrich the user experience in public places. History data can be just as much as everyday notes-just restaurant reviews, bargains around the corner or comments from other mobile phone users.
German consumers are particularly skeptical
Alas, and let's leave it to the German media to worry about the possible negative consequences of "Pokémon Go". In the" Bild "Franz Josef Wagner complained:" But the nerds, the millions of Pokémon addicts, should not look for monsters. You should seek reality."
Even more surprising (or exaggerated): the philosopher Slavoj Žižek discovered Nazi traces in "Pokémon Go". He wrote in Die Zeit: "And did Hitler not give the Germans the fantasy image of his National Socialist ideology, through the grid of which they saw a special Pokémon – 'the Jew' – appear everywhere ,which provided them with an answer to the question of what to fight against?".
Such basic mistrust is not just a tick of German media. An international survey by the Gesellschaft für Konsumforschung found that German consumers are the most skeptical when it comes to the value of virtual impressions. Nevertheless, VR is also conquering Germany, especially in the computer games sector.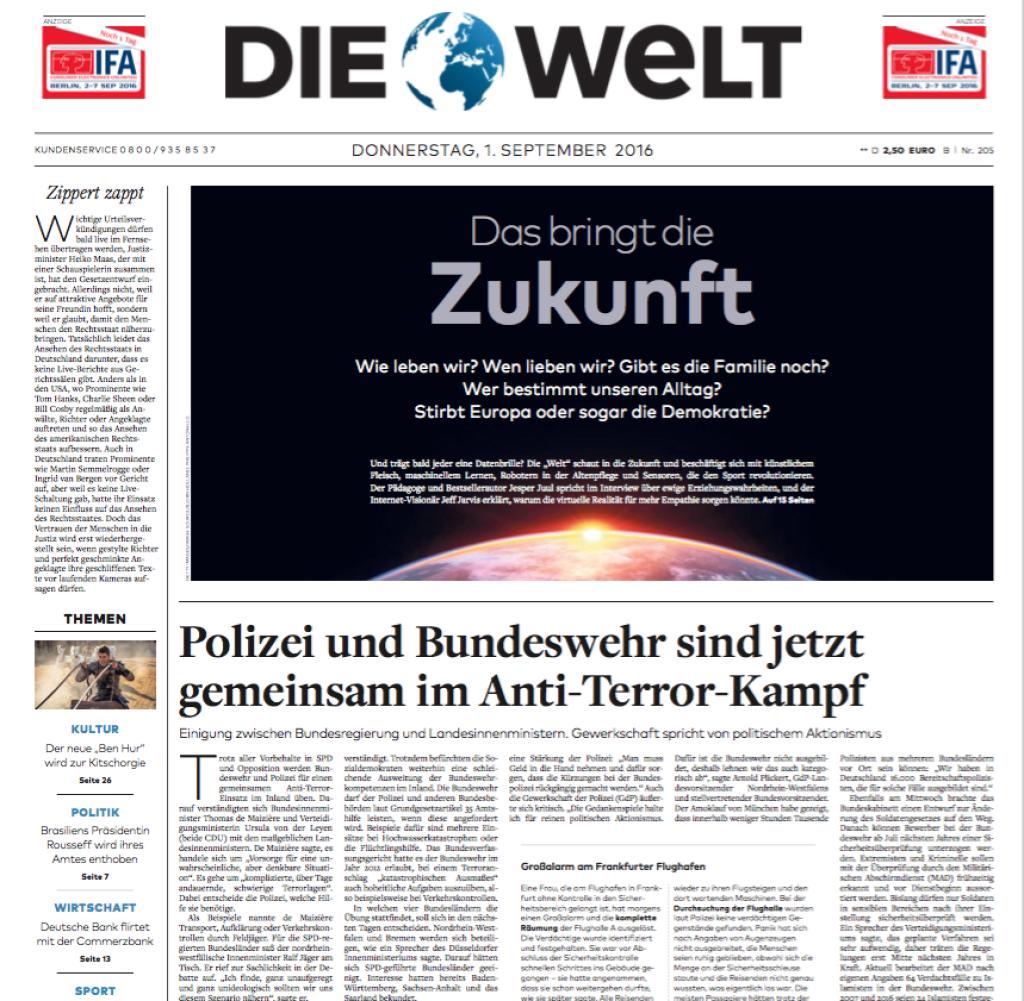 Yes, there are concerns about VR and related technologies. Do people who are filmed by an all-round camera know that they are just getting into the picture? We know that people with virtual reality experience develop a sharpened sense of reality. I don't share the concern that people are creeping into their VR headsets and experiences; that's just another way of looking at images, after all.
Virtual reality and similar trends give us another opportunity to experience what other people experience – that's why Facebook and Google are investing so specifically in this technology. We should all be able to make more participation in our lives possible. But fear not: just as there are texts even after the Gutenberg age, so there will continue to be reality after virtual reality.
The author, 62, is one of the most famous American bloggers and journalists. He is best known for his 2009 book "What would Google do?"
Translated from the American by Torsten Krauel.
You can find even more visions of the future in the special edition of" Welt " from 1 September and on our special pages on the "World of the Future".
Learn more about virtual Reality in our interactive special.