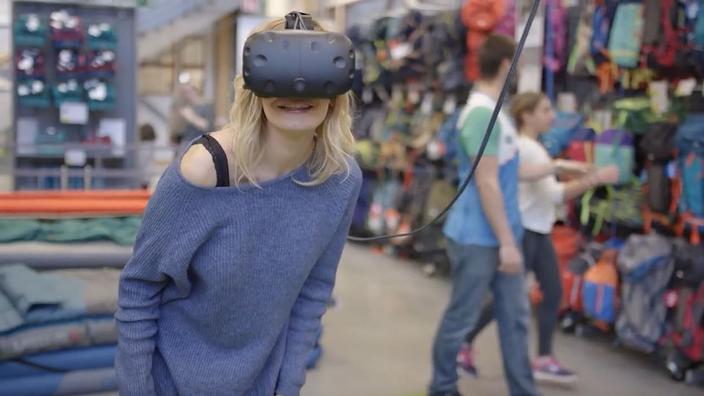 Decathlon shows its Quechua tents in virtual reality
Deployed in several large areas, this device makes it possible to visit a tent in realistic conditions.
Prepare your camping holidays thanks to virtual reality. This is what Decathlon offers to customers of twelve of its stores. The sports equipment manufacturer has launched an app on HTC Vive, allowing their customers to view Quechua tents in VR. The user can move around and inside the structure in order to appreciate the actual dimensions as well as all these technical characteristics and the furniture.
This experience allows something normally difficult or impossible: seeing the tent deployed. "It is difficult to deploy a family tent measuring 4 to 8 meters in a store," argues Nathalie Beugé, digital manager at Decathlon. Customers can now get a real idea of the item they are buying rather than relying on the dimensions shown on the label.
A more realistic rendering
The other advantage is to visualize this essential of the camper in realistic conditions rather than under neon light and on a carpet. The application makes it possible to place the object in different climatic conditions. The rendering of the tents is produced via the photogrammetry process, a technique consisting of digitizing objects through digital photography, which gives a more realistic stamp to the tent. "This experience has a real impact. This can be seen in people's behavior, " says the project manager.
The app is only for Quechua tents. The sports equipment company has, for the moment, no other projects announced vis-à-vis virtual reality, but this test will gauge opportunities in this area. The app will soon be available on the Oculus Store. Samsung Gear VR owners will be able to test the tents in their sofas.
SERVICE: Discover our Decathlon promo codes