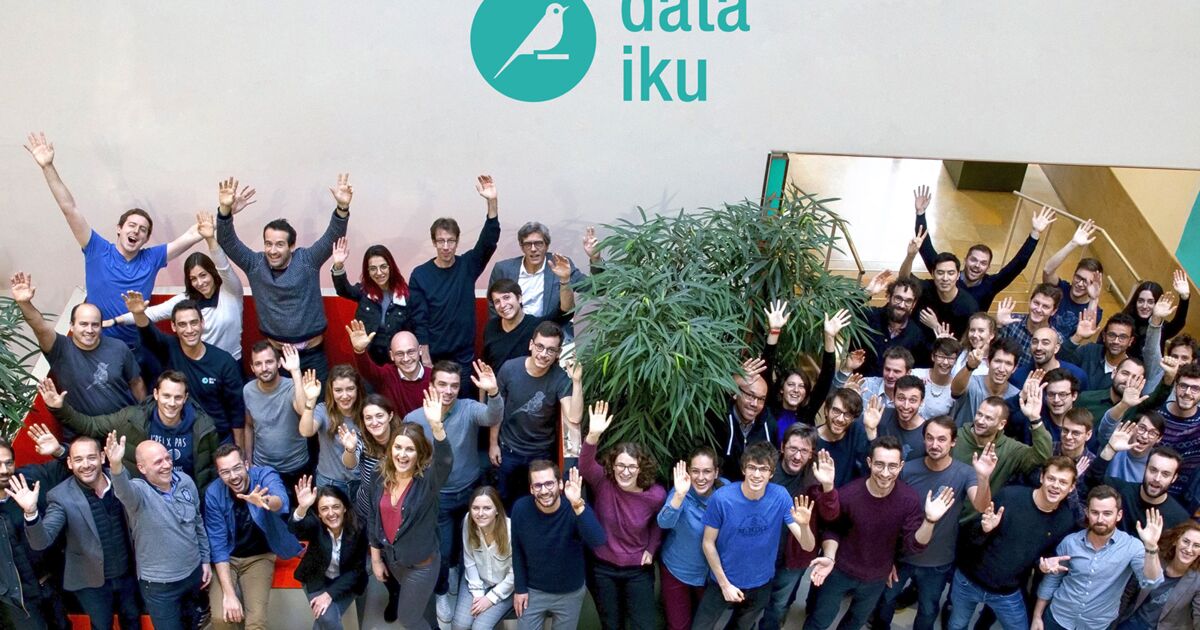 Dataiku achieves a 3rd fundraising of more than $ 100 million with the ambition to become the leader in AI software, behind major players such as Microsoft and IBM
Created in 2013, the French startup Dataiku is already in its third fundraising. The start-up, which publishes software using artificial intelligence (AI) to allow companies to analyze their data, announced on Wednesday, December 19, 2018 that it had raised $ 101 million in Series C.
Dataiku is moving fast and intends to accelerate even more. The company, which has doubled its workforce in one year, from 100 to 200 employees, aims to double its team further to reach 400 employees, if possible as early as 2019.
The startup wants to expand its workforce in New York, where its headquarters are located, but also in Paris and London, as well as in its new offices in Sydney and Singapore.
"We want to multiply our research and development efforts, in particular by doubling our engineering team (engineering, editor's note), which represents about fifty people in Paris," Chief Executive Florian Douetteau told Business Insider France.
Just over a year ago, the company founded by Florian Douetteau, Marc Batty, Thomas Cabrol and Clément Sténac raised $ 28 million from the American fund Battery Ventures, as well as FirstMark, Serena Capital and Alven, which had already participated in an initial fundraising of $ 14 million in October 2016.
This time, we still find FirstMark, Alven and Battery Ventures, in addition to the London-based Dawn Capital fund and the Californian Iconiq Capital, which led this third round of the table.
Dataiku sees big. "We have the opportunity to become the emerging leader for companies that want to make their AI by themselves, in two to three years", believes Florian Douetteau. "The sector is structured by major players, such as IBM and Microsoft, to which are added emerging players, such as US and the American company Alteryx."
Double the turnover and impose itself in the face of competition
According to him, all sectors are investing heavily in artificial intelligence and Dataiku meets the demand for software and tools in this area.
Dataiku
"The market is growing, with more and more players working on the subject, as can be seen with the multiplication of data scientists. We are now reaching a level of maturity where we are more in production than discovery."Companies would thus experience a "new wave of computerization and digitalization", with many systems based on AI and machine learning.
The goal of Dataiku, which claims more than 200 customers worldwide, such as General Electric, Sephora, Fox and BNP Paribas, is to grow faster than its competitors, "because it generates a ripple effect," emphasizes Florian Douetteau. The leader behind the giants of the sector would be favored by companies, because of the reassuring and dynamic image it returns.
The startup ensures doubling its turnover every year. "It's tens of millions of dollars at the moment," its chief executive says. On the other hand, the company is not yet profitable, but this is not a concern for Florian Douetteau:
"Profitability is not an objective in itself. The goal remains to continue to get fat, even at advanced stages of development. There is an economic sense in seeking strong growth, with the current speed of technological development."
Dataiku therefore focuses on the growth and acquisition of new customers. The company does not specify its valuation but confirms that it exceeds $ 500 million. Before adding: "We are not a unicorn yet."