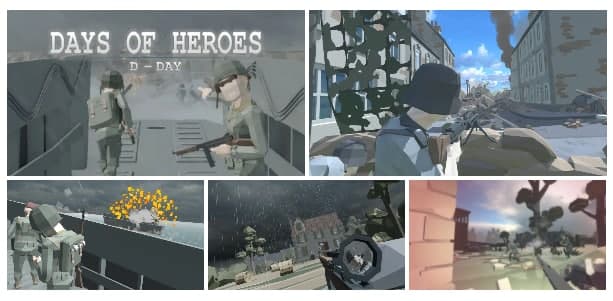 D-Day Storming the beaches in Normandy through the eyes of a paratrooper or an infantryman
D-Day : The largest US amphibious landing off the coast of Normandy.
Days of Heroes or D-Day: This is a future first-person shooter for Oculus Rift and Rift S, in which you will participate in the largest US naval operation called "Overlord" or "D-Day".
The Normandy landings took place on June 6, 1944. It was attended by: 156,115 American, British and Canadian soldiers, 6939 different landing ships, 2395 aircraft and 867 paragliders. The operation began in the morning, in the pre-dawn hours with the landing of thousands of paratroopers on the shore, this operation is considered the largest in the history of combat operations of landings from the sea.
D-Day offers you to take part in the storming of the beach and go through all the stages of the battle, even with the scene of a prisoner of war camp. Throughout the campaign, you will play as a paratrooper who is tasked with disrupting enemy operations in the night. Part of the tasks will be for an infantryman storming the shore in a multi-thousand landing.
Divided into 26 missions, you will gradually perform many exciting tests with the destruction of enemy aircraft and tanks, clearing trenches, organizing sabotage in the enemy ranks and much more. As the game progresses, you will use more than a dozen types of weapons from the Second World War, including: anti-aircraft guns, sniper rifles, flamethrowers, axes, artillery, grenades, etc.
According to the developer ZenAppsStudio, Days of Heroes is currently still in production for Oculus Rift / RiftS and HTC Vive. There is no official release date yet, but you can add the game to Steam .