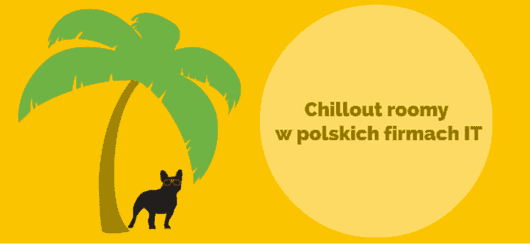 Chillout rooms in Polish IT companies
Fierce competition has existed on the polish it market for a long time. It is not easy to get a good employee, and it is often equally difficult to make him want to stay in our company for a long time. In this article we will focus on the second part of the problem. Our native companies excel in ways to make their employees ' lives better ‒ from breakfast together (as RST Software Masters does), through remote work (e.g. Netguru), workation-a corporate trip to Bali (recently Wroclaw company Droids on Roids offered it to their employees) and many others. It seems standard to have your own relaxation room (chillout room), where the team can relax, play ping pong, read a book, or choose one of the many other opportunities provided by Polish companies. Below I will try to present some of the most interesting proposals offered in our country.
Examples from the Polish market
Corporate library-more and more companies make funds available to their employees specifically for the purchase of new trade books, which, then, they can borrow. Once you have collected more items, some companies place them in the relaxation zone, where each employee can increase their knowledge of the chosen topic. As an example of a company using such a solution, we can recommend software house RST it.
Another interesting solution is to make board games available in the chillout room. Since this form of leisure time is experiencing a kind of renaissance in recent times, it is quite often offered to employees in IT companies (e.g. 10Clouds).
Another interesting solution is to purchase for the company's chillout room game console (journalistic objectivity does not allow me to say that the PS4). With this type of facilities we can meet for example in Wroclaw company naturaily, where we can also make a staff barbecue on the balcony, or just relax on comfortable sofas. 🙂
Often used methods of arrangement of the chillout room are such entertainments as:
playing ping pong, comfortable loungers, a collection of industrial press, football and darts.
The well-known Allegro, on the other hand, came up with the idea of providing meditation tents to its relaxation zone, where employees can think in peace and quiet.
New ideas come up every now and then. When we spoke to a representative of Monterail last week, they were just waiting for a pool table, an arcade station and pull-up bars (we also strongly support the sport in it :)).
In droids on roids, the relaxation zone is divided into two parts-offline and online. In the first there are comfortable poufs, a TV, a PS4, a projector and a bookcase. The online zone is an open source FPS game-open arena. Employees are divided into two teams and compete (10 minutes each day).
When we asked Tooploox about the chillout room, we found that they also allow employees to play on the latest consoles and PCs, use the table for Football, Billiards and table tennis. In addition, employees have access to books, board and card games, 3D printers, drones, go pro, or Kindle.
Examples abroad
For inspiration, we will also cite some examples of great chillout rooms that you can meet abroad.
In this topic, of course, Google can not be missed, where the 'relaxation zone' consists of attractions such as slides, concert halls, regeneration chambers and many others. Another interesting example is Infosys, which has built an office bowling alley for its employees. Facebook offers a room (or rather a hall) with slot machines. In addition, it is worth mentioning such ideas as swings, swimming pools, saunas, bedrooms, tennis courts and much more. Although we are still a little behind the foreign competition, our companies are very quickly reducing this distance, offering more and more attractive ways to relax in the office. I also recommend the gallery of the best offices in the world, which can be found here.
In summary
More and more companies are beginning to try to ensure that their employees can work in the most comfortable conditions, which only exacerbates competition in the IT market. Do you have any other ideas for attractions that could be put in the chillout room? Or maybe we missed some solutions that are practiced in your company? In both cases, please contact us! 🙂