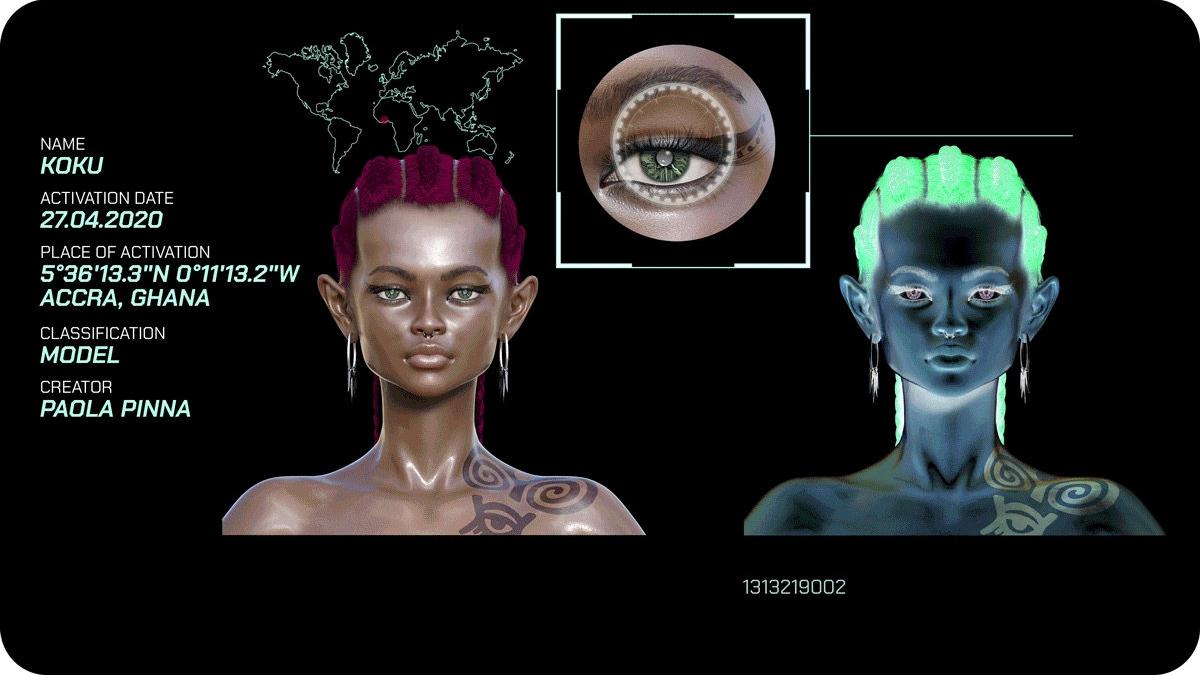 Can avatars replace living models?
On his Instagram account, Olivier Rousteing, creative director of Balmain, shows a first look at the virtual showroom where the label's Cruise collection will be presented this season. Instead of real models, leggy, faceless avatars with silver-colored metallic skin appear for the collection presentation. One digital model is seen in a polka dot dress, another is wearing a tweed jacket in bubble gum pink. They stumble robotically on high heels through the picture. Lastly, an avatar of the designer himself will appear on the screen to comment on the designs. Olivier Rousteing is reminiscent of a character from the Millennium success game "The Sims", except that his body was recreated in much more detail than was possible for the graphic designers at the time. Nevertheless-or because of that – the whole spectacle seems a bit scary in the end.
Here you will find content from Instagram
In order to interact with or display content from Instagram and other social networks, we need your consent.
Activate social networks
Virtual "supermen" instead of models
Somewhere between fascination and trepidation you can also find yourself at the show of the label Trashy Muse, which offered a virtual star line-up as an alternative to the canceled Paris Fashion Week. Last week, the creative duo launched the world's first fashion show with virtual avatars and augmented reality technology at the EP7 Gallery in Paris. Among them were the most famous avatars of the moment, including the first Black digital supermodel Shudu, the "virtual superwoman" (this is her name on Instagram) Dagny and Branded Boi, the brand's own avatar model.
Their looks are becoming more and more sophisticated, and the art figures are now even assigned their own personalities by their creators. These avatars are already the second generation of digital supermodels. Their path has been paved by two important characters in recent years.
Here you will find content from Instagram
In order to interact with or display content from Instagram and other social networks, we need your consent.
Activate social networks
Namely from the character Lil Miquela, who caused a stir by her kiss with Bella Hadid for a campaign by Calvin Klein. Since her first selfie in 2016, she has been booked for various editorials of classic fashion magazines, briefly took over Prada's Instagram account and modelled for Pat McGrath's make-up line. Her account now has more than 2.4 million followers.
Inspired more by classic French fashion, Noonoouri, created in Germany, is similar to a manga figure. She has already collaborated with major brands such as Dior and Mugler, and put on makeup in digital beauty tutorials for Kim Kardashian's cosmetics line. In addition, Noonoouri is now the first digital person under contract with the world's largest modeling agency IMG.
Read also
First virtual modeling agency launches in London
Until now, there was no dedicated point of contact through which digital models could be booked quickly and conveniently. In order to meet this increased demand for avatars, the artists Lorena Hydeman and Julia Falkner founded the model agency "Mutantboard" in London. Together with 3D designers and an international network of 70 artists, they create their own avatars that they run for brands in digital fashion shows.
Falkner is an Austrian fashion photographer and Hydeman Serbian stylist and creative director. Hydeman formulates the goal of the model agency with current demands on the fashion industry and society: "We want a diverse model directory with which we not only represent the various artists, but also offer a diverse portfolio with which we stand for inclusivity". The customer can choose from existing models in the portfolio or have their own characters created if desired.
The personalized design eliminates the time-consuming castings in search of the right models, which have often come under criticism in recent seasons because of discrimination and dubious methods. However, you should allow some time for the digital implementation: "For a campaign you have to calculate about six to eight weeks," says Falkner. However, she talks about the overall implementation of an entire digital fashion show, on which in the real fashion world a team of hundreds of employees works over six months.
Is sci-fi the new ideal of beauty?
It is particularly striking that the new digital models do not look as human-like as possible like the pioneers Noonoouri or Lil Miquela, but above all stand out with extravagant looks with elf ears and futuristic tattoos. The looks are strongly reminiscent of a science fiction version of the video game heroine Lara Croft to fairy-like characters from the"Final Fantasy" series. These figures have already inspired the Louis Vuitton bag campaign, which has been one of the pioneers of digital models in its advertisements since 2016.
Here you will find content from Instagram
In order to interact with or display content from Instagram and other social networks, we need your consent.
Activate social networks
Last season, the "alien glamour" was already an obvious trend on the catwalk. The "matrix look" with narrow sunglasses and leather coats was also rediscovered in New York and metallic helmets were on show at Givenchy in Paris. As sensational as the sci-fi looks may be, Julia Falkner is nevertheless sure that normality will also remain in demand: "We will also include more human-like models in the portfolio," she says of the agency's growing index, in which artists have at the moment mainly realized themselves with extravagant designs.
Read also
The advantage? More sustainability
Especially the promotion of environmental awareness and sustainable production is an important argument for "Mutantboard". "Virtual models don't have to be flown around the world to do their job. They also don't have to wear real clothes to fashion shows and shootings," says Falkner about her agency's technology, through which they implement the conventional 2D designs of the designers in 3D looks on the avatars. Used patterns are usually thrown away after shootings, even stage sets and setups of the big fashion shows are expensive disposable designs.
Will avatars replace real models in the future?
Even if the demand for digital models increases and the legal situation makes fashion shows impossible in the coming months, Falkner is still sure that the fashion world will continue to remain offline as usual. "Our models will not replace the real models," she says, but points out that with their agency they can react faster to the zeitgeist of society than conventional modeling agencies. "We're launching another' genderless queer couple ' this week," she says of her contribution to the LGBTQ community.
But Falkner sees the new digitization as an important factor for the modernization of the outdated fashion weeks. "Gucci no longer wants to show in the usual fashion cycle, and London Fashion Week has also become more and more of a niche in recent years. We are building on these changes."Lorena Hydeman focuses on a very specific vision of her agency:" We want to create a world in which there are fewer prejudices than in the real world."
Follow us on Facebook, Instagram and Twitter under the name ICONISTbyicon.