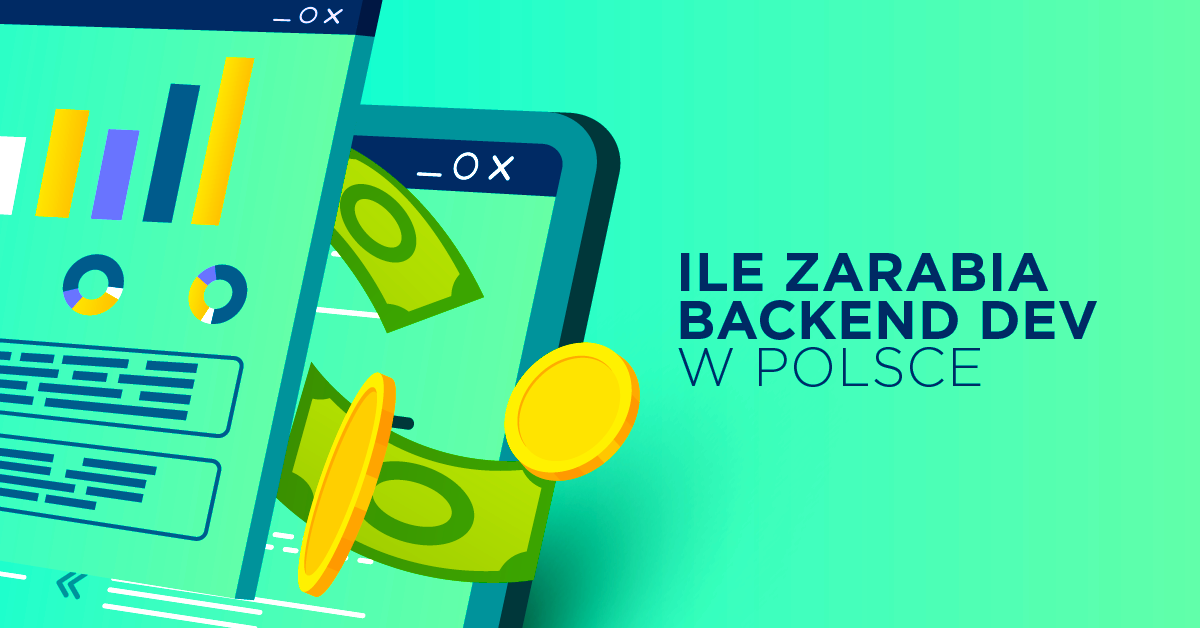 Backend Developer - work and earnings in Poland
In this article, we focus on work and wages Backend Developer. Backendowy programmer is someone who concerned about web applicationworking on the items that a user of the website / application, he does not see. Specialization Backend Developer, so design and implementation of engines, web applications, connect to databases all used services. We can say that it provides custody server database web site or application.
The Backend Developer is mainly in the creation of the API and interact with databases. It needs to cooperate with programmers frontendzie, because that's what creates, shall contain in a single unit. In General, the developers are working on project teams. Backend developers connect sometimes, however, in larger groups, which helps in joint expertise to their name.
The Backend Developer requires knowledge of specific programming languages. Below you will learn what a popular technology that you use on backendzie.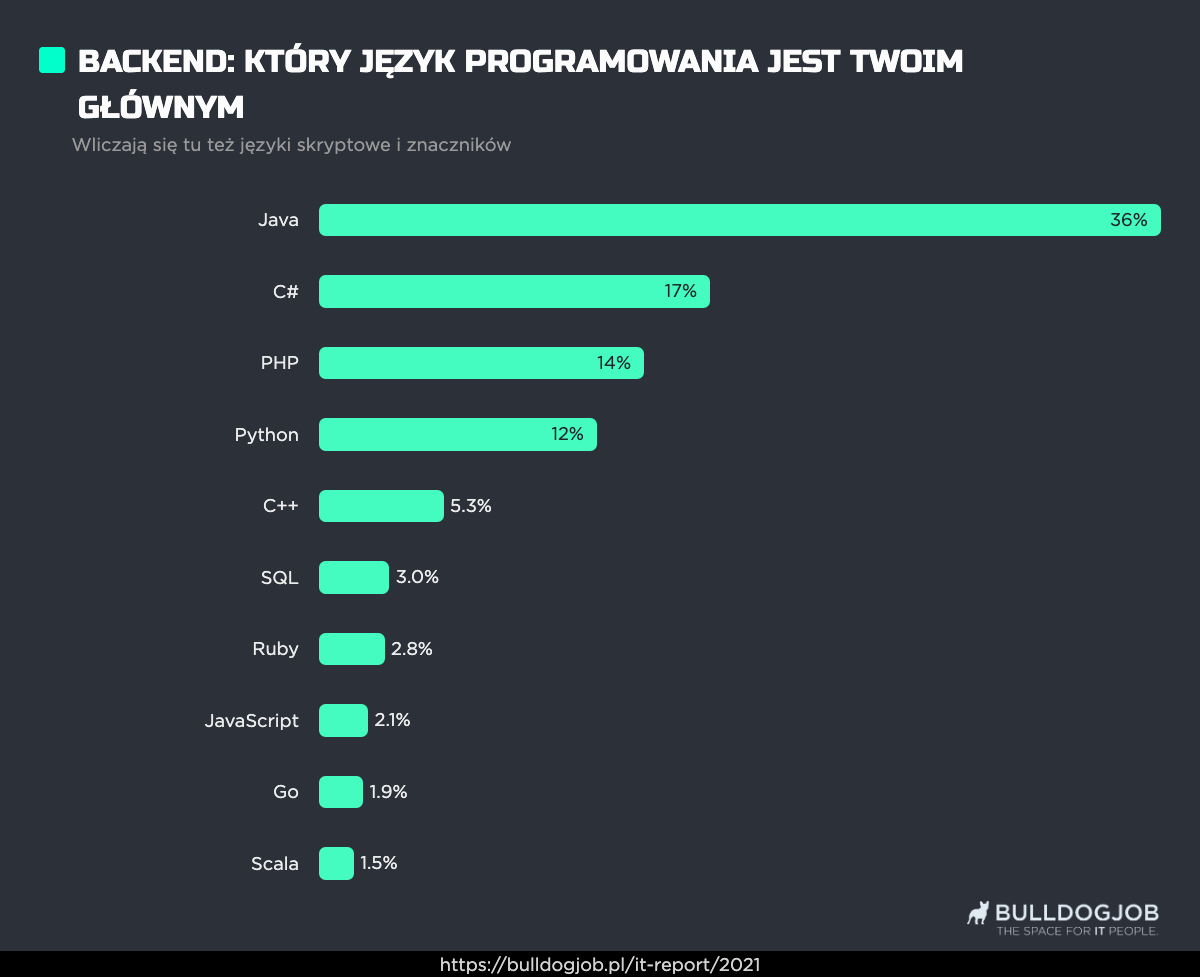 In addition to knowledge of appropriate programming languages Backend Developer must have knowledge about databases, a little versed in matters frontendowych and managing infrastructure and environments. About minimum average of more in-depth knowledge of the English language, you no longer need to mention.
Unfortunately, because the programmer makes backendowy that users don't see that their work can be difficult to transfer and understanding. Moreover, the creation of one function can take a very long time, and the external world, and may he be seen only a little of the endpoint that caused it.
If we are talking about the popularity of this specialization among developers, this, according to the latest research report of the community it held Bulldogjob in this specialty finds himself 40% of developers. Compare this result with the rest of specialization: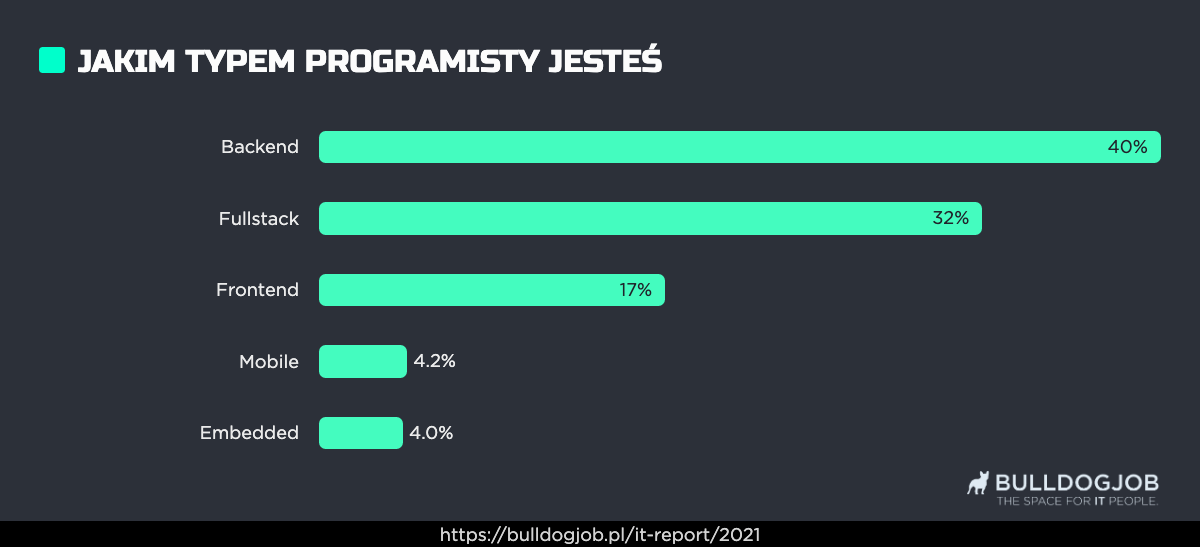 As you can see, Backend Developers were among the respondents the most. In second place was the web full stack Developers, and far beyond them, we have experts working on frontendzie. Further developers of mobile applications and embedded.
If you already przybliżyliśmy about silhouette of a Backend Developer, and we know how many of them are in Poland, so let's focus on the salary of the specialist working in our country. The data that we will present in this article is taken from the last report of the community it that Bulldogjob holds.

How much earn a Backend Developer?
Earnings Backend Developer we will consider, on the basis of several factors. It will, in particular, form of employment, work experience, technology, and the size of the company.

Salary and contract
Let's start from the salary, depending on the contract, based on some extensions to the programmer works. However, before we begin, we'd like one thing to clarify. As for the contract, in the case of an employment contract, contract of Agency and contract we are talking about the amount in a hand, and in the case of B2B is the net amount in the account.
Earnings Backend Developer differ from the above-mentioned treaties. If we are talking, therefore, about employment agreement the average salary of such a specialist is 7412 RUBLES.
If we are talking about a contract, order or contract, Backend Developer earns an average of 5187 RUBLES. This is slightly less than in the case of UoP. Here's how these revenues represent themselves in comparison researched who work in other procedures.
The last contract, which we'll look at here is the type B2B cooperation. Here Backend Developers negotiate with their employers on average 14 648 ROUBLES.

Earnings and positions/experience
In this category income differ significantly depending on experience. Most of all, of course, earn Senior Backend Developers – the value of the average of their earnings 14 000.
In the end we have a staff level mid and junior – salaries of these the first is about 8,000 RUBLES while employees at the bottom of the experience you earn in the organization about 4000 RUBLES.
The graph below displays the average wage of each group depending on the contract under which they work: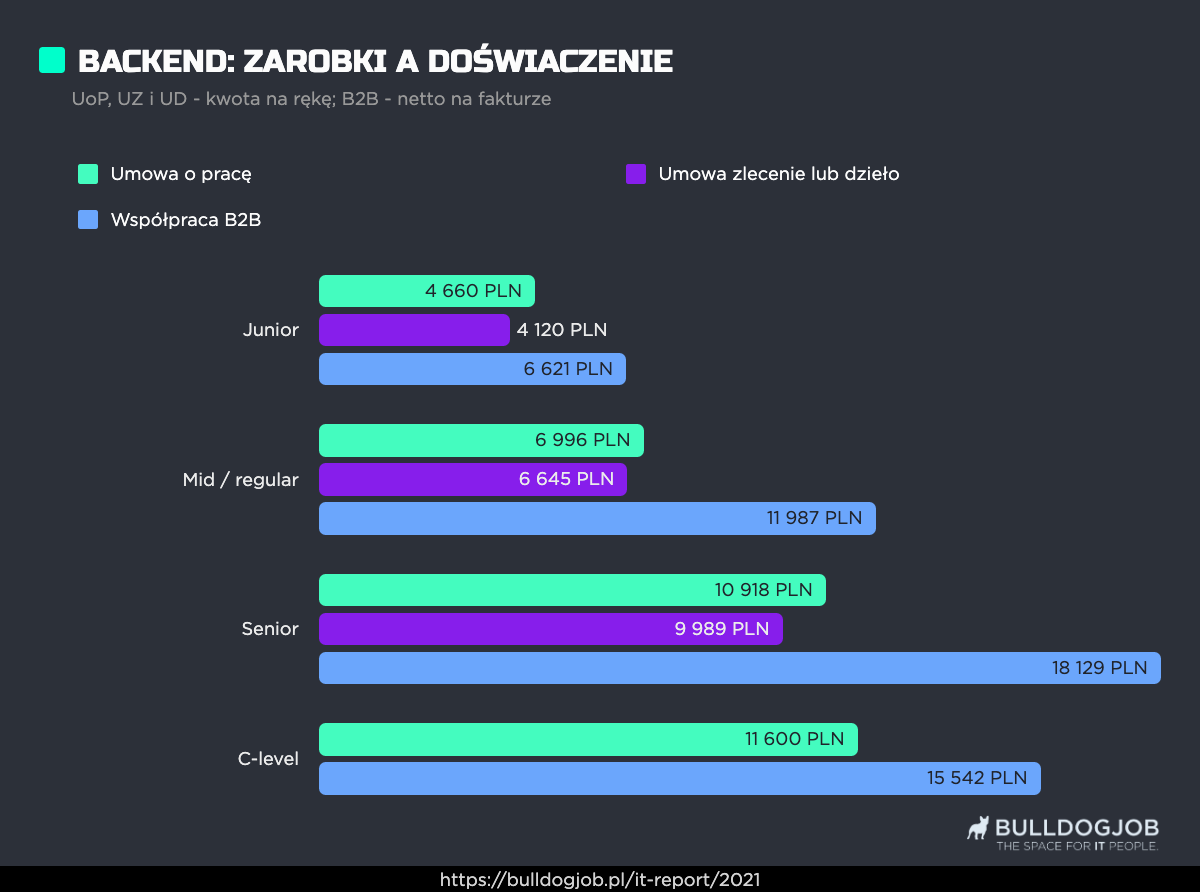 Earnings and the size of the company
Now let's salary, depending on the company, in which this Backend Developer works. Earnings are highly similar, however to succeed here freelancerzy.
Too much earns in large companies that employ 1,000 or even 5,000 employees. Let's see how it looks: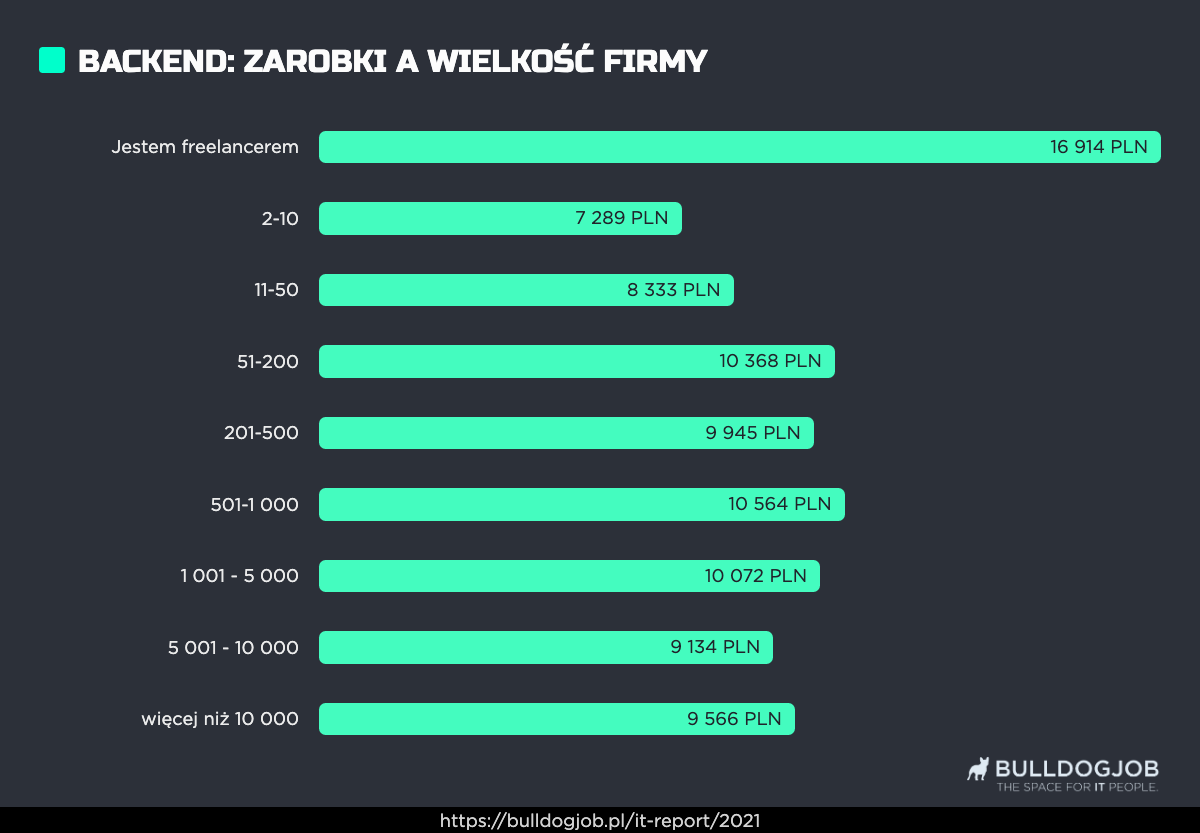 Earnings and programming language
In this category we decided to look at much every programming language.
If we are talking, therefore, about backend development, most developers earn Scala and Ruby. Both technologies are relatively niche, and experts in their programs often use agreement B2B (which, as we have seen, salary increases) and often work for foreign companies.
Lower in the rankings were the programmers, who use It on backendzie, Dell and TypeScript. Then we have C++ programmers, C# and Java, and Python. The smallest wage among Backend Developers who are working with language C and SQL.
Let's see how it looks on the chart: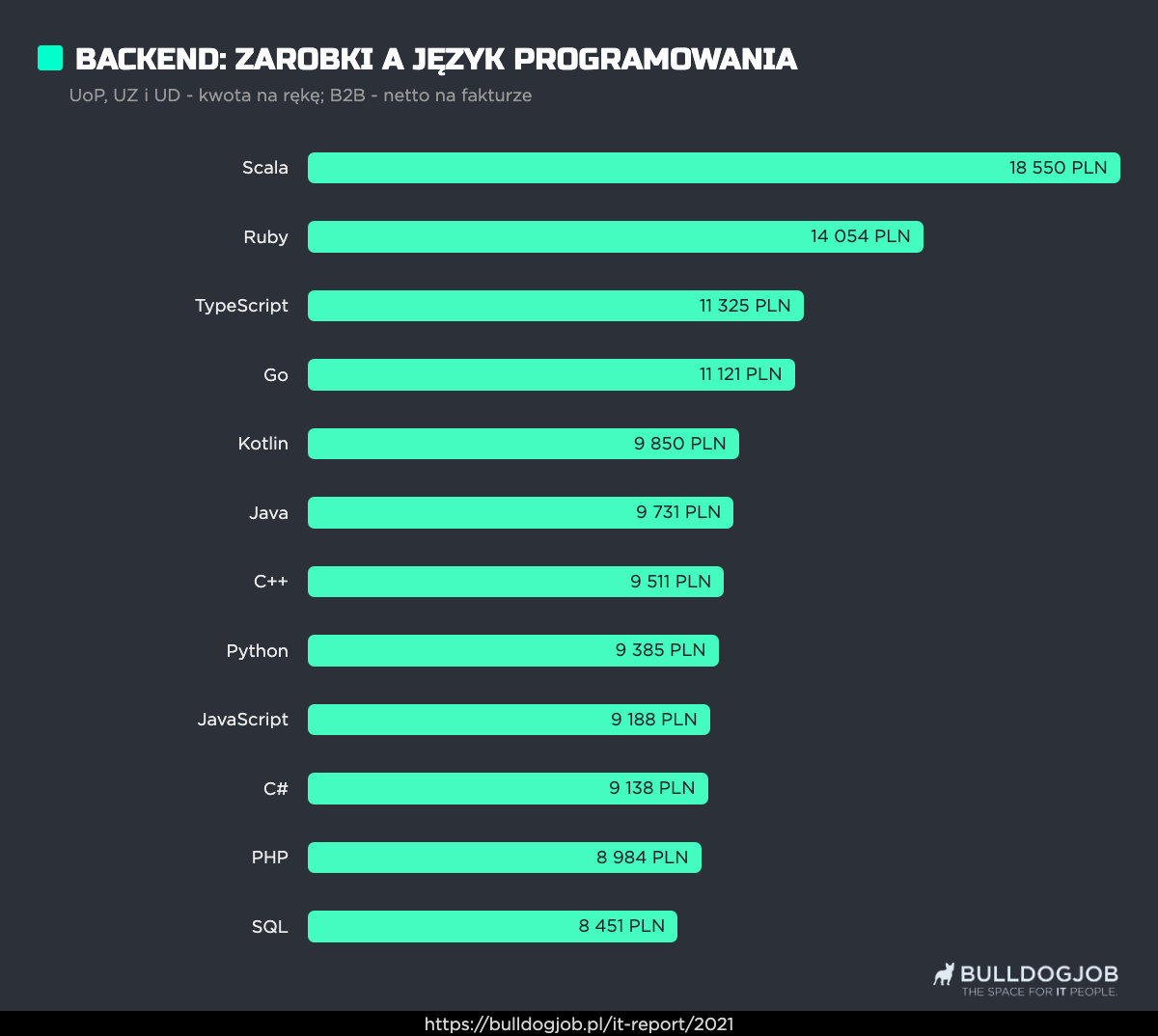 Salary and work experience
Let's look at wages depending on experience. Not too surprisingly, the biggest earnings zanotujemy among workers who have years of experience in the industry, and more specifically from 10 to 15 years. Let's have a look how the median depending on work experience: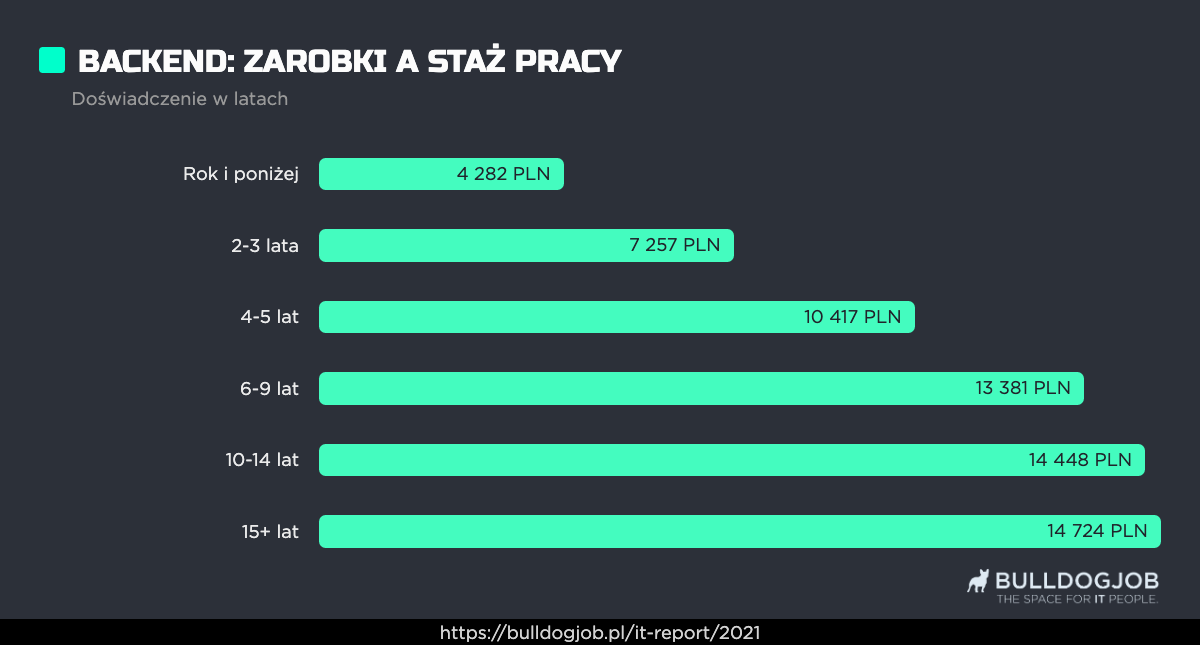 Where to look for work?
Earnings already know – now it's time to look for a job! But where to look? On Bulldogjob.pl of course 🙂 Here is a link to the work where the backend is the main specialization.
Also, set the account Bulldogu, even when you are not looking for a job. I'm sure You could use this when you start to look around.

Summary
It would be enough. We hope that this information was useful to You in finding a job and preparing for the interview. If there's anything else that you would like to know or something to share, comes to mind, let me know in the comments below the article! 👇