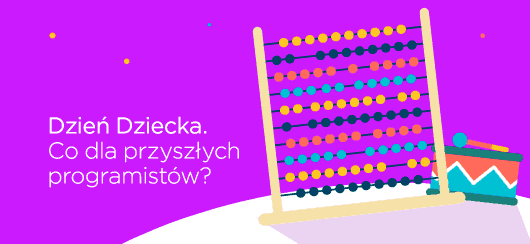 Baby's Day. What for future developers?
Another child's day is approaching, and with it the dilemma returns: what gift to buy a toddler? If you have not yet purchased a suitable toy for your son, daughter, nephew, niece, neighbor's son, etc., and the toddler is interested in programming, computers and has a technical flair, it is worth thinking about a special category of toys-we are talking about children's products that can be easily programmed, by the way, deepening his coding passion and learning the secrets of simple yet, but still, coding. Some time ago in the article "Lego code" we focused on this kind of toys of the Danish manufacturer, but not only this brand specializes in this kind of products. Today we suggest what you can buy as a gift for children's day to the future programmer. Here's our hot list.
1. Lofi Robot
To begin with, the Polish Lofi robot, which has been conquering the hearts of the youngest users for several years. This is actually a set with which you can build robots and other simple toys. Interestingly, there are many wooden elements, including wires and screws. All this allows you to easily and quickly connect individual parts in different configurations. As a result, we get toys that can bypass obstacles and follow the user's commands. Lofi robot uses the Scratch programming language, which was created specifically for children. For this, the toy also uses Arduino drivers. Of course, using a mobile application, you can control the robots using Bluetooth technology.
2. Dash and Dot
This time two sympathetic robots for children from 5 years. Vivid colors and interesting design are the elements that make a big impression here, but for children they probably will not be the most important. Much more important is the fact that dash and dot guarantee a lot of fun (I admit that even an adult can not get away from it). Robots are not big, but the manufacturer has equipped them with a lot of sensors that provide toys with great interactivity. Dash and Dot are smart enough to find objects, respond to the user's voice, and even sing and dance. In fact, they do what will be programmed using a mobile application. Here, children can learn what it means to create events, what algorithms are, how to create loops and how to use other programming elements.
3. Makeblock mBot
Very interesting construction kits, from which you can build all kinds of robots with a very sympathetic appearance. Depending on the version, the kits contain different amounts of parts, but they are connected just as quickly and in just a few minutes the child can learn the secrets of electronics, robotics and programming. Makeblock is based on Arduino and Scratch 2.0. Thanks to the graphic blocks in the mobile application, even the youngest can build simple programs and plan various robot actions. Interestingly, you can combine Makeblock with Lego blocks.
4. Lego Mindstorms
In our set could not be missing at least one toy brand Lego. We bet on one of the most popular series, Mindstorms, which has been conquering the market since 1998. Over the past few years, several different versions of the kits have appeared with increasing technical capabilities. Here, Lego combines unique software with Bluetooth and even Wi-Fi technology. In fact, this is a lot of fun with fun not only for the youngest. Many adult coders admit that they like to play Mindstorms.
5. Code a pillar
Finally, a proposal from Fisher-Price. It's about code a pillar, which is a very nice Caterpillar, which even 3-year-old kids will play with. Slightly older children can also use the mobile app to control the toy, creating sequences, programming its behavior, and even solving simple programming problems. The caterpillar consists of 9 elements (each works in a different way), which can be very easily combined in different configurations.
Finally, we would like to wish all children, on the occasion of their holiday, a lot of joy, the opportunity to develop their passion and never-ending curiosity of the world. We wish you every success in future programming and more. We hope that adult coders will convey these wishes from Bulldogjob.